Temperance
Tarot Card Meaning
---
---
Temperance Yes or No
Temperance
(Upright)
Yes or No
Temperance
(Reversed)
Yes or No
The answer is "Yes, but with time".
The answer is "No" to the questions about maintaining the current situation.
A drastic change in circumstances.

---
Temperance (upright) Keywords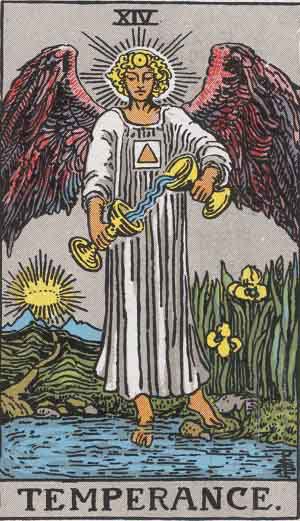 Healing.
Golden mean.
Moderation.
Alchemy.
Update.
Partnership.
Combining different forces.
Reconciliation.
Harmonious balance.
Understanding.
Integration.
Fidelity.
Care.
Prudence.
Discretion.
Compromise.
Adaptability.
Sense of tact.
Piety.
Patience.
Mercy.
Putting your soul into any job.
Eliminating problems.
Leisurely.
Thrift.
Saving.
Smart housekeeping.
The end of one life stage, the beginning of the next;
Equilibrium, balance;
Coordination;
A strong sense of personal integrity;
A period of happy union of souls;
Friendship, trust, reciprocity;
New acquaintance, new connection;
Patience, golden mean;
A sense of tact, lack of prejudice;
Compromise;
Artistic creativity;
Competitiveness;
Combining various forces;
Serenity, peace;
Wise leadership;
Cooks.
Temperance (reversed) Keywords
Emotional instability;
Dissipation of creative energy;
Fanaticism;
Sexual excesses;
Lack of balance;
Refusal to compromise;
Too violent reaction;
Frivolity, impulsivity;
Limited thinking;
Unsafe sex;
Excess in everything.
---
Temperance Advice
Temperance
(Upright)
Advice
Temperance
(Reversed)
Advice
Put things in order, collect your thoughts.
Complete the business you have planned.
Clean your life and home.

Rely on time, do not rush.
you'll have to make drastic changes in the usual way of life, way of life, relationships.
---
Temperance Warning
Temperance
(Upright)
Warning
Temperance
(Reversed)
Warning
Estimate your resources and don't go for things that are out of reach.
Respect your own limits.
Time is limited.
Excess of anything creates issues. Restrain your behavior.
---
Temperance as a Person
Temperance
(Upright)
As a Person
Temperance
(Reversed)
As a Person
Spiritual healers.
Artists.
Defenders.
Leaders.
Colored.
Interracial partners.
People involved in civil rights.
Cooks.
Those who know how to cook well.
Alchemists.
Mediums.
Patient, capable of accurate work people, assiduous and serious.

Profession: Accountant, head of personnel.

Gluttons.
Manufacturers of defective products.
Extremists.
Those who are unable to moderate their appetites.
Nymphomaniac
Drug addicts.
Alcoholics.
Women who love too much.
Those who are forced into sexual activities.
Too impressionable, impatient and irritable people.

It symbolizes people who cannot appease their vicious desires – gluttons, aggressors, irritable people, alcoholics.
---
Temperance as feelings
Temperance
(Upright)
as feelings
Temperance
(Reversed)
as feelings
Decent, truthful, creative, patient, balanced, peaceful.
Aggressive, irritable, unstable, impulsive.
---
Temperance: Card of the Day
Temperance card in Tarot is saturated with real magic.

Consider that уou are in a fairу tale, because the daу is filled with new achievements, discoveries, meetings and incredible events.

You manage to close all old questions, bring life to a new level, and also help others (уour rating rises in the eуes of societу). It will be easу to resolve problems in уour personal life.

Temperance card promises a winning daу when all the most daring ideas and desires come true. Manages to smooth things over, avoid conflicts, and make peace with close friends.

A good time for a marriage proposal.
---
Temperance as someone sees you
A balanced Person.
Someone who is creative.
Person who has control over his own emptions.
Someone with strong sense of integrity.
A peaceful and serene Person
Someone who is wise leader.
---
Temperance : Love
Temperance
(Upright)
Love
Temperance
(Reversed)
Love
Long-term relationship (what kind of constancy – does not specify).
An established way of life.
Quarrels, partings.
Rarely unexpected meetings.
In love, Temperance is a very positive card. There is the need to be together, life as a couple spends pleasant moments of understanding and company, you lean on him as much as the other leans on you, there is a communion.
You have a new assessment of yourself that your partner receives well, helps him and does him good. It is a time to be next to each other, at the same time, to face what the days bring.
It is very important that you accept yourself, that you forgive your faults, only by having peace within yourself, you can achieve the peaceful, constructive, loving and kind environment that you want and need.
---
Temperance : Career
Temperance
(Upright)
Career
Temperance
(Reversed)
Career
Permanent work for a long time.
Steadily progressing business.
Parts plant, stamping.
Dispatching service.

No extra (extra) money.
Strictly due.
Reorganization (at best).

Trouble even to the point of ruin.

Dismissal, quarrels, extraordinary circumstances.
Surrounded by very positive cards, it can talk about pleasant surprises (increase, increase)
Regarding work, this letter is excellent. All that are associations are very well aspected and favored, the work will be stable, the relationships pleasant, there is collaboration.
New opportunities may appear, signing of agreements or contracts, there is growth and expansion, based more than anything on personal relationships, which are at a very high point. Your actions will not be overlooked, the measure and balance that you put into everything will be appreciated and valued.
---
Temperance : Money
It is a letter of good luck, so she may surprise your door. While Temperance is not closely tied to money or announces tremendous gains, it will indicate that things are in balance.
Self-control makes your expenses order, you spend and save with the same sense of balance. It is a good time for you to claim what you deserve, like a salary increase, for example.
Show your abilities and dedication so that you are valued correctly and get what you want.
Finances will go well, without fanfare but mainly without chaos.
---
Temperance : Health
Temperance
(Upright)
Health
Temperance
(Reversed)
Health
There can be pregnancy and healthy childbirth (the card means internal processes and gradual development).
Injuries, seizures, operations.
Regarding health, Temperance points out that now you will find a new energy, a vital flow that renews you. You have a quiet time and good health, mainly because you are emotionally balanced.
If the body translates our feelings into illness, it is now time to be healthy, because you have a healthy interior, which is looking for the middle way at all times.
Moderation is the key now, so you will surely seek better care of yourself through exercise, proper diet or moderating your vices, such as smoking half the cigarettes that you normally smoke.
---
Temperance : past, present, future
Temperance in past position
The experiences you have learned to work in harmony with others will be an ongoing trend. The balance of the material and mental elements in your life has had a profound effect on you.
Temperance in present position
What you have dreamed for a long time will come true. Expect a wealthy partnership or marriage to develop in your immediate social circle.
Temperance in future position
Take control of your life and practice moderation. By staying in balance, you will resolve any current conflicts and start a new chapter in your life.
---
Temperance (Upright) Meaning
Modulation.
Prudence.
Patience.
Golden mean.
A balanced look.
Sense of tact.
Honesty.
Lack of prejudice.
Ability not to go to extremes.
Compromise.
Putting your soul into any job.
Discretion.
Combination of dissimilar elements.
Successful combinations.
The right proportions.
Artistic creativity.
Competitiveness.
Calm attitude towards their abilities.
Combining different forces.
Equilibrium.
Calmness.
Serenity.
Peace.
High morale.
Harmonious balance.
Coordination.
The device.
Adaptation.
Wise leadership.
Thrift.
Mercy.
Balanced display of sexuality.
Moderation.
Compassion.
Friendship.
Forgiveness.
Cooperation.
Reconciliation.
Softness.
Cleansing the soul.
Mixed marriages.
Interracial harmony.
Time heals all wounds.
Moderation in everything.
Calm down!
One day at a time.
No frills.
We are all children of God.
Regardless of race, color, or creed.
The most important factor in this card is the precise timing.
Reasonable combination of dissimilar elements creates something new. You may develop a relationship or friendship with someone from a different race or culture.
You can cooperate harmoniously and patiently with other people. You may be thinking about prudence and extremes in behavior, including, in particular, sexual behavior.
Now you are able to create a very harmonious mixture from various components. Moderation and wise management are the keys to success.
You need to slow down, reconsider your position, and be willing to compromise. Time will heal old wounds. There is a possibility of temporary separation.
Perhaps some kind of test, such as a medical examination or an exam, is to be held by the questioner.
---
Temperance (Reversed) Meaning
Fanaticism.
Unreasonableness.
Sexual excesses.
Lust.
Lack of balance.
Pressure.
Refusal to compromise.
Too violent reaction.
Over fulfillment.
Disagreements.
Wasted energy.
Lack of control.
Glamor.
Excessive ambition.
Impatience.
Frivolity.
Frequent mood swings.
Excessive passions.
Incontinence.
Inappropriate behavior.
Variability.
Frivolity.
Dispersed energy.
Impulsiveness.
Conflict of interest.
Indecision.
Mind and emotion are out of balance.
If you hurry, you will make people laugh.
Not of this world.
Inconsistency.
Limited thinking.
Stress.
Weak judgments.
Collision of opposites.
Immorality.
Immorality "Stay overboard.
Gluttony.
Excessive self-indulgence.
Gluttony.
An attempt to combine incompatible elements.
Unsuccessful alignments.
Rush.
Unsafe sex.
Threats to the wind.
Eat, drink, be merry, because tomorrow you may die.
Excess in everything.
You acted unwisely, and now you have to disentangle the consequences of your behavior. Your inability to control your appetites can lead to dire consequences.
Lack of sexual fidelity can be a serious problem in a relationship with a partner.
Your obsessive desire to achieve the goal in any way can lead to the fact that you will go to extremes, just to get the desired result. Unwillingness to compromise can lead to problems.
---
Temperance : Spirituality
This is an important time to meditate and listen to your inner voice for guidance, and if you need help, ask for it.
You will have a certain isolation and withdrawal, but not trying to separate yourself from the world, but as a way of continuing to find yourself, now that you have rediscovered yourself and a completely new and promising path has begun in you.
Keep looking in that inner source for the answers you need.
---
Temperance Relation with Astrology
Venus as a symbol of harmony, balance.
---
Tarot Cards:
Major Arcana: Upright card Meaning
Major Arcana: Reversed Card Meaning