The Fool
Tarot card Meaning
---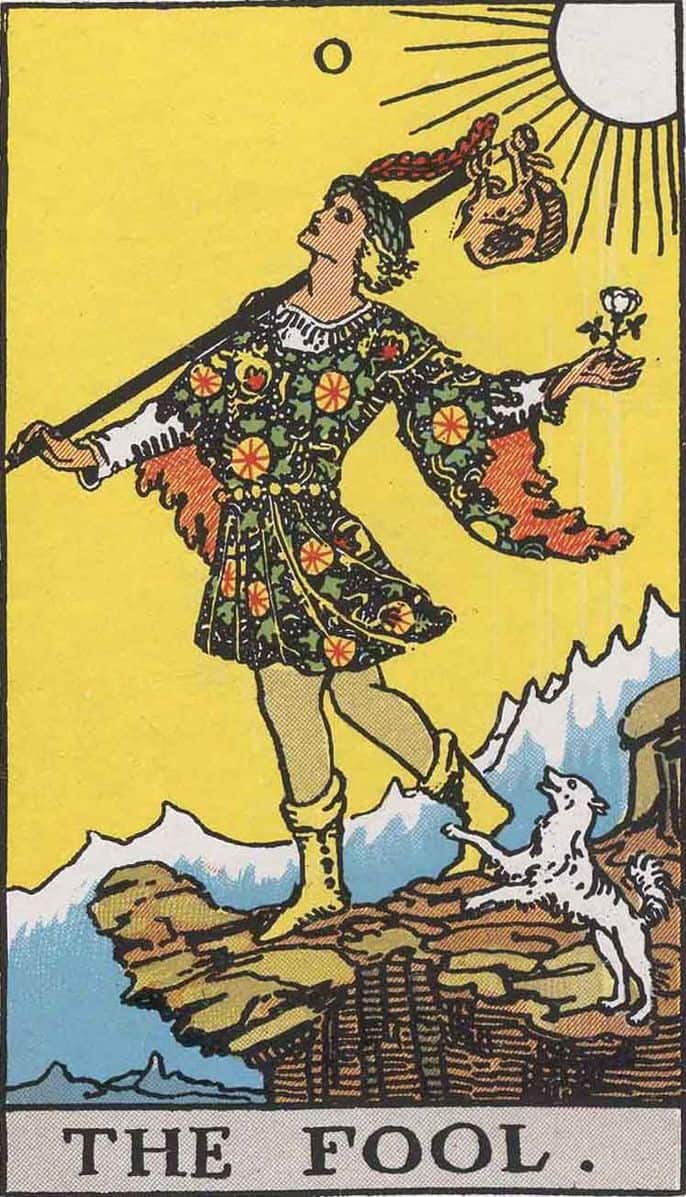 ---
The Fool Yes or No
The Fool
(Upright)
Yes or No
The Fool
(Reversed)
Yes or No
The answer is "Not clear".

The situation is not clear and it is influenced by the upcoming events and your reaction, actions to them. 

Please try asking this question later or change the wording.
The answer is "Yes" only If you soberly assess the situation, fully realize what is happening.
---
---
The Fool (upright) Keywords
An innocent fool. 
Wise folly. 
Genius and insanity. 
Eccentricity. 
Extravagance. 
Uniqueness. 
Curiosity. 
Dreaminess. 
Weirdness. 
Infantilism. 
Laziness. 
Sloppy. 
Frivolity. 
Impracticality. 
Defenselessness. 
Innocence. 
Sincerity. 
Openness. 
Idealism. 
Suggestibility. 
Unlimited credulity. 
Holy simplicity. 
Naive enthusiasm. 
Creative potential. 
Original solution. 
Innovator. 
A catalyst for change. 
Freelancer. 
Lack of plans. 
Chaos and freedom. 
Unemployed. 
Road. 
Theft. 
Tramp. 
The traveler. 
Lightness of the soul. 
Simple joy of life. 
Divine call. 
Thirst for adventure. 
Belief in fate and luck. 
Intuition. 
Unexpected turn of events. 
Step into the unknown. 
Unpredictable situation. 
The risk of a fool. 
Beginners are lucky. 
A promising journey begins. 
Start with an unknown end. 
Uncertainty.
receptivity, openness;
choice, chance, start of something  new;
calmness and confidence in life;
the innocence of new love;
curiosity;
mistakes, irresponsibility;
wisdom, awareness of the limitations of rules, Zen;
joy of life, frivolity;
unreliability;
union of cheerful people;
the birth of a child;
the beginning of the adventure, enthusiasm;
freedom from prejudice;
bi-, homosexuality;
emptiness and fullness at the same time (carelessness due to wisdom).
The Fool (reversed) Keywords
insufficiently thought out decision;
impulsivity;
inexperience;
fatigue;
irresponsibility;
a dangerous situation due to someone's  stupidity;
treason.
---
The Fool Advice
The Fool
(Upright)
Advice
The Fool
(Reversed)
Advice
Don't live up to expectations, but have faith. 

Any experience is valuable. 

Help and good fortune can come from a variety of sources if you are open to accepting it. 
Embrace the new and the unknown.
Do not make impulsive decisions.
---
The Fool Warning
The Fool
(Upright)
Warning
The Fool
(Reversed)
Warning
Think before you act. 

You can lose your way by refusing to face reality. 
Now is not the time to take risks.
Reckless actions can cause big harm.
---
The Fool as a Person
The Fool
(Upright)
As a Person
The Fool
(Reversed)
As a Person
Newborn. 
Child. 
Someone who starts 
something new. 
Mystic. 
Dreamer. 
Adventurer. 
Seer. 
Traveler. 
Tramp. 
An innocent or inexperienced person. 
An eccentric, independent and extraordinary person. 
Bisexual or homosexual. 
Teenager. 
Someone who is preparing to either make an important decision or hit the road. 
A person who starts a new life stage.

A man of a very frivolous disposition. 
Eccentricity and the desire to look "unusual" for a certain circle of people, the desire to match the invented image.

Sometimes the Fool card can also denote a closed person, immersed in his own world and having a hard time communicating with other people.
Player. 
Reckless brave man. 
Fickle. 
A reckless person.

A person who had troubles in the past, problems with the law. 
Former prisoner or thief.


A person who drew conclusions for himself and realized his mistakes. 

A modest person who does not like to argue and prove something.
---
The Fool as feelings
The Fool
(Upright)
as feelings
The Fool
(Reversed)
as feelings
Receptive, calm, confident, curious, joyful, enthusiastic, uncertain.
Impulsive, irresponsible, inexperienced, fatigued.
---
The Fool : Card of the Day
When "The Fool" is card of the day, then this is a hint of new and interesting things.

Circumstances will force уou to joke, discover something new, constantlу improvise and take initiative. In general, this is a good alignment, because уou will be allowed to trу on the role of a carefree child, for whom a serious life temporarilу turns into an exciting game.

During such a daу, уou need to staу as far awaу from prejudice and ossified thinking as possible. To attract positive emotions, trу to be enthusiastic and even creative with routine tasks.

Don't be afraid to start from scratch.
---
The Fool as someone sees you
Fun, easy and playful person.
someone who is naïve.
A curious person.
Someone who likes freedom.
---
The Fool : Love
The Fool
(Upright)
Love
The Fool
(Reversed)
Love
Not a serious relationship, flirting, fast-flowing romance, fleeting hobby.
Clarification of the relationship, you will find out something that excites you. 
The secret will be revealed.

Also, perhaps a new acquaintance with the possibility of generating romantic feelings.
The Lovers is a great letter for love. It announces the realization of weddings or firm unions, the arrival of children. The affective relationships in general are very good, with great feeling and affection.
Life as a couple becomes solid, strengthened and consolidated. If you do not have a partner, announce the arrival of a passionate, romantic relationship with strong sensual content. There is a great sense of joy in all relationships.
It can also indicate having another chance with a former partner, with whom this time things will turn out very well.
---
The Fool : Career
The Fool
(Upright)
Career
The Fool
(Reversed)
Career
Work and business related to travel, travel, tourism. 
Sometimes it can mean illegal things – theft, fraud.


The "Jester" card is not successful in matters of career and work, it means failure. 
oversights and mistakes in business, unforgivable negligence.


Also, this card may indicate an imminent change in work or some kind of uncertainty in work.


It can also indicate a delay in the payment of wages, poorly paid and hopeless work, wasted work.
Improving business and work situation. 
If you had problems at work or in business, you should know that everything will come to its senses soon.


For a job seeker or an idea for starting a new project – soon you will receive a lucrative offer, a new idea or an opportunity for business development.


It can also indicate a return from a business trip.
Sales will increase and will always be positive. It is very possible to do business or work with family, friends or with your own partner. You can indicate, with some alert, the possibility of mixing romance with business, evaluate things well if it is the case.
It is also representative of having to make a decision or make an important choice in the workplace, whether it is to change from one job to the other, make an advantageous move in the workplace, take or not a promotion, new position or responsibility.
---
The Fool : Money
While it is a good time for business and money investments, they can be short-term or of temporary benefit or perhaps not so great.
The outlook is generally encouraging, although you do not have to make excessive ideas or big plans. In chance there may be good luck but also, they will not be figures that change your life.
As a warning, the letter may indicate a certain carelessness in relation to money, being very immersed in romantic love. Take good care of business and activities and not make excessive expenses and out of possibility.
---
The Fool : Health
The Fool
(Upright)
Health
The Fool
(Reversed)
Health
Poor health. 
Not a serious and destructive attitude to one's own health.

Symbolizes mental illness.
Improved health, disease receding, relief.

May also indicate pregnancy and childbirth.
Pay attention to being well covered with foods rich in vitamins and minerals.
A balanced diet is essential, although with certain extra calories from protein, allowed, so that the physical is full of energy.
---
The Fool : past, present, future
The Fool in past position
The risks you took and your original thinking have brought you success. By doing things in new ways, you have taken into account the enormous potential.
The Fool in present position
At this moment, you enter a new phase of life. The experience of this change may seem good or bad now, but its impact will become clearer in the future. Risk assessment is critical to making the right choice.
The Fool in future position
To be successful, you must find new ways to achieve your goals. When the opportunity arises, you should be willing to give up old habits, and if it never appears, it might be time to create it for yourself with new methods.
---
The Fool (Upright) Meaning
Innocence. 
Spontaneity. 
Newborn baby archetype. 
Potential. 
Starting from scratch. 
A new chance. 
New impressions. 
A new way of perceiving the world. 
New opportunities. 
Important decision. 
An unexpected decision. 
The beginning of the adventure. 
Time for a change. 
Originality. 
An open mind. 
Optimism. 
Childhood surprise. 
Naivety. 
Fun. 
Purity of actions. 
Freedom from prejudice. 
A new stage in life. 
The excitement of discovering 
something new. 
Carefree attitude. 
Surprise. 
Second birth. 
Trust in destiny. 
Freedom, the feeling that nothing is holding you back. 
Enthusiasm. 
Risk. 
Trust in higher powers. 
The confidence that providence is guiding you in the right direction. 
Creative non-conformism. 
To start 
somethingnew, you need to let go of the past, leaving it behind. 
An unexpected impact. 
Homosexuality. 
Bisexuality. 
Zero is the number of pure potential. 
Everything is possible. 
Feel free to go where no man's foot has stepped.
Upright "The Fool" card indicates new beginnings, belief in faith and luck, Innocence, travel, carefree nature, youth.
When "The Fool" card appears upright in a reading, there may be new opportunities coming your way. You will have guidance and it is recommended you take help. Believe in the universe and your luck. Take up the opportunity with an open mind.
There may be a new beginning or journey. You will be excited and optimistic about it.
The  jester appears in the scenario at the moment when a new stage in life begins for you. Promising opportunities may arise, replacing those that only brought you grief. Perhaps fate will require you to make an important decision that will open up unknown paths for you. 
A new beginning can lead anywhere: you may have to go with the flow, perhaps a new relationship is about to begin, or a stranger will appear in your life; perhaps the people who are around you now will take part in your personal or professional growth. 
A fool can also refer to a bisexual or homosexual person who will influence the situation.
This card suggests that you need to take risks with the optimism and innocence of a child. You can find unexpected solutions to a problem by looking at life from a different angle, so you should keep your mind open to new ideas. 
A fool can denote a period characterized by surges of nervous energy, lack of clarity, uncertainty. A sudden development of events can unsettle you, perhaps you will feel confused, the pack will not pull yourself together. 
Now you are capable of very original actions. It will be very wise of you if you leave the past behind and start something. new. 
Actions in which you cling to traditional and outdated methods will be considered a deliberate mistake: the collective subconscious advises you to start a new life cycle. 
A fool can also indicate the beginning of a real journey, especially if in the layout he is surrounded by other cards symbolizing travel (Chariot, Wheel of Fortune, Peace, Six of Swords, Eight of Wands, King of Wands).
---
The Fool (Reversed) Meaning
Impulsivity. 
Inability to make judgments. 
Risk. 
Exhaustion. 
Naivety. 
Inexperience, Gullibility. 
Unreasonable optimism. 
Irresponsibility. 
Inability to foresee the situation. 
Frivolity. 
Unexpected problems. 
Inconsistency. 
Balancing on the edge of the abyss. 
Waste of energy. 
Excessive conformity. 
Lack of prospects. 
Bad decisions. 
Wandering in the clouds. 
Obsessions. 
Throwing words to the wind. 
Playing with fire. 
When "The Fool" card appears upside down in a reading, there may be an impending danger. Someone might be warning you about it. Carefully consider other people's opinion in this situation. You have be hastily getting into a situation or deal. Take care.
You also may be taking too much risk. You need to stop and contemplate. The risk may be not worth it.
When the Fool appears upside down, it means that you shouldn't take risks if you haven't thought about the situation carefully. You may feel as if you are standing on the edge of an abyss and are ready to fall down at any moment. 
It may be foolish to cling to your own opinion with all your might. Remember Emerson's phrase: "Silly consistency is a bogeyman of limited minds." Your present position makes you afraid of the future and what it carries. 
Avoid being overly optimistic, don't let yourself underestimate the situation. Impulsive decisions or unreasonable gambling risks can play a trick on you. Unexpected problems may arise. Due to your own or someone else's stupidity, you may find yourself in a dangerous situation. 
Your judgments may be wrong, or you may not be able to take the advice you need. You should try to calculate the situation. It is possible that someone next to you is making stupid decisions. 
It seems that you yourself do not take enough opportunity to anticipate the results of your actions, and this prevents you from being truly happy. 
It may turn out that someone from your environment is actually not as loyal and devoted as you imagine him to be. 
Perhaps you are cheating on your partner, or he / she is cheating on you. Remember, infatuation is not the same as love.
---
The Fool : Spirituality
It is a moment of a very intense, passionate inner life, full of dreams and illusions. You are willing and open to confront your spiritual part, make the changes and improvements that you must make. It is possible that someone comes to you as a mentor, not necessarily a person, it can be a book, a movie, that shakes your inner fibers.
At this moment you are ready for challenges, to review and solve things from the past with a view to a much better future and present.
---
The Fool : Symbolism
The fool card depicts a carefree young lad who is travelling. He looks innocent and naïve. He does not seem to have any constraints.  He has just started on the expedition as he is still full of life and not tired. He will develop a character as his journey proceeds.
He is looking towards the sky. He is wearing colorful robe and ragged yellow boots. He seems to be happy in his own thoughts. He has a stick with a small bag in one hand. His belongings may be in this bag. In the other hand, he carries flowers.
This indicated that he is at ease. He also seems to be confident and ready to explores the possibilities in life. He seems to believe in himself and his luck.
He seems to be going where life takes him. He does not seem to have a direction. He is at the end of the cliff. But he seems to be unaware of it. There is a dog near him. The dog is on its 2 legs, sort of jumping or trying to get the attention of the fool. Maybe it is trying to warn him of the impending danger. The dog seems to be protecting him. But the fool does not seem to take notice of the dog.
This card has the sun. Hence it is daytime.
The number of this card is '0'. This indicates infinite potential that this young lad has.
---
Tarot Cards:
---
The Fool(Upright) Combinations with Major Arcana Cards
---
The Fool with The Magician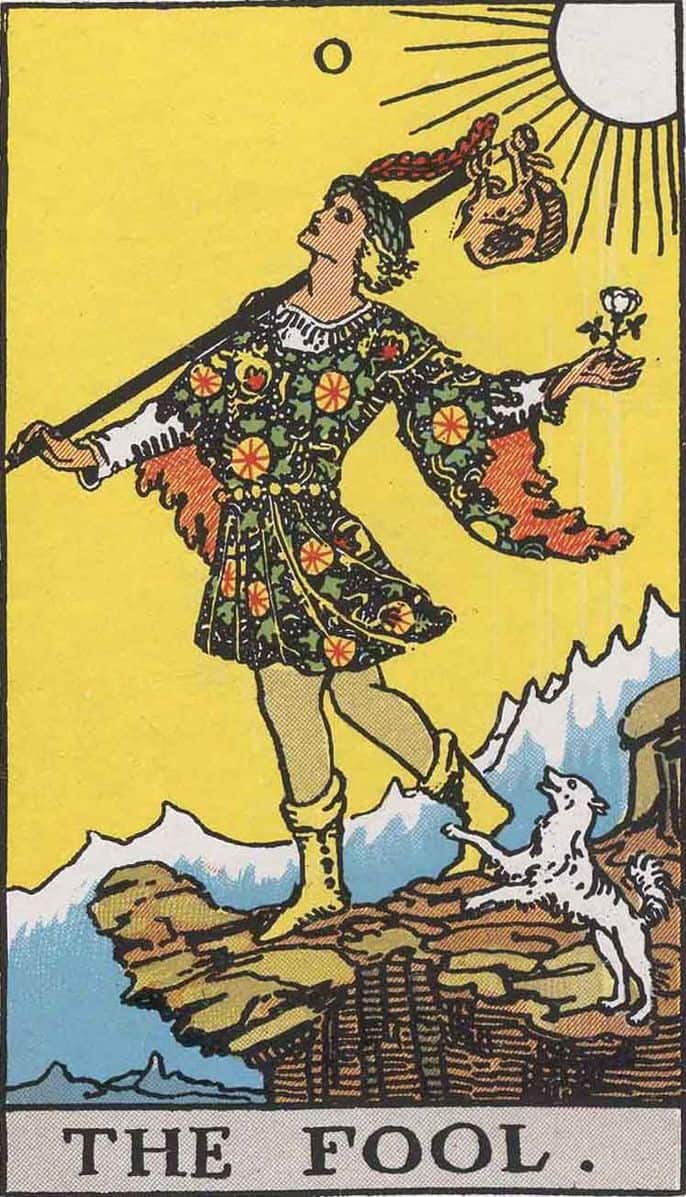 +
| | |
| --- | --- |
| The Fool With Magician (upright) | The Fool With Magician (inverted) |
| a rash act will be beneficial. | a manifestation of childishness, ill-considered actions. |
When The Fool appears in combination with The Magician, Strange, almost insane ideas will start to come to mind. Try to get them right before you start implementing them.
---
The Fool with The High Priestess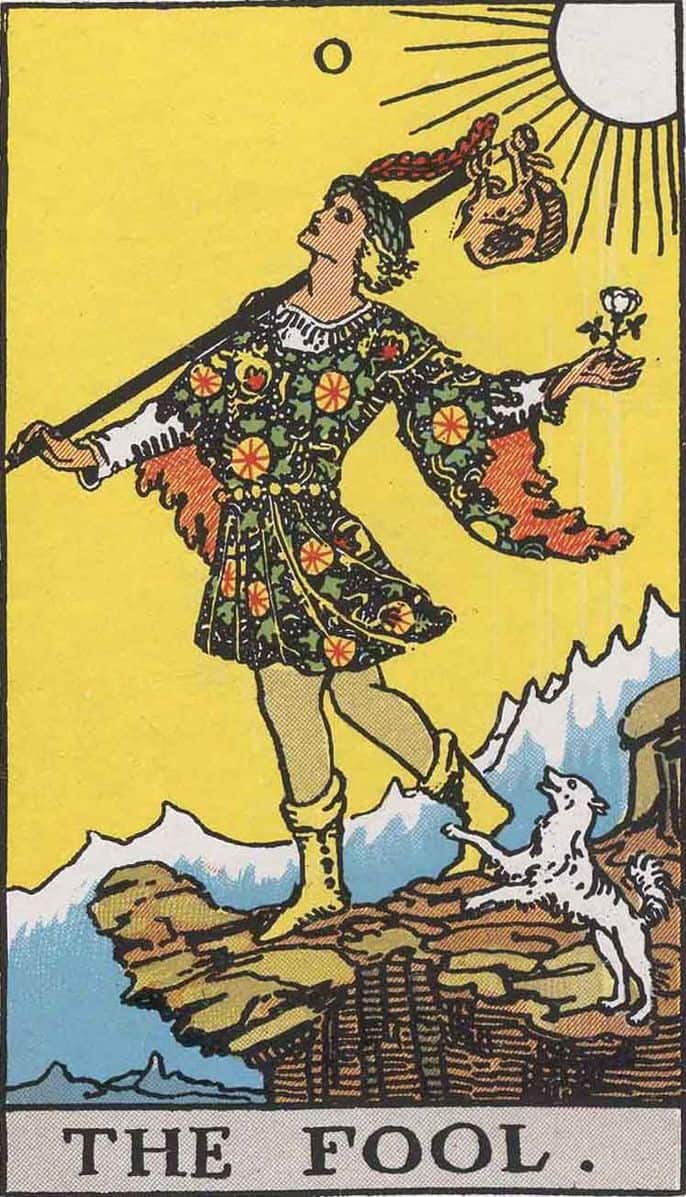 +
| | |
| --- | --- |
| The Fool with The High Priestess (upright) | The Fool with The High Priestess (inverted) |
| Victory over the competitor | the competitor wins. |
When The Fool appears in combination with The High Priestess in a tarot reading, expect a victory in the intended cause.
---
---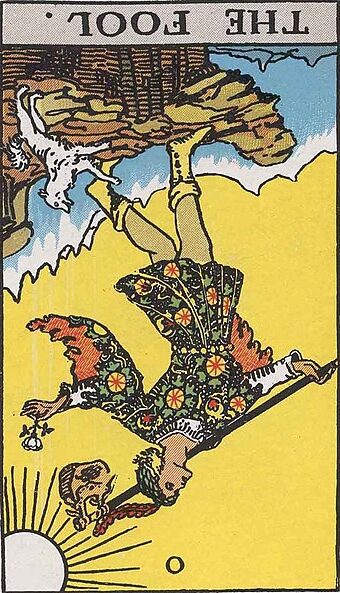 Tarot Cards:
Major Arcana: Upright card Meaning
Major Arcana: Reversed Card Meaning