TAROT MINOR ARCANA - WANDS / STALVES / RODS / CLUBS
| | | |
| --- | --- | --- |
| | | |
| Ace of Wands: | Two of Wands: | Three of Wands: |
| | | |
| Four of Wands: | Five of Wands: | Six of Wands: |
| | | |
| Seven of Wands: | Eight of Wands: | Nine of Wands: |
| | | |
| Ten of Wands: | Page of Wands: | Knight of Wands: |
| | | |
| Queen of Wands: | King of Wands: | |
King of Wands:
If King of Wands appears upright in a reading,  it represents the honest man, who is prepared to develop a positive attitude at work. It symbolizes the conscientious, noble and sincere person, is a lover of traditions, also generous and of a straight conscience. He is the family man and his home, he is fair in his decisions and very tolerant. I
f King of Wands appears the Reversed, it represents a prejudiced and severe man, a person devoid of any feeling that becomes a despot when making decisions. It is prejudiced and becomes implacable at the time of judging.
Queen of Wands: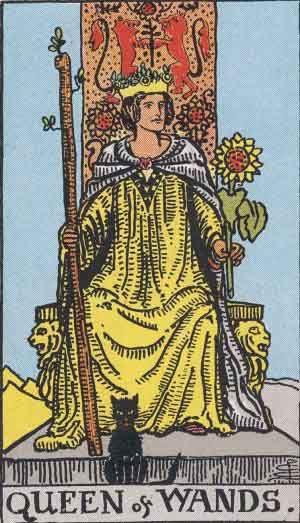 When Queen of Wands appears Upright in a reading, she represents a very honest and very affectionate woman, she is virtuous and possesses the noblest thoughts. It can become, in addition to a woman lover of the home, in a successful woman in any company or business that carries out. She is the woman who, besides being virtuous, is courteous and farsighted.
If Queen of Wands appears reversed in a reading, it shows a woman who manages both in the family and in the professional field in a dominant way, is jealous in all relationships, gives no respite to anyone in her environment and takes any opportunity to become a real usurer.
Knight of Wands:
To the right this Arcane represents an impetuous, extremely active person. All those who live with him or have some kind of relationship, find it very difficult to predict the reactions. Show the game. Moving rules his life, so there will be major changes of residence. If this Arcane is turned upside down, it shows a person with little intelligence, speculative, capable of making any ruse to take advantage of his own, is unscrupulous, capable of being driven by fanaticism. It shows ruptures, disagreements and disagreements. Determine setbacks and cancellations of the projects.
Page of Wands:
This Arcane represents an intuitive person, capable of giving quick answers. Enthusiasm marks all areas of his life, has a wide range of resources that usually apply very conveniently. It can be eccentric and generous. Offers the arrival of good news. If this Arcane falls backwards, it represents a dominant and rather superficial person. He tries very little on the things he faces, he is not very responsible. Your attitudes make you become an unreliable person. It offers harmful rumors, unpleasant news. Unpleasant ads.
Ten of Wands:
When this letter falls from the right it represents the value that every prize possesses, it brings fortune as a result of the efforts, an expansion in the affective and labor field. Success will be marked in all areas of life. It offers the possibility of developing cunning to achieve progress on the path of life. If this Arcane appears inverted, it will present great obstacles along the way, which will be very difficult to overcome. There will be disappointments about certain people in the environment as well as those who belong to the group of affections. There will be betrayals of the least expected people.
Nine of Wands:
When this Arcanum is right it represents the sure triumph. It will be achieved through effort and work, a solid position and without any risks. Good health will accompany this entire stage. Job stability and emotional harmony will lead to full well-being. It offers great strength to face all obstacles. If this Arcanum falls backwards, it will present setbacks along the way, absurd ideas and obstinacy will be the cause of the delays that will arise in all areas. The setbacks will be the order of the day. Weakness and lack of decisions will lead to inevitable failure.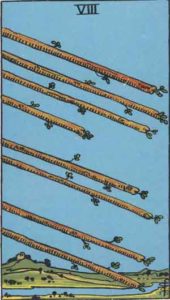 Right, this Arcane represents the good news, unexpected calls will be received that will bring positive hopes of change. Trips and family gatherings. Hobbies and recreation that will take place in a country setting. Quick actions will be necessary to respond in the immediate periods. He is the lord of speed. If it is the other way around it will offer family disunity, the disputes will be constant in this area, there will be loss of work, and the trips will be canceled or unexpectedly delayed. The lack of logic in entrepreneurship will lead to failure. Relationships will be bound by agitation and many enmity will arise both in the workplace and in the family.
Seven of Wands: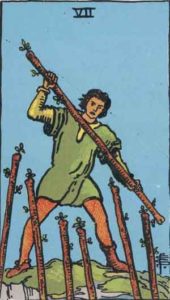 If this Arcanum presents himself to the right, he indicates that many losses will be suffered because of the great obstacles that must arise. The work days will be very arduous and will not be related to the results, since the successes will be temporary. Courage and perseverance will serve to dominate adversity. There will be the possibility of negotiations that will lead to certain friendly discussions. If it appears the other way around, it will present opportunity losses due to shyness or indecision. Fear of responsibility will take away the triumph. The lack of action and character will be the main causes of the delay in the negotiations, the lack of decision about the problems of life, impede progress.
Six of Wands:
When this card is to the right, it determines the permanent struggles that lead to victory, this will bring progress. The good news will appear at the end of the tasks well done. Represents the helpful man able to help anyone. This arcane represents the lord of victory. It will provide the possibility of work, as a messenger or commission agent. If this Arcane falls on the roll, on the reverse side, it shows a life marked by bad news. Determine the delay resulting from bureaucratic obstacles. It will bring grief and disappointment. The consultant is mired in great fear before the rival who is victorious.
Five of Wands:
When this Arcanum presents himself to the law, he represents the constant struggles and the permanent powers that will lead to success. Represents the lord of the fight. The road will be full of difficulties and trials, but it will have the possibility of achieving wealth, a road full of luxury and splendor will determine your destiny. Through strenuous and long work, success will be achieved. This reversed letter will present lawsuits that will determine economic damages. The manifestation of hidden grudges will determine the inconvenience at the emotional level. All legal lawsuits will be useless. Excessive competition will only lead to more inconvenience and bring great discussions
Four of Wands:
This arcane presented to the law brings the harmony and peace necessary to achieve prosperity. Commercial, financial or industrial associations will bring victory. The common interests will give rise to the realization of the projects. The possibility of starting a romance will bring joy and satisfaction. If this arcane falls backwards, it presents delays and obstacles to the realization of the goals. Lack of perseverance will lead to temporary failure. Short periods of rest will arise in the face of a stormy stage of work, this will lead to a lack of clarity of ideas and a complication in affective and labor relations.
Three of Wands:
If Three of Wands is in upright position, it will represent success in all the businesses that are undertaken. Collaboration and practical help will be available at the most necessary time. There will be good opportunities to carry out large companies. The initiative and creativity will give successful results. Boldness will help to accept opportunities. Represents the lord of the established force.
If Three of Wands is in reverse position, it will present an excessive vanity and arrogance that will put obstacles in the way. Vanity and absurd obstinacy will only lead the consultant to failure. There will be great disappointments to promised actions and projects that will not be fulfilled.
Two of Wands: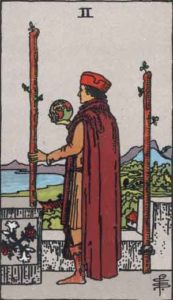 Two of wands in upright position represents authority and wealth that is achieved through great efforts and struggles. Good tasks will bring great benefits, both economic and emotional. The success will be very close. Two of wands represents the lord of the domain, since he has the ability to dominate various spheres of life.
If Two of Wands is reversed, it will show pride and excessive ambition when it comes to mastering situations. Unforeseen events and unexpected events will be part of life. We will obtain wealth dishonestly. Some situations will cause anxiety and grief.
Ace of Wands: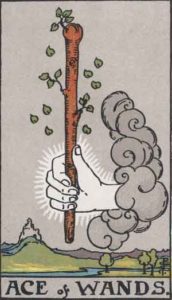 If Ace of wands is upright is a reading, it represents innovation and creativity. It is the beginning or the beginning of the new companies that have been persecuted for a long time. Determine great artistic skills. Forecast births, as it is a period where fertility increases and with it the conception. It is the birth of all kinds of actions. It is the card of manhood.
If Ace of Wands appears Reversed in a reading, it will lead to extremely doubtful beginnings, loaded with falsehood, which can result in bankruptcy or ruin. Projects tend not to prosper and the relationship with the opposite sex begins to be fraught with problems.