The Empress
Tarot Card Meaning
---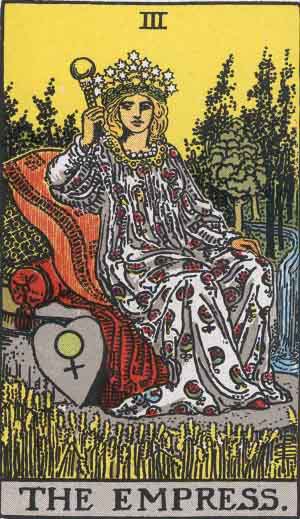 ---
The Empress Yes or No
The Empress
(Upright)
Yes or No
The Empress
(Reversed)
Yes or No
The answer is "Yes".
The answer is "No".
The conditions or the questioner himself are not ripe – nothing will come of it. 
But this does not mean that there are no alternative possibilities at all or that this is not achievable.
---
---
The Empress (upright) Keywords
Mother. 
Nature. 
Land. 
Fertility. 
Harvest. 
Abundance. 
Generosity. 
Cycle. 
Act. 
Height. 
Development. 
Wisdom. 
Creation. 
Cooperation. 
Social status. 
Mature solutions. 
Desire to rule. 
Feminine influence. 
Beauty. 
Love. 
Sensuality. 
Elegance. 
Charm. 
Sociability. 
Marriage. 
Home harmony. 
Physical and mental comfort. 
Stability. 
Control. 
Safety. 
Practicality. 
Material wealth. 
Abundance. 
Desire to help others. 
Pregnancy. 
Fertility. 
Birth. 
Maternal instincts. 
Care. 
Education. 
Long life.
The woman who knows love;
Fertility, abundance;
Physical and spiritual creative power;
Stability, harmony, prospects for growth and prosperity in all areas of life;
Positive results, good opportunities;
Contentment with life;
Time for productive action;
Release of powerful energy;
Creative lift;
New profession / position;
New knowledge / insights;
Addition to the family;
Changing relationships between partners;
Education;
Physical love and affection;
Female sexuality;
Birth, motherhood;
Desire to help others.
The Empress (reversed) Keywords
Unproductive business;
Dissipation of creative energy;
Stagnation;
Unsuccessful attempts to get rich;
Missing opportunities;
Sterility;
Sex without love;
Greed, excessive materialism;
Depression, despair, suffering;
Denial of the wisdom of your heart;
Miscarriage;
Auspicious card, but you need to wait a little before success.
---
The Empress Advice
The Empress
(Upright)
Advice
The Empress
(Reversed)
Advice
Update your information, expand your circle of acquaintances. 
If other cards are favorable – agree to the marriage ..

Think and take care of the family.

Empress Tarot advises you to believe in the common sense that you have shown up to this point. 
Recognize your good intentions in performing your duties. 
Do not rush with new projects, there are no conditions and opportunities for this.
---
The Empress Warning
The Empress
(Upright)
Warning
The Empress
(Reversed)
Warning
Be more rational, you can let passion and instinct guide you through life. 
Don't rely on others.
Excessive materialism can become a hurdle in your personal life.
---
The Empress as a Person
The Empress
(Upright)
As a Person
The Empress
(Reversed)
As a Person
Mother. 
Wife. 
A significant woman. 
A woman with well-developed instincts for motherhood and parenting. 
A woman who is always ready to help. 
Powerful woman. 
Pregnant woman. 
Earthly mother. 
A regal woman. 
A woman is an employer. 
A royal woman. 
The woman who owns the land. 
Creative person. 
One of the parents. 
A woman with power and a high position. 
An important woman has appeared in your life. 
For a man, this is the woman of his dreams.

A woman who has a miscarriage. 
Rejected woman. 
People who lead a hectic lifestyle. 
Unproductive people. 
Cold people. 
Emotionally unstable people. 
Prostitutes.
---
The Empress as feelings
The Empress
(Upright)
as feelings
The Empress
(Reversed)
as feelings
Lively, abundant, creative, stable, harmonious, positive, insightful, generous.
Conservative, scared, lazy, unproductive, stagnated, greedy, depressed.
---
The Empress : Card of the Day
When "The Empress" is card of the day, it promises unique opportunities and an interesting daу.

There will be a strong desire to be in nature. Go to a forest or park to fill up with positive energу and relax mentallу.

A lot of interesting ideas and creative inspiration will arise.
---
The Empress as someone sees you
Someone who is calm and caring.
An alpha personality – but at the same time, caring.
A creative person.
Someone who has contentment in live.
Person who helps others.
---
The Empress : Love
The Empress
(Upright)
Love
The Empress
(Reversed)
Love
An official marriage (an acquaintance that will lead to marriage). 
Date. 
Declaration of love. 
Often means a mature married woman: mother-in-law, mother-in-law; 
business domineering woman.
Divorce or its possibility. 
Excessive legibility in choice.
This is a potent time for love, men and women alike may be finding that you are suddenly much more attractive (both in terms of friendship and romance).
If you are single, this is a time when true love could very well come to you. Engagement relationships, courtships, and marriages often grow sweeter, deeper, truer under this influence.
There are generous feelings, understanding and a lot of harmony. Possibilities of pregnancy and prolific offspring. Total balance between sensuality, harmony and deep feelings.
---
The Empress : Career
The Empress
(Upright)
Career
The Empress
(Reversed)
Career
Plenty of room for business and business activity. 
Partnership. 
Successful business meetings. 
Career (her opportunity). 
Finding a good (interesting and profitable) job. 
Profession – reporter.
Stagnation in business, inability to move forward. 
Conservatism, fear of new beginnings.

Old place of work, unchanged condition. 
Lack (or unwillingness) of career growth.
Things must be going very well for you. People will be inspired by your ideas, your passions, and the way you do things.
Let your inner voice guide you in how to operate. The empress directs us to follow our happiness, and that the rest will follow us.
This letter indicates possibilities for advancement in the workplace. The work whatever it is, is stable and durable, there is complete control of you over it.
---
The Empress : Money
This card shows an excellent time to make investments, follow your instincts about them. The money must be flowing very well.
Make sure you keep the flow in that direction and you may feel drawn to give money to some cause, an entity or perhaps a person who needs help and is important to you. Share your abundance.
There are income improvements, salary increases and even a chance luck quota that can generate money.
---
The Empress : Health
The Empress
(Upright)
Health
The Empress
(Reversed)
Health
Wellness. 
Happy childbirth.
Chronic diseases. 
Bad habits that become life-threatening over time. 
Infertility.
If you are trying to get pregnant, this is an excellent sign that this may be imminent.
If you are not ready to be a mother or at the moment you do not want to, you should take extreme care and precautions not to get pregnant, since this letter shows that it is a significant possibility.
This card indicates very good health or excellent recovery from illness, with great physical and mental strength.
If you are having health problems of any kind, think from a different point of view; What is your body trying to say? Consider adding some type of naturopathic or homeopathic approach to your health regimen.
---
The Empress : past, present, future
The Empress in past position
Your last chance is to prove your influence now. Whether it's business, personal, or artistic, a new partnership will require you to be an ongoing effort to be successful. Remember your most resourceful behavior, but especially your discipline.
The Empress in present position
Perhaps a new beginning will unfold in front of you, and you will decide on its quality. Be understanding and especially sensitive to the emotional aspects of life. A loved one will need a helping hand or a light in the dark. The role is yours, regardless of your choice.
The Empress in future position
The future will bring healing and respite for your emotional and physical wounds. Spending time walking along new trails will be more profitable than repairing bridges. Your investment will pay off if you look closely at it.
---
The Empress (Upright) Meaning
Mother, Fertility. 
Abundance. 
Healing. 
The ability to love and be loved.
Queen of life. 
Mother archetype. 
According to Jung, it is the archetype of the Anima. 
Cradle of life. 
Fertility. 
Prosperity. 
Creation. 
Productive actions. 
Fertility. 
Education. 
Healing. 
Love. 
Harmony. 
Union. 
Synthesis. 
Sensitivity. 
Long growth period. 
Material comforts. 
Status. 
Social status. 
Great house. 
A fragrant garden. 
Abundance. 
Physical love and affection. 
Women's sexuality. 
Marriage. 
Profit. 
Good harvest. 
Pregnancy. 
Creation. 
Maternal instincts. 
Desire to help others. 
Birth. 
Motherhood. 
Concentration on life processes. 
A good result of hard work. 
The transition from one stage of growth to another. 
Realized potential. 
Fee. 
Good destiny. 
Mother Earth. 
Mother Nature. 
Moving forward and growing. 
Sometimes marriage.
Upright "The Empress" card indicates predicting, female energy, pregnancy, fertility, procreation, sensuality, mother, abundance of nature, creativity, love
When "The Empress" card appears upright in a reading, it is a blessing. It can indicate the abundance that will come to you. The riches will be available to you. Use abundance will enrich your life.
This card is packed with feminine energy. The appearance of this card can also mean pregnancy. It will get a flow of female energy in your life. The empress also stands for nurturing and taking care of children.
When The Empress cards appears in a reading, it indicates that new ideas will come to you. You may need to express your creativity.
The Empress is a card indicating beauty. You can take up projects of beautifying your home. It can also mean working on uplifting your own self.
The Empress is a good fortune card that suggests feminine creativity, fertility, sexuality, and reproduction. Now is the time to play with your creative instincts and take decisive action. 
Any creative endeavors will give a good result. You enjoy your work bringing beauty and sensuality to life; perhaps it gives you material comfort. 
Your hard work will be financially rewarded. Sexual relationships are satisfying. This card can represent marriage, pregnancy (especially in combination with a troika of Cups) or the birth of a child. 
If you are expecting a baby, your pregnancy and childbirth will go well. You reap the fruits of your labor, surround yourself with beauty and material comforts. 
Your feelings are shared, you are able to give and receive love
---
The Empress (Reversed) Meaning
Unsuccessful attempts to get rich. 
Stagnation. 
Pregnancy problems. 
Unrealized creativity. 
Refusal to grow. 
Unreasonable contentment with the present. 
Excessive passion for material comfort. 
Missing opportunities. 
Birth control. 
Infertility. 
Impotence. 
Abortion. 
Miscarriage. 
Sterilization. 
Inability to have children. 
Promiscuous sexual intercourse. 
Sex without love. 
Unwanted pregnancy. 
Financial difficulties. 
Problems. 
Poverty. 
Disease. 
Greed. 
Excessive materialism. 
Physical discomfort. 
Unproductiveness. 
Wasted energy. 
Depression. 
Despair. 
Suffering. 
Denying the wisdom of your heart.
Reverse meaning of "The Empress" card indicates lack of abundance, infertility.
When "The Empress" card appears upside down in a reading, you may be facing problem of lack of creativity. You may be worked out too much. This card suggests you take a break and plan a trip close to nature. You may face a lack of resources.
This card also indicated that you need to take time from your schedule to pay more attention to your needs and take care of yourself.
You usually feel limited in your creativity. Your level of material comfort may be low, or, on the contrary, you selfishly cling to your material values ​​instead of sharing them with your loved ones. Perhaps your greed is leading to relationship problems. 
You are in a depressed mood, you are desperate. You may be running out of money, feeling poor, and unable to make ends meet. 
Relationships that don't satisfy you; most likely – this is sex without love. An upside-down empress can sometimes mean sexual problems or unwanted pregnancies. 
She also points out problems with pregnancy and the likelihood of miscarriage. Perhaps you know that you are unable to conceive, or you decide not to have more children. 
Sometimes the card indicates a break in family ties.
---
The Empress : Spirituality
Your intuition may well be trying to send you a message during this time as well.
It will be important to listen carefully now and if that requires you to spend time alone, even though there are others who need you, your alone time should be a priority.
You pay attention to messages or warnings that seem to come to you now through your intuitions that at this time will be repeated and strong.
---
The Empress : Symbolism
The Empress is a beauty young lady full of beauty and youth. She is sitting on a throne. Her eyes are dreamy, as if she is thinking of something. She has beautiful golden wavy hair. She looks peaceful, satisfied and independent. She is the goddess of fertility and a mother.
The Empress is holding a short staff with a ball in one hand. Her other hand rests on her lap. She is wearing beautiful printed long gown. The down is adorned with pictures of red pomegranates indicating fertility. She is wearing a necklace of white pearls. It looks expensive. She is wearing red shoes. Only one shoe is visible to us. The Empress is wearing a crown adorned with 12 stars. This shows the connection with the 12 zodiac signs. Destiny is in her control.  
The throne on which she sits has a multiple red pillows and cushions and red velvet sheet. The side of the throne is heart shaped and has the Venus sign on the side. This indicates love.
The Empress is sitting close nature. There are tall trees behind her. There is a river flowing towards her. There is golden wheat growing near her feet. It looks as if mother nature is bestowing her blessings to the Empress.
This card depicts closeness to nature.  
---
Tarot Cards:
Major Arcana: Upright card Meaning
Major Arcana: Reversed Card Meaning