TAROT MINOR ARCANA - COINS / PENTACLES / DIAMONDS
| | | |
| --- | --- | --- |
| | | |
| Ace of Pentacles: | Two of Pentacles: | Three of Pentacles: |
| | | |
| Four of Pentacles: | Five of Pentacles: | Six of Pentacles: |
| | | |
| Seven of Pentacles: | Eight of Pentacles: | Nine of Pentacles: |
| | | |
| Ten of Pentacles: | Page of Pentacles: | Knight of Pentacles: |
| | | |
| Queen of Pentacles: | King of Pentacles: | |
King of Pentacles
This arcane to the right is determining a very methodical character, affection to the mathematical sciences and the operations of calculations, so that his best performance at work level is that of merchants, accountants or bankers. He is patient and tidy. Always act and think slowly. Reflection and reliability will help you increase wealth. If this arcane is upside down, he is representing a greedy and ambitious person. With a materialistic vision that only causes the rejection of the people around it. He is a stubborn character with tyrannical attitudes. Negative attitudes are those that prevent development.
Queen of Pentacles
This arcane to the right is showing a very intelligent and sensible woman. He is a lover of success and his greatest passion is to exhibit both his achievements and his own person, so he often becomes a little accepted figure. The acquisition of wealth gives you the security you need to live. It has a calm and poised spirit. If this arcane is reversed, he will be showing a greedy person, so greedy that he makes misguided decisions. Shyness and repair cause great difficulties in obtaining desired goals. It has a stubbornness that prevents it from accepting the opinion of its surroundings.
Knight of Pentacles
This arcane thrown to the right is determining a very hardworking person. His patience allows him to benefit from everything he undertakes. He is very practical and cunning in material matters, so he gets numerous help. They are usually people who are not aware of the feelings of others. This arcane in inverted form is personified inaction. The restlessness and inertia that commonly dominates them prevents them from achieving the goals they have long wanted. He is predicting a break in the economy due to discouragement and lack of effort. Show a person overwhelmed by shyness.
Page of Pentacles
When this arcane presents himself to the law he is determining a very hardworking studious and persevering person. He is a born fighter capable of achieving all that is proposed. He likes to save by anticipating the future. He is a very nice and reliable person, so he is surrounded by friends and affections. He is extremely kind and always present when needed. If this arcane is present in an inverted form, it shows us a wasteful person who does not think about the present or the future. Very bad news related to finance will be presented. He is a detailed person but usually has superficial problems.
Ten of Pentacles
This arcane presented to the law will be indicating the obtaining of wealth through inheritances. It offers prosperity by acquiring property. Other people's work will be offering great material security. It represents the home, the house, the domestic economy, the family and with it all ancestry and descent. If this arcane is upside down there will be great inconveniences and litigation within the family because of money. There will be difficulties with wills or inheritance, which will cause ruptures in affections. The taste for gambling can bring big profits but also big losses.
Nine of Pentacles
When this Arcanum presents himself to the right, he represents legacies received, inheritances, which will favor investments and with them increase profits. The arrival of unexpected money will help to cope with distressing economic situations. The succession of good events will allow them to acquire real estate. It will be necessary to be careful with the consequences that certain actions can bring. If this card falls inverted, it can cause a misappropriation of funds that can lead to ruin. The abuse of trust can lead to the abuse of situations and looting of accounts that may be available to you. The arrival of dirty or bad money may have tempted them.
Eight of Pentacles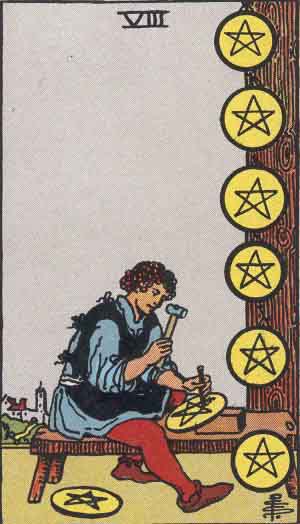 If this Arcanum presents himself to the law, he will be showing prudence in the acts and will develop savings and skill with the handling of money that will serve as the basis of fortune. Very conservative investments will be made that will lead to the resounding success of everything they undertake. Diplomacy will accompany you in all acts. If it is presented inverted it will show acts of dishonesty, where the scam will be part of each action. Evil and envy will be the predominant factors, which will only lead to rejection by the members of their environment. Acts of vanity and selfishness will deteriorate any type of relationship.
Seven of Pentacles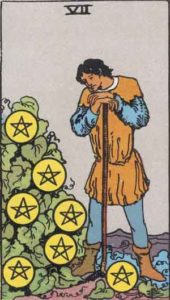 If this arcane is presented to the law, it will cause the development of speculation that will only lead to unproductive acts. The lack of interest will only lead to wasted useful work. Augura large projects marked by failure. This letter represents the lord of the acts not accomplished. If it appears inverted it favors the loss of goods due to the extreme anxiety that leads them to commit hurried investments. Great economic difficulties can lead to bankruptcy. Agitation and fear will lead them to make many mistakes that will be very expensive. The thoughts will not be very clear because of the permanent restlessness they will be coping with.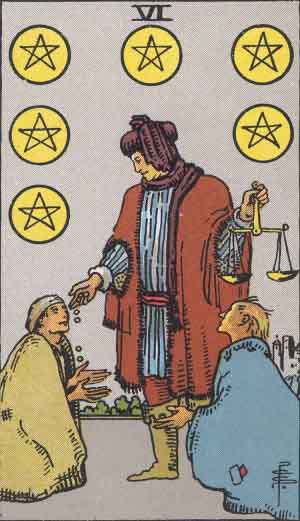 This Arcanum presented to the law predicts great solvency in the here and now. Both prizes and stimuli will be constant; as well as the reward for the efforts made. Very important achievements will be achieved at all levels. There will be a great development of philanthropy and charity for others. All daily events will receive their immediate reward. If this Arcane falls invested, it will bring excessive ambition that will only cause the loss of goods due to bad investments. Permanent oversight will cause disadvantages, and the possibility of being robbed. Great dreams of glory will develop that will not lead you anywhere. There will be an excess of expenses.
If this letter is presented to the law it will cause a loss of wealth and status, it shows that there will be economic difficulties that can lead to poverty. Determine a gallant man or an affectionate woman. Loves will be everywhere, as well as suitors and lovers. Love relationships will be very concordant. If this Arcane falls inverted it shows that the bad situation has to last for a long time, there will be a very bad economy accompanied by unemployment. Disorder and debauchery will only lead to confusion. Represents people prone to scandals and denouements.
If it is the right mark a very good situation that will lead to the increase in wealth. Material strength will develop. They will have the possibility of receiving very good news. It represents the lord of earthly power. It augurs good gifts as a reward for good deeds. If this arcane falls invested, he will be predicting a lack of decision when starting a business or project. The constant fear of losing will lead them to stagnate and let opportunities pass. Obstacles along the way cannot be overcome due to lack of capacity. Acts of envy and constant suspicion will arise.
When this Arcanum presents himself to the law, he shows that only the hard work is the one that leads to the success of all projects or ventures. It augurs the increase of the big businesses that will give enormous possibilities of work. These people are characterized by elegant manners, nobility and very good education. If this letter is presented inverted denotes greed and fear for any material loss, however small. Expresses a constant concern for material increases. The development of frivolity can be part of everyday life. It shows weakening, reduction of material goods and also of affections.
This arcane is presented to the law means that a very careful administration must be carried out in any company that is being carried out. Attention should be paid to the constant ups and downs that can prevent the expansion of companies. It shows that it is very important to know how to invest and take care of what has been obtained. Emotional agitation can cause many difficulties and harms. If this Arcane falls invested, he forecasts many debts. It shows a big difference between income and expenses that can lead to the loss of what has been achieved so far. The lack of reflection and impulsivity will prevent them from reaching the goal, it will be necessary to set aside that inclination for pleasures.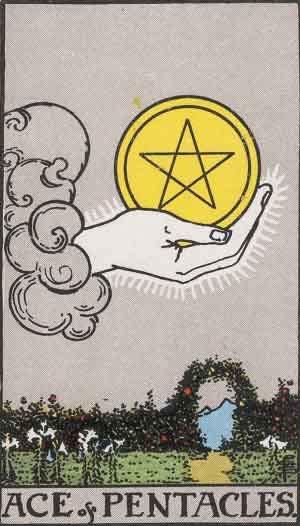 This letter when presented to law represents financial well-being that will provide great material comfort. The development of power without reaching abuse will allow you to scale positions. Joy and happiness will be present in different areas of life. Bliss and joy will be part of daily life. If this Arcane falls inverted, it shows greed and meanness. Lack of faith can lead to the loss or lack of development of everything that is undertaken. Augura deconcentration and lack of clarity. There will be a total and unbridled surrender to physical and mundane pleasures.