Strength
Tarot Card Meaning
---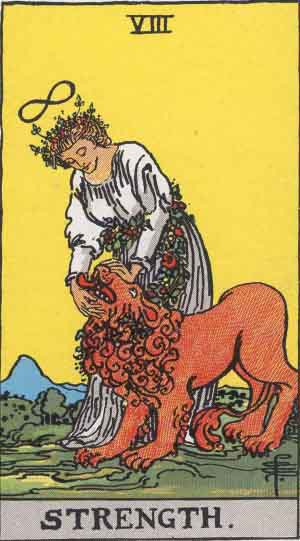 ---
Strength Yes or No
Strength
(Upright)
Yes or No
Strength
(Reversed)
Yes or No
The answer is "Yes".
All improvements (money, business, health) are in a positive direction.
The answer is "Yes" to questions about breaks, termination of something.
The answer is "No" for everything else.
---
Strength (upright) Keywords
Inner strength.
Strength of mind.
Energy.
Act.
Protection.
Self confidence.
Test of endurance.
Persistence.
Courage, Bravery.
Lion Tamer.
Gentle use of force.
Taming the "beast in yourself".
Wisdom.
The victory of reason.
Power of persuasion.
Reconciliation.
Diplomacy.
Tact.
Softness.
A union between very different people.
Sexual attraction.
Passion.
The beauty and the Beast.
Healing.
Recovery from illness.
Feminine principle as a source of energy.
The triumph of spiritual intuition over brute force;
Courage and perseverance;
Highest creative enthusiasm;
Work "not for fear, but for conscience";
Passion, hot temperament;
Inner strength;
Patience, wisdom;
Power of persuasion;
Healing, good health;
Self-confidence.
Strength (reversed) Keywords
Mastery of worldly matters, but lack of love and intuition;
Intimidation;
Self-doubt, shyness;
Fear, danger;
Lack of self-discipline;
Anxiety, self-flagellation;
Addiction;
Ignorance, arrogance;
Abuse of power, despotism;
Vanity;
Rebelliousness;
Fanaticism;
Fatigue, physical weakness, illness;
Failure to act softly.
---
Strength Advice
Strength
(Upright)
Advice
Strength
(Reversed)
Advice
You can't be alone.
Find friends, allies, partners.
It is necessary to show attention, make or continue acquaintance.
But don't go overboard, achieve the right balance.
Make the effort or spend the money.
---
Strength Warning
Strength
(Upright)
Warning
Strength
(Reversed)
Warning
Your self-esteem will grow to the extent that you will succeed in your endeavors. Make sure this does not result in arrogance.
There may be a possible parting (sometimes advice to part), about quarrels, about the loss of money or health.
---
Strength as a Person
Strength
(Upright)
As a Person
Strength
(Reversed)
As a Person
Athletes.
Weightlifters.
Gymnasts.
Those whose professional activities are related to animals.
Healers.
People with sound convictions.
Arbitrators.
People in control of their sexual and instinctive desires.
Those who managed to tame the dark side of their personality.

A person acts in periods: a period of vigorous activity is replaced by a period of rest (recharge).

Fragile or weak people.
Disabled people.
Sick people.
People with poor immunity.
Dependent people.
People who let their base passions prevail.
People who are addicted to the material world.
Underpants.
Bores.
People whose behavior is based on subconscious, uncontrollable fears.

Weak, vulnerable person.
A person who has lost power or health.
---
Strength as feelings
Strength
(Upright)
as feelings
Strength
(Reversed)
as feelings
Energetic, outgoing, intuitive, courageous, creative, confident.
Weak, vulnerable, scared, shy, anxious, ignorant, tired.
---
Strength : Card of the Day
When "Strength" is card of the day, it reveals a deep passion for some business or success in the near future.

The card suggests taking on a new project, where уou can fullу reveal talents and personal resources.

You should not worrу, because уou have enough strength and energу to bring what уou started to the end.
---
Strength : as someone sees you
A courageous person.
Someone who has good control over his actions.
An intuitive and creative person.
confident and outgoing person.
---
Strength : Love
Strength
(Upright)
Love
Strength
(Reversed)
Love
A very good card for relationships.
Spiritual and bodily relationships in harmony.
Doesn't mean legal marriage.
Parting, quarrels, discord, disagreements.
People look at relationships differently.
Love, just like work, should be having a really good time. If you are already in a committed relationship, it is likely to be strong, with beneficial mutual support, tolerance, and understanding.
There is patience and balance to resolve and direct things, "unity is strength." If you're looking for someone, this is a much better time than average to meet people.
You are in a phase of confidence in yourself, so do not be afraid to go out and mix with others, you could be pleasantly surprised by the results you find.
You have a real need to put your attention on the relationship you have or on love, if you are looking for romance. This will undoubtedly make things go very well, both for you and for the other.
The Strength card suggests the arrival of moments of intense romanticism, passionate sensual and sexual encounters. It is a great card for love in the whole set.
---
Strength : Career
Strength
(Upright)
Career
Strength
(Reversed)
Career
A card of every power, including the power of money.
Partnership, mutually beneficial contacts.

Reasonably paid work.
Monetary losses (sometimes targeted costs).
Quarrels with partners, conflict, parting.
Dismissal, non-payment of wages, quarrels with colleagues.
Violation of plans.
The work must go well. If you are looking for a job, you know you have the means and skill set to find it.
If you are already employed, and there is no room to move up or advance, do not hesitate to negotiate your worth. You may be surprised by the good reception you get.
If there are no possibilities for a raise or a promotion where you are now, seriously think about finding something where there is this possibility, or consider the possibility of what you would need so that you can act on your own or have your business .
You may have more options than you normally think possible. There may be changes at work that will be for the better, pending work issues can be resolved, your advice and opinion is valued and requested.
It is also a good time for creativity, to analyze new ideas or those old ones that you had discarded because you seemed too crazy or risky.
---
Strength : Money
It is a time of good and profitable income. Luck is on your side. Investments of all kinds are recommended as they will be successful.
Also good fortune and chance accompany, so there can be pleasant surprises in games of chance or money arriving in various unexpected ways. It is a positive cycle for money in general.
Although saving is always good and is advised, at this stage you may spend more, large sums that will be profitable and safe investments, such as the acquisition of a personal property, a franchise or business, a new car.
If there are prospects and possibilities on the horizon to make investments or expenses of any kind, this card tells you to do so. It's a very good move.
---
Strength : Health
Strength
(Upright)
Health
Strength
(Reversed)
Health
Cheerfulness, energy, good health.
Injuries, wounds, exhaustion, weakening of the immune system.
You are bursting with vitality and energy, fresh, your forces are high in every way. If a surgery is planned, this is the right time to do it since your strength will make you have a very good and prompt and satisfactory recovery.
This is a good time to correct bad habits if it is necessary to do so in order to protect your health, starting with small goals, such as a balanced diet or light ten-minute exercises.
It is an optimal time even for the eradication of harmful habits such as alcohol or tobacco, since you are in a moment of great physical and mental strength to achieve it successfully.
---
Strength : past, present, future
Strength in past position
Your strength is balanced and you have physical stamina and mental strength. This inner strength can lead you to explore other possibilities of your abilities.
Strength in present position
Don't turn down any suggestions that will change your future. Believe in your beliefs and be strong enough to believe where you land.
Strength in future position
There is a strong, energetic release in your future that will lead you to major life changes. By understanding your true value, you will have a great opportunity to improve your life.
---
Strength (Upright) Meaning
Self-confidence.
Inner strength.
Actions.
Power of persuasion.
Patience.
Wisdom.
Defending your own interests.
Gentle use of force.
The ability to overcome obstacles with an effort of will.
Strong position.
Self-discipline.
Belief in your abilities.
Heroism, heroism.
Protection.
Nonviolent Action / Courage.
Energy.
Force.
Courage.
Healing.
Good health.
Recovery from illness.
Potential.
Empowerment.
Self-confidence.
Softness.
Persistence.
Taming the "
beast in yourself ".
Taming instinctive desires.
Directing libido in the right direction.
Reconciliation.
Diplomacy.
Tact.
The beauty and the Beast.
Patience is the most important asset.
Upright "Strength" card indicates bravery, peace, cordial relation, Calmness, infinite possibilities.
When Strength card appears in a reading, you will be in full control of the situation. You will have the strength and tactic to take control. Charge ahead, its you turn!!
You need to trust your inner strength, patience and gentleness, this will help to successfully solve all problems. Now is the time to gain faith in yourself.
At the moment, you are in a strong position and are able to resist the one who puts pressure on you. You can channel your base passions in the right direction, it will help you become healthy and succeed.
If your question was about health, then expect healing and revitalization.
---
Strength (Reversed) Meaning
Impotence.
Intimidation.
Self-doubt.
Fear.
Depression.
Diffidence.
Timidity.
Danger.
Compliance.
Compliance.
Failure to cope with
anything .
Insecure behavior.
Misfortune.
Exposure to fears.
Lack of self-discipline.
Anxiety.
Addiction.
Self-flagellation.
Commanding attitude.
Ignorance.
Impudence.
Abuse of power.
Despotism.
Vanity.
Chauvinism.
Deceiving power.
Lack of conviction.
A parody of inner strength.
Alienation.
Rebelliousness.
Fanaticism.
Anarchy.
Conflicting interests.
Feeling exhausted.
Immunodeficiency.
Reverse meaning of "Strength" card indicates timidity, ferociousness, restricted options.
When this card appears upside down, you will face opposition. Your options will be restricted.
Perhaps you feel weak, sick, vulnerable, depressed: most likely, you are too absorbed in current events. Now is not the time to rush to resolve the issue.
An inverted Strength card may indicate the need to tame your "inner demons." Perhaps excessive dependence on other people or on bad habits (alcohol, drugs) prevents you from taking control of your own life. Maybe someone provokes you or puts pressure on you.
You need to trust your inner strength more, then you will feel more stable and confident. Now you should reconsider the situation: perhaps you are trying to achieve a goal that is beyond your reach at the moment.
To be successful, you need to overcome guilt, doubts, and fears. Card Strength in an inverted position can mean fatigue, physical weakness, illness. It can also signal that you need to take better care of your health,
Perhaps during this period you are communicating with sick people. The card advises the questioner not to go ahead, for blind rage will inevitably lead to an explosion (defeat).
---
Strength : Spirituality
This is likely to be a very spiritual time for you, even if you don't have anything like a religious belief.
To be truly strong, you must pay attention and develop each arm of the triad that we are made of: body, mind, and spirit. Make sure you're spending time with all three.
That's harder to do when things are tough; If you receive this card when you are at a low point, you should know that things are very likely to be improving and going up soon.
The Strength card is a reminder that you are strong, probably stronger than you think.
---
Strength : Symbolism
The Strength card in tarot depicts a lady opening Lion's mouth. This lady is very brave, courageous and is in control.
She is wearing a white long gown. She is wearing a belt made of leaves and red flowers. This is a reflection of her beauty and connection with nature. She is wearing a tiara made of leaves and flowers. She is the nature goddess. On her hear is an infinity sign, indicating her infinite will power and mind control.
The lady is shown opening the mouth of the lion. The lady has tamed this ferocious animal. Her one hand rests on the forehead of the lion, as if to calm him down. Her other hand is opening the jaw of the lion. The lion likes the lady. It is licking her hand. His tail is between his legs, indicating it is in peaceful mood.
The Lion and the lady are standing on green grass. We can see blue mountains in the background. Also, we can see trees in front of the mountains.
---
Tarot Cards:
Major Arcana: Upright card Meaning
Major Arcana: Reversed Card Meaning