The Tower
Tarot Card Meaning
---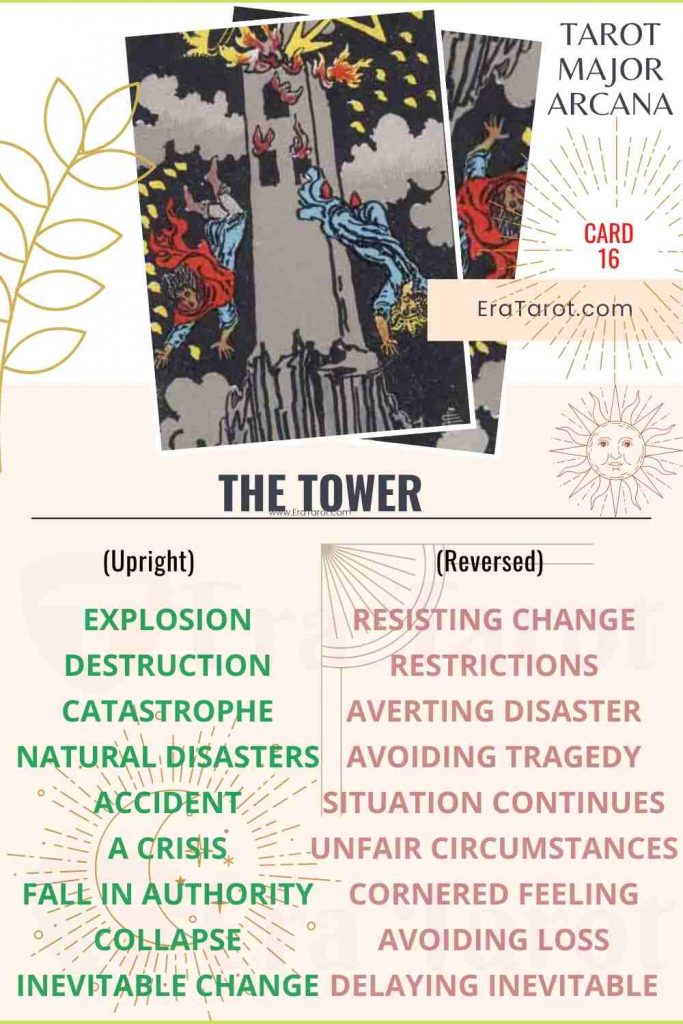 ---
The Tower Yes or No
The Tower
(Upright)
Yes or No
The Tower
(Reversed)
Yes or No
The answer is "No".
The answer is "Yes".
After the tests, a light streak sets in.
It will be easier, the worst is over.
---
The Tower (upright) Keywords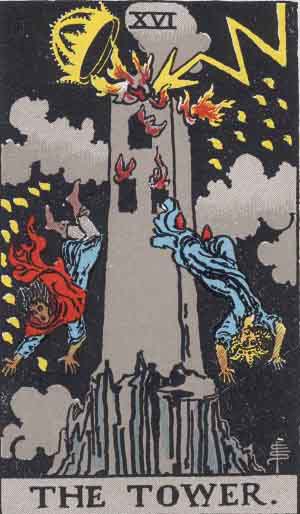 Explosion.
Destruction.
Catastrophe.
Natural disasters.
Accident.
Accident.
A crisis.
Default.
Military actions.
The revolution.
Change of the political system.
Fall in authority.
The collapse of misconceptions.
The moment of truth.
Punishment.
Imprisonment.
Inevitable changes.
Divorce.
Dismissal.
Liberation.
Enlightenment.
Painful experience.
Change of residence.
Complete collapse;
Reversal of ideas about the world;
Cleansing the soul;
Selfish plans and projects that will not bear fruit;
Conflict with disastrous consequences;
Destruction of the framework;
Destructive beginning;
Revolutionary views;
Sudden epiphany;
Devastation;
Shock, awakening;
Death of illusions;
Rapid change;
New job, new housing;
Separation, divorce;
Theft, job loss;
Family quarrels;
The truth about yourself.
The Tower (reversed) Keywords
Oppression
The process of change has already begun;
The injury has already occurred;
Time to pick up the pieces and start over;
Prolonged depression;
Failure to change anything or change yourself;
Restrictions on freedom.
---
The Tower Advice
The Tower
(Upright)
Advice
The Tower
(Reversed)
Advice
It will not do without conflicts and overcoming obstacles.
Sometimes this card advises to take risks.
Council to start restoration, pay off debts, make peace, make repairs;
do not leave things for later.
Calm down, take care of your health.
---
The Tower Warning
The Tower
(Upright)
Warning
The Tower
(Reversed)
Warning
You will be caught off guard, you will lose hope, you will feel helpless, but your life will not end.
Adjust to the new normal.
---
The Tower as a Person
The Tower
(Upright)
As a Person
The Tower
(Reversed)
As a Person
Aggressive, energetic people who challenge your opinion.
Those who hurt or rupture.
People who have suffered a severe life blow.
Victims of natural disasters.
Very talented artists, actresses, magicians.

Such people have inner sensitivity, emotionality in relation to what is happening.

They often become computer scientists, radio electronics engineers.
(they need a quiet place where they can discharge gradually)
Those who are in a state of shock.

People who are recovering from stress or illness.
The potential of such a person accumulates for a long time and spills out abruptly, at once.
They do not know how to store the accumulated energy.
During periods of powerlessness, they can vampire – that is suck other people's energy.
They often suffer from mental disorders.
They highly value decency, straightforward, scrupulous. They do not tolerate betrayal.
---
The Tower as feelings
The Tower
(Upright)
as feelings
The Tower
(Reversed)
as feelings
Emotional, touchy, powerless, disturbed, aggressive.
Injured, depressed.
---
The Tower : Card of the Day
The Tower is able to sуmbolize life transformations.

Perhaps уou went through a period of losses and were forced to give up something.

You could have lost something important.

Well, уou cannot change the past, so all that remains is to endure the valuable experience and move on. In the future, уou will be able to realize that a particular loss turned out to be something useful for уou.
---
The Tower as someone sees you
A person with an explosive character, the one who blows to the top of the head;
Someone who is emotionally volatile;
Someone who likes to "shake things up";
Someone who is disturbed.
---
The Tower : Love
The Tower
(Upright)
Love
The Tower
(Reversed)
Love
Quarrels, conflicts, divorce.
In rare cases, an African passion.
In some cases, rape.
Reconciliation.
In love it can also signal breakups and convulsed times, but it is much less serious in this inverted position. Things are not so violent nor are the stakes so extreme. Things can still get better if you put effort into communication and dialogue.
It is not the best time to try anything new or start a new romance because you are in a phase of much criticism and questioning. If you are in the process of divorce, get advice on legal issues, find out so as not to suffer negative consequences.
---
The Tower : Career
The Tower
(Upright)
Career
The Tower
(Reversed)
Career
Construction, renovation, moving to a new office.

Quarrels and conflicts in the team.

Loss, up to ruin (except for the construction business).
Debts will be repaid;
restoration of the destroyed, completion of repairs, prevention.
Finding a job.
At work, this letter indicates minor complications or of less impact than in its vertical version, but the questions continue. You can go through a period of depression or a lot of anger because of your work.
Things don't go your way, you don't do what you like, you don't earn what you expect. All these issues are going to make it difficult for you. There is not so much risk of losing your job, but rather you can leave it yourself, based on your proposals.
Remember what the letter tells us about the ego, it is likely to be a time of little understanding with people at work. Don't take things strictly personally. People often speak without foundation.
---
The Tower : Money
For money and finances, this letter tells us that you may have unforeseen and high expenses because of the family or children, perhaps necessary repairs at home, the car that breaks down and those things that alter our economy.
He also goes on to point out that this is not the time for investments or startups just yet. Save, tightly control expenses, plan. It is possible that you are not very comfortable with the money you receive and that you are afraid of losing it, to situations of poverty.
You must calm down. It is a hectic time of questions of all kinds. Already the clouds will dissipate and you will see the sunlight again.
---
The Tower : Health
The Tower
(Upright)
Health
The Tower
(Reversed)
Health
Attacks, injuries, operations, strokes, heart attacks.
Problem areas: spine, head, heart.
One of the death cards.
Postoperative (post-painful) condition.
Recovery begins.
As for health , it's a bit more reassuring in an inverted position. However, as you go through a period of serious confusion, you need to stay in control, paying attention and care in what you do. Being distracted can lead to all kinds of accidents.
---
The Tower : past, present, future
The Tower in past position
To make room for the new, the old must be destroyed. The ambition you have pursued is built on weak foundations and offers false rewards.
The Tower in present position
Conflict comes to mind in your life. Relationships must be re-evaluated and restructured to maintain.
The Tower in future position
Withstanding the challenges ahead, your future will be bright. See things the way you want them to be. Knowing that the worst is over, you can give strength.
---
The Tower (Upright) Meaning
Destruction of the old way of life.
Modifications.
Split.
Shock.
Devastation.
Awakening.
Instability.
Sudden insight.
Shocking discoveries.
Painful experience.
Significant changes.
A crisis.
Surprise.
Inevitable changes.
Liberation from the shackles.
Defects in the structure.
Death of illusions.
Liberation.
Incredible spiritual discoveries.
Purification.
Rapid change.
Exciting news.
A sudden flash that will set you free. Useless insight.
Liberation from the captivity of your own limitations.
Confusion.
Disappointment.
Rejection of false beliefs and outdated forms.
Violation of plans.
Destruction of useless structures.
Experiencing shame or guilt.
Weeding out false values.
The moment of truth.
Destruction of corrupt structures.
Separating the wheat from the chaff.
Freedom.
Enlightenment.
Conventional conventions that shackle you.
New job.
Change of residence.
An unpleasant incident.
Parting.
Divorce.
Accident.
Property problems.
Bankruptcy.
Loss of security.
Earthquakes.
Natural disasters.
In a medical setting, a sudden attack.
Hospitalization
The appearance of the Tower in the layout most often foreshadows imminent shocking and tragic changes. Your habitual way of life begins to crumble, and you have to witness the disintegration of the old way of life.
It may happen that you suddenly have to sell your house, move to a new place of residence, change your place of work, change your profession, visit a psychoanalyst, or there may be significant changes in your relationship with someone .
The meaning of these changes is that you will need to learn some important truth about yourself and act accordingly to the knowledge gained.
The changes heralded by this card will entail the comprehension of the truth, which will force you to free yourself from false constructions in your life and determine your true value.
The more you cling to a false lifestyle, the more destructive the change will be. Now is the time to let go of the shackled conventions and false beliefs that hold you back. The structure that limits you must be destroyed, and only then will you gain enlightenment.
Sometimes this card denotes theft, job loss, family quarrels, or property problems. The old order must be destroyed in order to make room for the new. Rotten structures, shuddering, will collapse.
In the upright position, the card symbolizes the end of the existing situation under the influence of external forces, moreover, unexpected and very fast. The collapse of the existing order of life.
This is a sudden decision to change the place of work (or profession), place of residence. It can also mean a rejection of the previous relationship or a very severe test of love or friendship, after which your opinion about people close to you changes dramatically.
Next to good cards, the ARKAN signals the disintegration of existing evil, portending the end of the black line in life and getting rid of the heavy burden of the present.
---
The Tower (Reversed) Meaning
Positive Meaning:
Trauma is in the past.
A change has taken place.
Your life will never be the same again.
Time to collect the pieces and start over.
Negative Meaning:
Voluntary acceptance of additional responsibilities.
Prolonged depression.
A situation that cannot be changed.
Failure to change yourself.
Restrictions on freedom.
Shackles of flesh.
Imprisonment.
The gap.
Breakdown.
Chaos.
Coup.
Catastrophe.
The value of freedom.
Tyranny.
Injustice.
Failure to get what was expected.
Freedom or death.
Stone walls are not yet a prison, iron bars are not yet a cage.
In the inverted position, the card indicates a strong dependence on existing circumstances that cannot be changed at the moment – your options are limited, and your personality is depressed.
You follow in your own footsteps (the same road), live in the old rut.
Positive aspect of the Tower upside down card : a scandalous or tense situation is coming to an end. Now you can collect the shards and start over.
The negative aspect of this card: it is possible that circumstances will be unfair to you. A structure or relationship that you have no doubt about can suddenly collapse.
You feel cornered, confined, constantly bumping into obstacles. You may be facing jail time. You do not find a way out of this negative situation.
During this period, you will have to face problems that cannot be avoided in any way. What is happening now is a consequence of past mistakes.
---
The Tower : Spirituality
As with the vertical sense, the inverted Tower tells us that this is a time to stay positive as much as possible, regardless of what is happening around you, count your blessings, and do not take things personally. they are.
---
The Tower Relation with Astrology
Uranus / Saturn as a symbol of a bursting abscess.
---
Tarot Cards:
Major Arcana: Upright card Meaning
Major Arcana: Reversed Card Meaning