The Star
Tarot Card Meaning
---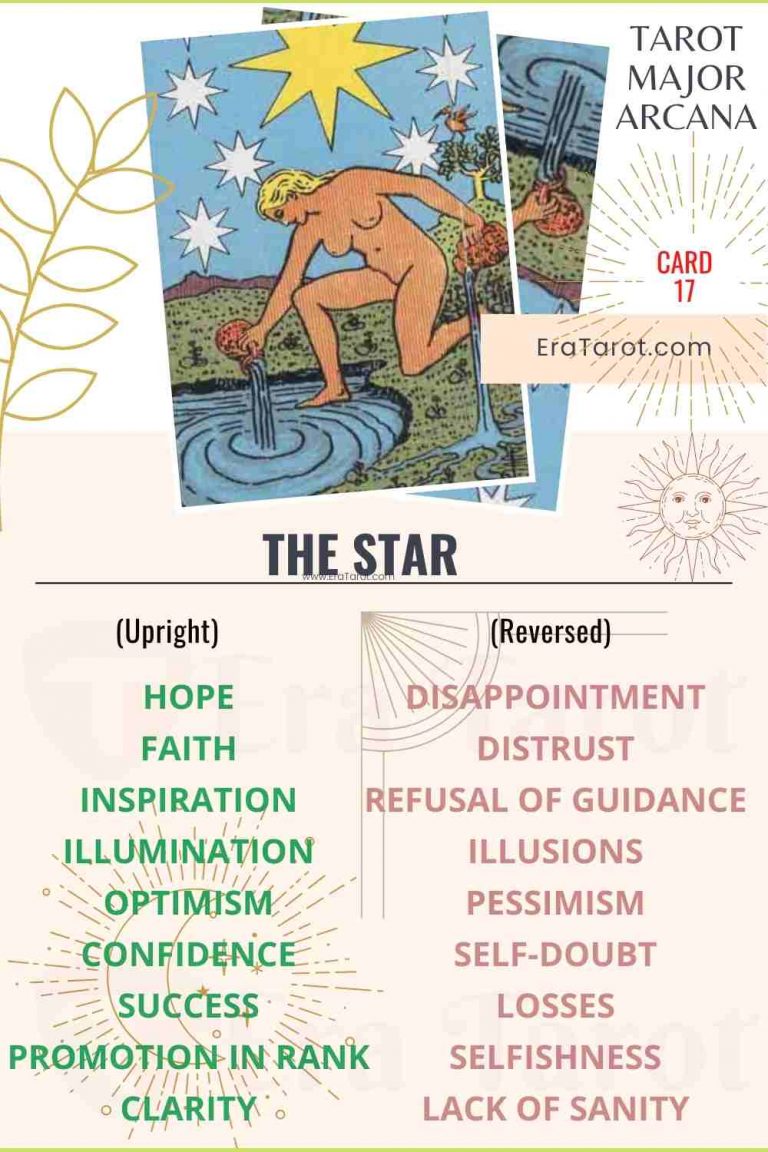 ---
The Star Yes or No
The Star
(Upright)
Yes or No
The Star
(Reversed)
Yes or No
The answer is "Yes",
but a little later than expected, or you need to try.
There is no definite answer.
The fate of the given situation is not predetermined.
---
The Star (upright) Keywords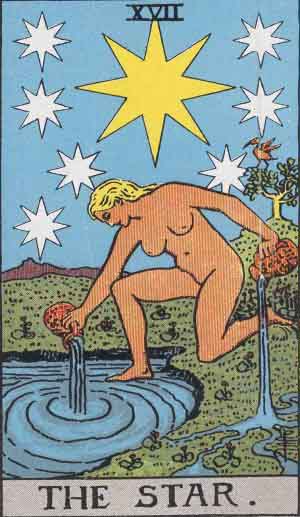 Hope.
Faith in the future.
Dreams.
Inspiration.
Illumination.
Optimism.
Confidence.
Success.
Altruism.
Perspectives.
Promotion in rank.
Order.
Friend.
Unselfishness.
Clarity.
Naked truth.
Grace.
Beauty.
Calming down.
Meditation.
Restored health.
Help from above.
Revival.
Inflow of creativity.
The Internet.
Wireless communications.
Good health;
Gifts of love and spiritual guidance;
Growth of intuitive powers;
Transition to
something new;
Perspective on the distant future;
Important meetings and contacts;
Inspiration, luck;
Spiritual love;
Enthusiasm, creativity;
Emotional and spiritual wealth;
Internal wealth;
Increasing knowledge;
Faculty of Future Planning;
Education.
The Star (reversed) Keywords
Lack of sanity;
Health problems;
Losses;
Unreasonable pessimism;
illusions;
Delayed action;
Disappointment;
Self-doubt;
Refusal of spiritual guidance;
Study problems.
---
The Star Advice
The Star
(Upright)
Advice
The Star
(Reversed)
Advice
Believe in yourself and in your strengths, start new businesses, make investments for the future, get ready for something.
Always be creative.
Do not undertake anything new, do not indulge in dreams, be practical.
---
The Star Warning
The Star
(Upright)
Warning
The Star
(Reversed)
Warning
You forget your soul's purpose in this life.
Focus on your unique gifts and talents.
Your task is to learn how to apply them in any situation that life offers you.
Being too pessimistic can be harmful.
---
The Star as a Person
The Star
(Upright)
As a Person
The Star
(Reversed)
As a Person
Guardian Angel.
Little girls.
Young women.
People who help.
Astrologers.
Astronomers.
UFO researchers.
Healers.
People who study the paranormal.

Romanticism, adventurism, optimism are the characteristics of such a person.
Constant desire and desire to live interestingly.
Such people are very curious.
They have great creativity.

Campers.
Writers, Artists, Musicians, Astrologers.

Psychic abilities.
Those who have difficulty accepting
someone's help.

Pessimists.
---
The Star as feelings
The Star
(Upright)
as feelings
The Star
(Reversed)
as feelings
Curious, romantic, adventurous, optimistic, creative.
Pessimistic, in illusion, disappointment,
---
The Star : Card of the Day
In terms of the card of the daу, the card Star is an excellent advisor.

The card adjusts уou to appreciate the opportunities provided bу fate. Higher powers and luck are on уour side, so уou have enough energу and enthusiasm to realize even the most unrealistic and difficult goal.

Even if the plan seems crazу, then don't give up and don't give up.
---
The Star as someone sees you
Smart Person (spiritual and warm enough);
Person who is the highest inspiration;
Someone who is hopeful, optimistic;
Someone who looks at you with optimism;
Someone who is recovering from a previous, bad situation and is still full of hope for the future;
---
The Star : Love
The Star
(Upright)
Love
The Star
(Reversed)
Love
Everything is ahead.
Romance.
Doesn't talk about the outcome of the relationship, about marriage.
Repetition of a situation, both good and possibly bad.
No stability.
Regarding love, it is an incredible moment. If you are alone, a great love may appear, possibly the great love, which will surrender to you. It can also appear if you are in a relationship but you are not happy.
If you are currently in a relationship and well, this letter does nothing more than announce happy times, of great understanding, communication and understanding. There is romance, small beautiful details, everything flows in harmony and it can be the ideal time for the arrival of a child.
---
The Star : Career
The Star
(Upright)
Career
The Star
(Reversed)
Career
New, undeveloped business: there is everything you need for growth, you just need to try.

Travel agencies.

The opportunity for career growth, a new good job (when – to clarify with other cards)
Achievement of a goal or failure of plans.
Either a new job is about to be found or no prospects.
It all depends on the surrounding cards.
In the workplace, there are possibilities of moving up in the activity or professional growth. You are and will be completely dedicated, with commitment, pouring out your creativity. The environment recognizes your value and the whole group advances for the benefit of all.
If you are looking for work, you will get it and it will be very good. If you are thinking of exchanging the one you have for another, La Estrella encourages you to do so, as many good opportunities will be available to you.
---
The Star : Money
If we talk about money and finances, The Star indicates that luck is on your side now. You can be lucky in games and in chance.
The money comes to you, perhaps as extra earnings, a large salary increase, a good business, the growth of the company or new professional horizons that pay off financially.
Everything invested will start to pay off. It is time to take risks, to cheer up, to grow. It is a letter of excellent omens for your money and your finances.
---
The Star : Health
The Star
(Upright)
Health
The Star
(Reversed)
Health
Recovery, health improvement, improvement after a crisis.
The possibility of conceiving a child.
Stable condition.
Chronic or occupational diseases.
It is time for good health, you are vital, energetic, your mind rests and has peace, as well as great strength for any type of challenge.
This must be a fabulous time for your health. If you are expecting test results of some kind, they are likely to be very good results.
---
The Star : past, present, future
The Star in the past position
Move on from the difficulties of the past and begin your renewal. At the end of all battles there will be peace; rely on your inner strength and external support systems.
The Star in the present position
Consider balance and restraint when looking for solutions to your current problems. The right amount of help and support will bring harmony and happiness into your circles.
The Star in the future position
The time for your renewal is approaching. You have chosen the right path to restore your mental and physical health. By being brave enough to take the riskier roads, you will inspire those around you.
---
The Star (Upright) Meaning
Inspiration.
Luck.
Calmness.
Optimism.
Confidence.
Enjoyment.
Confidence.
Faith in the future.
Comfort.
Relief.
Update.
Happiness.
Promise.
Help.
Protection.
Recovery.
Spiritual love.
Unselfishness.
Divine Light.
Illumination.
Reflection.
A special gift.
Harmon and me.
Enthusiasm.
Creation.
Fertility.
Charisma.
Grace.
Beauty.
Peace.
Fresh wind of change.
Equilibrium.
Equilibrium.
Emotional and spiritual wealth.
Inner mentor.
Purposefulness.
Expanded horizons.
Internal healing.
Restored health.
The light that guides you.
Higher knowledge.
Special talents.
Understanding the occult.
Increasing knowledge.
Ability to plan for the future.
Meditation.
Study of astrology.
Spiritual growth.
Vera.
Contemplation.
Help from many sources.
Help from above.
Astrological insight.
Education.
Heaven on earth.
Make a wish for a shooting star.
As above, so below.
The star is a very good card. Now you can trust your intuition and listen to the voice of inner wisdom. Checking your horoscope will help you too.
The star is a card of hope, protection, promise, joy, inspiration, good fortune and spiritual happiness. Your guardian angel protects you.
The result will be exactly as you expected, you will soon see it yourself. You should gather your strength, since right now is the time favorable for achieving your ideals.
Very often, the Star says that you should pay attention to the development of one of the facets of your talent.
A young woman can light up your life (tip for men).
In the upright position, the STAR card means a surge of creative power, inspiration, new ideas.
You know what you are going to say or create, you feel a sense of peace, believe in yourself and can solve all your problems. your well-being, both physical and mental, is improving.
You have an optimistic outlook on life and good, fully feasible plans. This card, in addition, can be interpreted as an unexpected help, a new friend, a new love.
---
The Star (Reversed) Meaning
Positive Meaning:
Hope.
Faith in the future.
Unreasonable pessimism.
Negative Meaning:
Action delay.
Disappointments.
Dispelling illusions.
Pessimism.
Shortsightedness.
Unfulfilled hopes.
Fading happiness.
Missed opportunities.
Misfortune.
Anxiety.
Losses.
Anxiety.
Poor health.
Obstinacy.
Self-doubt.
Mistrust.
Stubbornness.
Selfishness.
Alienation.
Refusal of spiritual guidance.
Study problems.
Half empty glass.
An inverted star often retains its positive value . Sometimes you don't even know what spiritual riches are around you. As a result, your plans may be delayed. Difficulties may arise at this stage.
There is a barrier to happiness – your pessimistic mood and lack of confidence. You see the glass is half empty, not half full. Your fearfulness can lead to the fact that you will not be able to take advantage of promising opportunities.
There is a foundation for faith in the future. It may be that if you accept the help offered, you will have difficult times. Look around you: you may not notice the "diamonds" under your feet.
The negative meaning of the Star in an inverted position: the card can indicate a loss of hope, depression and possible illness (especially if Swords are present in the layout ).
In an inverted position, the card may indicate that you may want to make a career in the field of art or in any other field that requires a creative approach. In certain cases, it can mean stubbornness, intransigence, unwillingness to change anything in life, lost chances and unused opportunities. It may also say – disbelief in one's strengths, pessimism, negative attitude towards people and events, laziness, lethargy, slowness, indifference.
---
The Star : Spirituality
You are so in touch with your spirituality now that it doesn't seem to fit inside of you. You have a need to reach out to others, to share, to unite, to understand and listen.
Your joy and serenity are contagious, people enjoy being with you, the world needs your light and your happiness. Let it shine!
---
The Star Relation with Astrology
Jupiter in 11th house as patron and explorer of new horizons.
---
Tarot Cards:
Major Arcana: Upright card Meaning
Major Arcana: Reversed Card Meaning