TAROT MINOR ARCANA - SWORDS
| | | |
| --- | --- | --- |
| | | |
| Ace of Swords: | Two of Swords: | Three of Swords: |
| | | |
| Four of Swords: | Five of Swords: | Six of Swords: |
| | | |
| Seven of Swords: | Eight of Swords: | Nine of Swords: |
| | | |
| Ten of Swords: | Page of Swords: | Knight of Swords: |
| | | |
| Queen of Swords: | King of Swords: | |
Suit of Swords represent difficulties and challenges. The suit of swords has a mournful tone. It is typically misinterpreted due to it difficult character.
The suit of Swords governs the realm of air. Hence matter of mind and thoughts are of prime importance in Suit of Swords. Matters of mind are of utmost importance. Its like a double edged sword.
Suit of Swords stands for:
Challenges
Mind, its analytical capacity and Intelligence
Ego, Confidence
Viewpoint, Clarity of thought
Making decision, taking control, uncertainty
straightforward Nature, Providing support
Suit of Swords and its connections:
The color associated with Suit of Swords is Indigo.
The element of nature associated with suit of cups of 'Air'
The season associated with the Suit of Swords if Winter.
The Gender associated with Suit of Spades is 'Male'
The direction associated with Suit of Spades if 'North'.
The suit associated with swords in 52-card laying card deck is 'Spades'.
King of Swords 
When this arcane presents himself to the law, he determines a man with great authority and hierarchy. You could say that he is a magistrate or a man of laws. This character is a rational and logical being. It has a great capacity for inventiveness. It is cautious and subtle. They can develop very well as a lawyer, as a notary or judge. If this arcane falls on the reverse side, he will be showing a man of bad feelings, stubborn and perverse. He is a calculating person who has very bad intentions. It is usually unfair and cruel when making decisions. All his acts are characterized by being very far from his heart.
Queen of Swords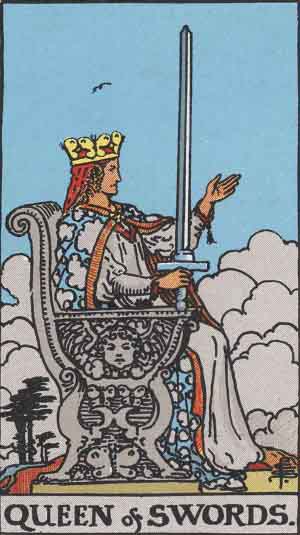 This arcane evidences, when it falls to the right, an extremely intelligent woman, with a great perspective and a great mental speed. Its fundamental characteristic is to recompose the opposite situations to obtain a personal benefit. It is very wise to carry out all kinds of ventures and is very complex when it comes to understanding it. If this arcane falls invested he will be determining a woman loaded with malice, very liar and with very bad intention. He is a belligerent person. All his actions are driven by evil intention and selfishness. It has a narrow mind and is characterized by a poor attitude.
Knight of Swords 
If this arcane in the roll falls to the right, he will be showing a very intelligent man, skilled in all the acts he undertakes. He is very active, capable of carrying out any venture. He has a dominant attitude, but also delicate manners. It has an unequaled value and resistance, which leads it to obtain everything that is proposed. If this arcane falls backwards it will be showing an ignorant and inept individual. Due to his lack of capacity and common sense, he will not be able to get everything he wants and will cause the destruction of what little he has achieved. He has a very quarrelsome attitude, so living together becomes difficult. He is a false and liar person.
Page of Swords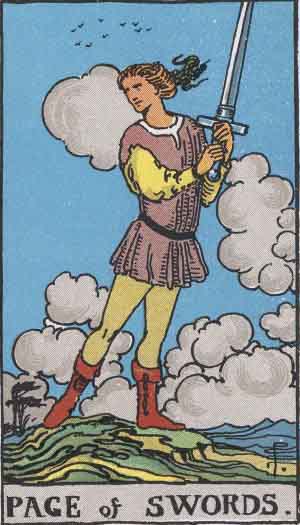 If this Arcanum presents himself to the law, he will be highlighting a very acute merchant or businessman. There will be the possibility of a news or a message that will cause a great change in your life. He is a very funny but very capable character, who is always alert not to miss the opportunities that usually arise at some point in life. If in the roll, this arcane falls inverted it will be showing a frivolous person hiding two faces. He is a dangerous person, because he always seeks revenge. Represents a cunning character, with a tendency to always hide something he will use to destroy others.
Ten of Swords 
This arcane represents the lord of ruin. When it falls to the right it represents a sudden loss of fortune. It offers a life marked by sorrows and sorrows. The permanent affliction and sorrow to which they will be exposed will cause great regrets. There may be desolation for material losses due to assaults or scams. This arcane when inverted will cause a sudden and violent change, which will cause profound destabilization and great losses. It also represents the power and authority necessary to start undertaking business, which is at risk of being very poorly managed.
Nine of Swords 
This Arcane is considered the lord of despair and cruelty. When it falls to the right it will be representing the appearance of sad premonitions. Sorrows and disappointment will signify the life of this character. Large material and emotional losses will mark the mood that will decline significantly. If this arcane falls invested he will be showing that the evil and cruelty of third parties is capable of causing such great despair that it can lead to suicide itself. Loneliness and misery will be part of your life, causing deep anguish and depression. Exile will be one of the exits chosen by this character.
Eight of Swords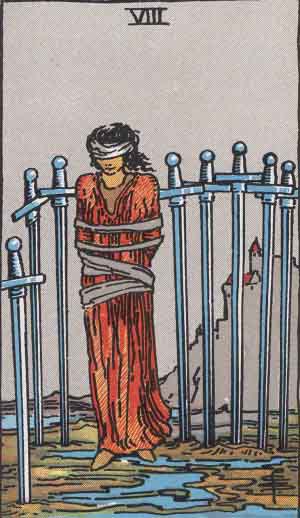 This arcane presented to the law represents envy and talk, which make life sad and delicate. Moments are prepared where the crisis will take over almost every situation. They will feel censored by close friends and this will lead to a voluntary withdrawal. It will be a very critical time that must be overcome. When this arcane falls backwards, it will be determining a moment of liberation and relaxation, since the problems will begin to move away, which does not mean that the conflicts are solved. They will not feel recognized or financially rewarded after performing heavy tasks.
Seven of Swords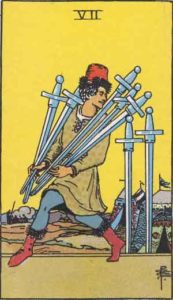 If this letter falls to the right it will be determining hopes to fulfill what seemed impossible. It offers wide possibilities of changes at work level but, also those changes affect the place where you live with the possibility of moving. There will be impediments in the achievements of the excessive cravings placed on them. The possibility of making short trips will be presented. If this arcane falls invested there will be moments of indecision where prudent advice from third parties and experts will be needed when starting any type of venture. It will be necessary to control the altered nerves in order to make the necessary observations. It will be necessary to request opinions.
Six of Swords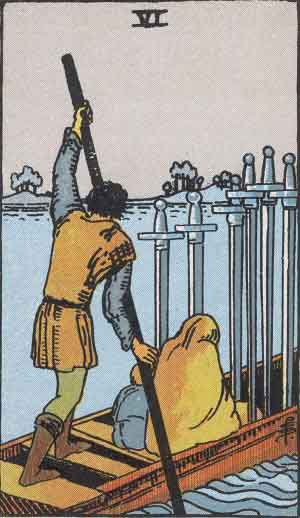 This Arcane when presented to the law will be marking obstacles that have been overcome. Difficulties and pains begin to move away from life. Long paths can be taken that will lead to success. Possible excursions and walks that will give the opportunity to meet new people where you can find good work opportunities as well as good friends. If this Arcane falls inverted, there will be a temporary calm that will be the product of the removal of the problems. The path that this Arcane is showing will be long and will need the effort, which must be permanent and constant in order to solve the problems.
Five of Swords 
This arcane when presented to law, is demonstrating the advancement of a conflict. There will be great losses and damages. Thoughts and actions based on negativity will lead to the defeat of everything that is undertaken and the destruction of any commercial and effective relationship. He predicts that most of the actions will be based on debauchery, which will also continue to cause inconveniences and great losses. This inverted arcane represents the presence of serious illnesses in loved ones which will lead them to live very painful moments impregnated with bitterness and sadness. Permanent indecision can lead to acts that will be irremediable. The grief will be an irremediable situation.
Four of Swords 
It is represented by the lord of rest. When the roll falls to the right shows the shadows and loneliness that appear in the life of the consultant. It offers the possibility of carrying out a retreat to rest. The inner need to start a lonely life will lead them to separate from friends and submit to seclusion and isolation. If it is presented in reverse it will be determining the prudence that leads to a good administration of the economy. The order and the good administration will allow the saving with vision of future. The reservation of goods will allow them to carry out projects denied in the past.
Three of Swords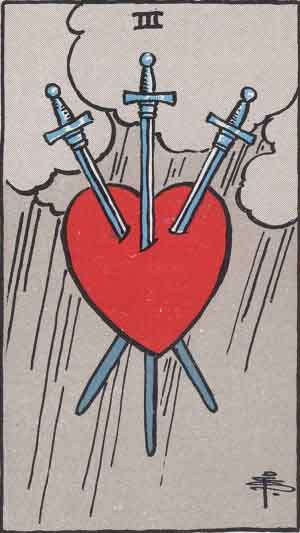 This arcane when he falls to the right will be announcing the probability of a temporary or permanent withdrawal due to fights and conflicts caused within the family environment. Augura loss of affections that will cause great anguish and sorrow in the heart this situation will cause ideas to be paralyzed. In the couple the opposite characters will be the cause of the separation. If this arcane falls inverted it will show a great lack of memory and distraction. The loss of important things, the forgetting of work appointments and acquired commitments, will cause great complications. Errors will be made, due to the lack of observation, which may be irremediable.
Two of Swords 
If this arcane falls to the right it is determining the pleasure that is achieved after a time of much suffering. It represents a reestablished peace that offers a truce and great relief. The acquired harmony will lead to the resolution of numerous inconveniences. Relationships will be determined by affection, affinity and correspondence. Sympathy will allow to establish new friendships. If the arcane is in reverse, it will be in the presence of false friends. Relationships will be based on lies and disloyalty, which will cause numerous discomforts and separations. There may be situations, which by not stopping to analyze will lead them to wrong paths.
Ace of Swords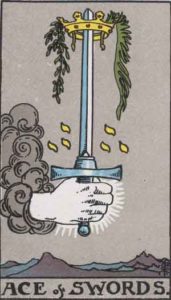 This arcane when presented right, will be showing victory in everything that starts. It represents the rebirth of everything that is undertaken. It favors the development of strength and momentum that lead to a total change of mentality. Glory will come from the hand of a total and permanent change of attitudes. If this arcane falls inverted, he will be showing that with the misuse of power, only dislikes and misfortunes will be achieved. The impetuous character will lead to the removal of affections. Permanent violence as a result of external factors will cause a stagnation, both economic and spiritual.