The Sun
Tarot card Meaning
---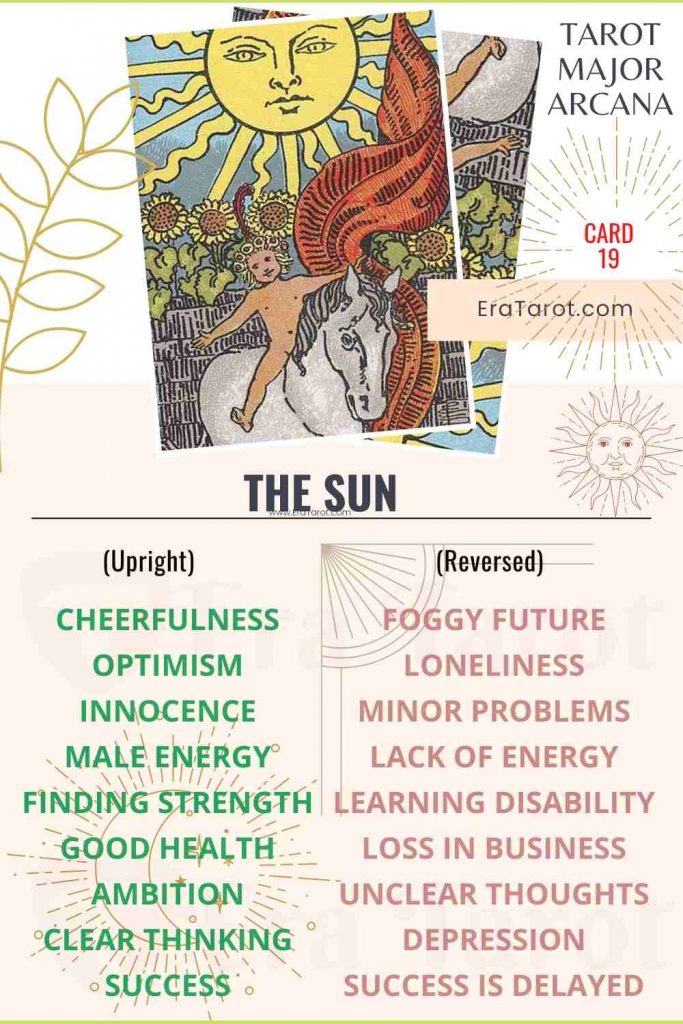 ---
The Sun Yes or No
The Sun
(Upright)
Yes or No
The Sun
(Reversed)
Yes or No
The answer is "Yes".
Even if the rest of the cards are unfavorable.
The answer is "Yes, but …" –
The desire is feasible, but there are obstacles
---
The Sun (upright) Keywords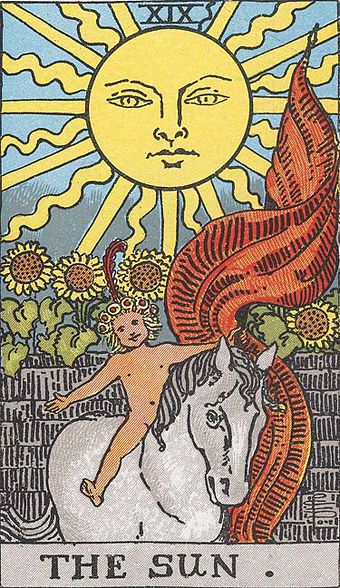 Cheerfulness.
Optimism.
Innocence.
Male energy.
Finding strength.
Good health.
Ambition.
Clear thinking.
Logics.
Self-control.
Time to take responsibility.
Attainment.
Success.
Glory.
Joy.
Happiness.
Celebration.
Public recognition.
High post.
Pleasure.
Well-being.
Enrichment.
Heat.
Friendship.
Successful marriage.
Children.
A world of light and joy;
Clear mind;
End of the stage;
Joy happiness;
Good health;
Success, positive achievement
anything;
Shared happiness;
Prosperity;
Efforts will bear fruit;
New ideas for the future;
Unleashing creativity;
Joyful work;
Warm, friendly atmosphere in the team;
Awakening, flowering and ripening of our solar nature (self-knowledge, self-awareness);
Vacation, trip, outdoor recreation;
Warm relationship with a partner;
Generosity, generosity, kindness;
Life energy, gaining strength;
Pleasure;
Illumination, truth, logic.
The Sun (reversed) Keywords
Loss / failure in business;
Relationships are in danger;
Success is delayed, but it will be;
Small pleasures;
Partial success;
Striving for success while achieving the wrong goals;
Foggy future;
Poor health;
Sunburn;
Learning disability;
Minor problems.
---
The Sun Advice
The Sun
(Upright)
Advice
The Sun
(Reversed)
Advice
Don't sit alone, socialize.
Try to find friends, supporters, like-minded people.
Think about children, about family.
See it through to the end.
Put your old business in order.
---
The Sun Warning
The Sun
(Upright)
Warning
The Sun
(Reversed)
Warning
Don't get too carried away with your success.
Don't try to be someone you are not.
---
The Sun as a Person
The Sun
(Upright)
As a Person
The Sun
(Reversed)
As a Person
Children.
Babies.
Fathers.
People who love to sunbathe.
Inventors.
Cheerful people.
Decisive people.
Leaders.
Kings.
Outstanding people.
Scientists.
Academicians.
Apollo.
Courageous men.
The one who gives life and sustains it.
The main feature of such people is generosity, nobility, generosity, openness, condescension to the weak.

Those who are always in a gloomy mood.
Ignorant or boastful people.
Those who are only trying to create the appearance of action.
Pessimists.

In the inverted position, the sun card symbolizes braggarts, people overly concerned about their appearance, ignorant and selfish.
---
The Sun as feelings
The Sun
(Upright)
as feelings
The Sun
(Reversed)
as feelings
Joyful, successful, prosperous, creative, friendly, generous, kind.
At Loss, unclear.
---
The Sun : Card of the Day
The Sun carries a lot of positive energy and usefulness.

You will be able to conquer a new step in the career ladder and defeat уour rivals. No problems and worries will get in the waу.

It makes sense to start something new and exciting. Immerse уourself in the realization of уour plans, and then the result will exceed even уour wildest expectations.

You will be luckу to meet inspired people who will become уour like-minded people and faithful helpers.

You can relax and enjoy life.
Everything will be fine.
Perhaps some joyful event will happen, you will receive favorable news or an unexpected pleasant gift.
---
The Sun as someone sees you
Optimistic Person.
Someone who is unlikely to give up.
Extrovert person who is also assertive.
---
The Sun : Love
The Sun
(Upright)
Love
The Sun
(Reversed)
Love
Love, friendship, understanding, family, home, the possibility of marriage, childbirth.
Temporary separations, arguments, disagreements, nothing special.
As for love, The Sun announces all kinds of well-being and happiness: Marriages, unions, living together, a lot of love and a lot of sexuality. It can indicate a partner with a strong character, but full of love and genuine feelings.
If you are alone, you will undoubtedly find love. If you are in a relationship the difficulties will disappear giving way to a tangible and lasting happiness.
---
The Sun : Career
The Sun
(Upright)
Career
The Sun
(Reversed)
Career
Stable business.
Good relationships with partners and in the team.
Stable income.

Work is ideal.
Ordinary business that will not end soon.
Flaws, inconsistencies with partners (not fatal).
Unfinished business.
If this card refers to work, it tells you that it is the ideal time for everything, whether it is finding a job very soon, growing the one you already have, starting new businesses, opening branches, expanding.
The people you work with cooperate and they are all in the same fight and the same purpose. Your job or profession is filled with new and clear ideas, you see the panorama and the future clear, you find solutions and you know what to do and how to proceed.
---
The Sun : Money
The economic could not be better with this card, the money arrives soon and fast. Everything that seemed impossible to collect is collected. There may be inheritances and arrival of extra money from unthinkable things. Luck in gambling and chance.
Your investments grow, your businesses are fruitful, the benefits are quick and palpable. If you are waiting for labor or judicial resolutions, the rulings will greatly favor you. Money will not be a problem at all for you.
---
The Sun : Health
The Sun
(Upright)
Health
The Sun
(Reversed)
Health
Excellent health.
Energy shared with others.
There are chronic diseases that are not life threatening.
In reference to health, it is unbeatable. The vitality you enjoy leads you on a path of well-being. There is recovery and healing from ailment, remarkable improvements from diseases or the complete absence of them. You feel great energy now and a new confidence in your body. You are full of strength.
---
The Sun : past, present, future
The Sun in past position
The successes you have made in the past will set the stage for future joys. Continue to develop your industry or field of study and you will receive a reward.
The Sun in present position
There is an opportunity for new friendships or relationships that will lead to happiness and contentment. Don't give up and you will be driven to success.
The Sun in future position
You are approaching the moment that could change your life. Take full advantage of this time and you will have a future of limitless possibilities.
---
The Sun (Upright) Meaning
Vital energy.
Pleasure.
Ambition.
Statement.
Finding strength.
Male energy.
Time to take responsibility.
Favorable development.
Illumination.
True.
Logics.
Clear thinking.
Heat.
Friendship.
The power of positive thinking.
Pure rational thinking.
Joy.
Satisfaction.
Creative self-expression.
Hope.
Enrichment.
Self-control.
Blessing.
Spiritual Victory.
Proclamation.
Manifestation.
Capabilities.
Energy.
Spontaneity.
Creative inspiration.
Public recognition.
Celebration.
Good health.
Courage.
Happiness.
Welfare.
Rationality.
Academic honors.
Scientific achievements.
Inventions.
Marriage.
Children.
Emotional well-being.
The dawn of a new day.
Summer.
Hot weather.
The joy of being outdoors.
Birthday.
On a clear day you will see everything.
You light up my life.
You are my sun.
Life is Beautiful.
A ray of sunshine will break into your life: This is a time of hope, joy, celebration, success, optimism, achievement, luck, health and happiness.
Time with good friends or kids pays off. Students will pass the exams successfully. You will withstand all the trials in life with honor.
You are capable of making conscious, rational and deliberate decisions. You feel filled with vitality and health. The literal interpretation of this card is travel or vacation, outdoor recreation, or a day at the beach.
In the upright position, the card symbolizes happiness, material well-being, good health, great successes, achievements in any field of activity, resourcefulness, ingenuity, respect of others, in a word – the heyday of life.
Sometimes The Sun can mean a holiday to achieve something important – a triumph, a reward, optimism, a good future, as well as the long-awaited fulfillment of desires: having a baby or joy about the success of children.
---
The Sun Reversed Meaning
Positive Meaning:
Success is delayed, but it will certainly come to you.
Small pleasures.
Not quite what you expected, but still happiness.
Partial success.
You are unaware of your success.
The Sun card has such a positive meaning that even in an inverted form, it does not lose it.
The sun indicates success, but emphasizes that it is late and will not be as turbulent as when the card appears in the correct position.
An inverted sun card can also indicate a desire for success while achieving the wrong goals, or talk about your desire to prove yourself and achieve success, although you do not deserve it.
The desire to live in accordance with generally accepted norms
Negative Meaning:
Failure.
Uncertainty.
Misfortune.
Foggy future.
Problems with children.
Marriage problems.
Gloom.
Losses.
Loneliness.
Depression.
Lack of energy.
Unclear thoughts.
Feeling underestimated.
Disagreement.
Misunderstanding.
Cancellation.
Hopelessness.
Lack of purpose.
Disease.
Poor health.
Sunburn.
Broken commitments.
Problems with conceiving.
Wrong opinion.
Learning disability.
Problems with exams.
Approaching darkness.
Night.
Even in an inverted position, the Sun card remains positive to some extent. Perhaps you are faced with the fact that the success of your enterprise is lagging for some reason, or you need to overcome some obstacles on the way to it.
There is a possibility that your wish is unfulfillable or simply unrealistic. You can only achieve partial success. Even if you get what you want, you will not feel the expected satisfaction.
Sometimes the Sun card draws attention to the fact that you have allowed success to cloud your head and do not notice what is happening. Do you want to gain recognition without doing anything that could lead you to success?
Are you letting your successes go round your head?
In negative layouts, the Sun card in an inverted position can indicate minor problems that annoy you, but are not critical. Perhaps, for a period of time, you will feel as if a dark cloud obscured the whole sky for you. You may feel that you are not loved or appreciated.
A pessimistic mood is detrimental to your health. Perhaps now you are worried about pregnancy or communication with children, experiencing difficulties in marriage or a love affair. Students during this period may not pass exams as well as they would like.
Or maybe you are depressed by the experience of your own failure? You may be suffering from minor health problems. Does it seem like your head is filled with only negative thoughts?
In an inverted position, the card symbolizes difficulties in contacts with people, problems in marriage and in partnership, misunderstandings, false notions of success, excessive hassle, and activity that does not produce results. Sometimes an inverted position portends health problems, family troubles or temporary separation from a loved one.
Not being a bad card in the literal sense, the inverted Sun card means that all the positive influence of the SUN in this position is weakened: Success, but only after considerable effort; hopes and dreams regarding heart affairs will come true, but not completely.

---
The Sun : Spirituality
This is a time when you feel blessed. You understand the meaning of things, the functioning of the world and beings, yearn for and perceive the truth, you search for it knowing that it will bring you answers you need.
It is a moment of personal enlightenment where you finally understand, you see the whole and at the same time the unity.
---
The Sun : Questions
What makes you happy?
Does your energy and enthusiasm help other people?
Are you starting to like yourself?
What success are you happy with?
Do you see the beauty of the world around you?
---
The Sun Relation with Astrology
The sun in the 5th house as a symbol of the joy of life, creativity and enjoyment of the game.
---
Tarot Cards:
Major Arcana: Upright card Meaning
Major Arcana: Reversed Card Meaning