Two of Wands
Tarot card Meaning
---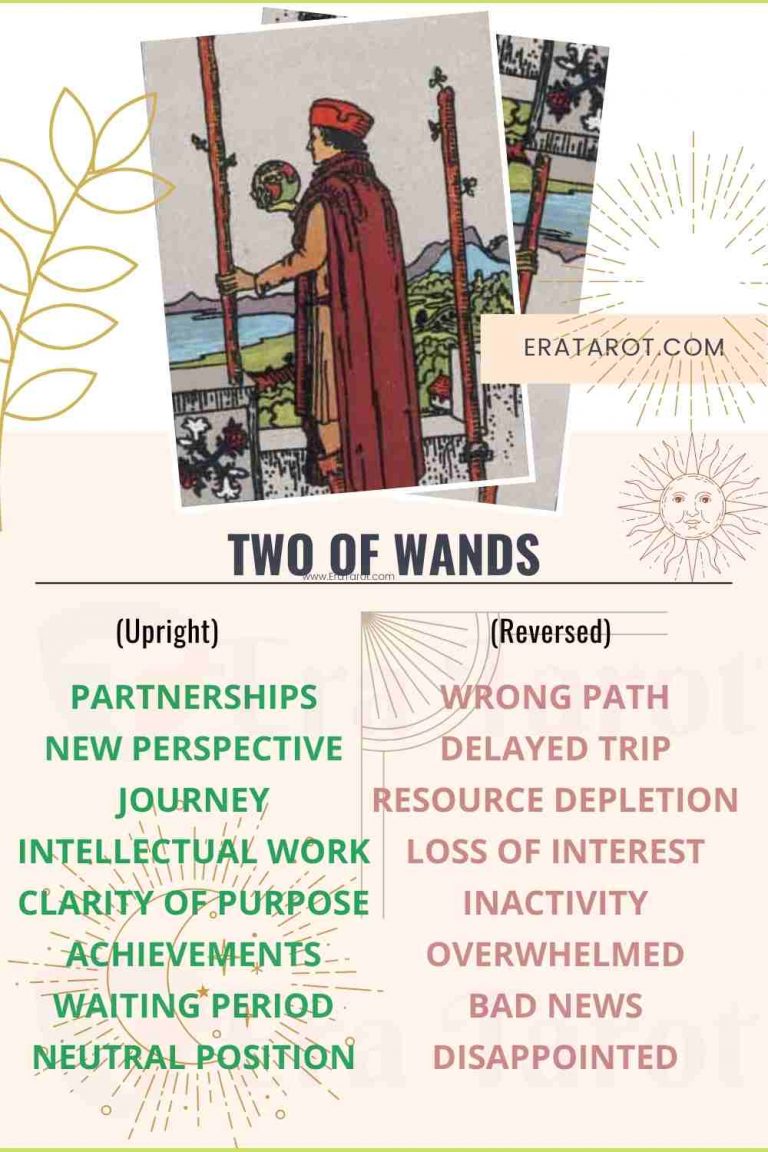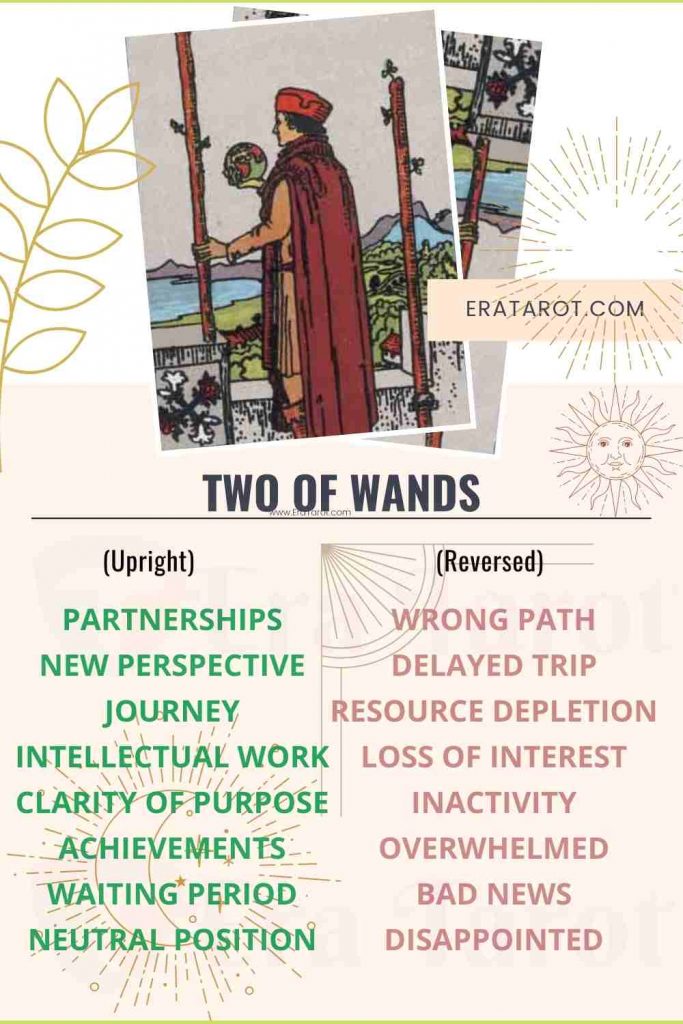 Two of wands represents authority and wealth that is achieved through great efforts and struggles. Good tasks will bring great benefits, both economic and emotional. The success will be very close.
If Two of Wands is reversed, it will show pride and excessive ambition when it comes to mastering situations. Unforeseen events and unexpected events will be part of life. Wealth will be obtained dishonestly. Some situations will cause anxiety and grief.
---
Two of Wands Yes or No
Two of Wands
(Upright)
Yes or No
Two of Wands
(Reversed)
Yes or No
The answer is uncertain.
Gaining new experiences.
It may mean that the situation is stabilizing.
(in front of you there will be a fork in the road, a crossroad.)
"No"
The idea will not bring the expected result.
Your idea of ​​the situation does not correspond to reality.
---
Two of Wands (upright) Keywords
Capabilities.
Neutrality.
Partnerships.
A joint project.
A new perspective.
Moving., Journey, travel
Cold, financially calculating relationships in marriage.
time to think – is it worth the candle?
Will there be later disappointment from the success you have received;
conceived is feasible, but with great costs;
creative and intellectual work;
balanced temperament;
clarity of purpose and fervent intent;
business achievements;
human kindness;
interest in science;
indifference, no anxiety, no interest even for loved ones;
neutral position;
inner emptiness;
union without warmth;
sincere suffering;
cash benefit;
unrealized potential;
waiting period;
preparing for change;
waiting for an answer.
Two of Wands (reversed) Keywords
wrong path, wrong values;
Problems with a partner.
Delayed or canceled trip.
there is a lot of effort, and the successful result is doubtful;
advice: be careful and patient;
don't let
anyone dominate you;
delays in action;
depletion of resources;
loss of interest;
inactivity;
feeling overwhelmed, disappointed;
bad news;
real estate problems;
feeling of worthlessness;
surprise, fright, surprise.
---
Two of Wands Advice
Two of Wands
(Upright)
Advice
Two of Wands
(Reversed)
Advice
Correlate the situation and your capabilities.
Be neutral.
Match desires and opportunities.
After all, not everything can be calculated, do not make plans.
---
Two of Wands Warning
Two of Wands
(Upright)
Warning
Two of Wands
(Reversed)
Warning
Take a Decision.
(do not hesitate for a long time, do not stop for a long time).
Be prepared not only in words, but also in deeds.
If you do not feel the situation, do not navigate in it.
Your intuition may not be enough to proceed.
---
Two of Wands as a Person
Two of Wands
(Upright)
As a Person
Two of Wands
(Reversed)
As a Person
Enterprising people.
Business partners.
Proud people.
Those who are involved in the negotiations.
Those who are in a state of expectation of an answer.
Travelers.

Ambitious but reasonable;
loving to choose and make plans, a good strategist.
Boring people.
Incompetent partners.
Those who doubt their abilities.
Proud people who create problems.
Sometimes a young girl who has suffered disappointments in life.
---
Two of Wands as feelings
Two of Wands
(Upright)
as feelings
Two of Wands
(Reversed)
as feelings
Ambitious , Creative, Balanced, intellectually stimulated, indifferent
feeling of worthlessness, tired of waiting
---
Two of Wands: Card of the Day
Today you seem to be sitting in indecision between two chairs.

You can't make a decision, speak up, or just finally get down to business.
Don't worry about this.

On such days it is really better to take a neutral position.

If more is required of you, you can express or express your attitude, but do not assume any obligations.

It will be better done tomorrow.
---
Two of Wands as someone sees you
A person with ideas, desires, ambitions, who is looking for cooperation from other people.
Ambitious but reasonable person
---
Two of Wands : Love
Two of Wands
(Upright)
Love
Two of Wands
(Reversed)
Love
Reflections on plans for future life.
Constructive cooperation, calm union.
The need to think about whether to continue the relationship;
choice between multiple fans.
Disappointment, mutual misunderstanding, loss of trust.
Couple can't speak the same language.
Relationships develop with varying degrees of success.
Throwing from side to side.
The Two of Wands points out that you now have a great vision about what to do and how to be so that the relationship goes on a new and better path.
There is a lot of equality now and the desire to move forward together, reaching new goals and new emotions. The numbers two are always an association, therefore your partnership with your partner is now very positive for the future.
If you are alone, perhaps you have a very high goal and you do not see that around you there may already be someone who fulfills what you want. Give it a try because it could be what you have always imagined for your love life.
---
Two of Wands : Career
Two of Wands
(Upright)
Career
Two of Wands
(Reversed)
Career
Successful trading card.
Strategy development, plan development.
Establishing contact with partners.
Outlining plans, managing, weighing the situation, obtaining permits.
Profits match effort.).
Stagnation after a good start.

Lack of a general line of development, random action, spontaneous business management (no plan), little money.
You are about to fit things in new or unusual ways. There is a new look, much more creative. You have everything to take the step forward, especially will and desire, whether it be to move up in your work, to create a society, to increase knowledge, to specialize, everything that means progress.
It can even mean trips abroad to train you. If you are looking for a job, orient yourself to what is related to your dream and what you love, the chances are much greater there that you will get. Your vision will be valued in a new position or activity.
---
Two of Wands : Money
There is a great balance and equality now between what goes in and what goes out. Planning keeps financial things going well. If you have a new idea or plan, try to put it in motion as the winds are blowing in your favor and you may be surprised with many more positive results than you imagine.
If you want a raise, ask for it. If you want to earn more, take risks, as long as that risk is properly planned.
---
Two of Wands : Health
Two of Wands
(Upright)
Health
Two of Wands
(Reversed)
Health
Balanced calm state.
The need to choose the right method of treatment, a strategic approach to the disease.
Imbalance of the body.
In some sources, pain.
Changeable condition, treatment with varying success, mood swings.
The two of wands indicates very good general health, a lot of balance between your body and your mind. Try to keep anxiety at bay, in these moments when you are making your breads and projects go, with a good dose of rest.
---
Two of Wands : past, present, future
Two of Wands in past position
Research, development and continuous application of your skills has led you to success in life. If you are about to arrive at your destination, keep looking ahead and planning.
Two of Wands in present position
A generous offer of help is coming. By analyzing and developing your ambitions, this influence will help you achieve realization.
Two of Wands in future position
Reflection and self-awareness will lead you to success. Trust your intuition, but also be open to help others.
---
Two of Wands (Upright) Meaning
Initial stages of the project.
The need to slow down and see how events unfold.
Lack of too much activity.
Cooperation.
A joint project.
Completion of the first phase of the project.
Sincere efforts.
Faith in the future.
Transition.
Achievements.
Ambition.
Pride.
Own.
Joint creative efforts.
Cash allowance.
Energetic action.
Height.
Initiative.
Preparing for Success.
Unrealized potential.
Working hard can lead to prosperity.
A new perspective.
New business partner.
Successful negotiations.
Foresight.
Movement in the right direction.
Waiting for an answer.
Changing of the living place.
Moving.
Journey.
Crossroad
Two of Wands often indicates a waiting period, which, however, will not bring peace as you prepare for change. You are at the initial stage of a project and, perhaps, you feel that further progress will not be easy.
Most likely, now is not the time for action. Most likely, while you are only at the stage of planning a project, trip or joint action with your partner. You may be waiting for a response to your business proposal or the results of an interview for a new job or school admission.
Now is the time to tackle the problem with energy. The negotiations that you will participate in will go well provided you are proactive.
The very period begins for you when you need to take all responsibility for your life into your own hands. You are able to overcome any obstacle. Lead your creative energy and make solid plans to achieve your goals.
Success will be the result of your hard work. You will achieve your goal if you continue to progress according to the plan. Moving to a new apartment, change of place of work is likely.
You may be expected to be rewarded at work. There is a chance that you will have to deal with important correspondence or contracts. This is one of the maps indicating a possible journey.
---
Two of Wands (Reversed) Meaning
Concerns about
a project.
Delays in action.
Depletion of resources.
Loss of interest.
Inactivity.
Wrong Way.
Feeling overwhelmed, disappointed.
Failure to direct your energy.
Unrealized potential.
Partner problems.
Lack of consent.
Negotiations that will end in failure.
Wrong values.
Self-doubt.
Excessive pride.
Lack of attention to detail.
Abuse of power or wealth.
Property problems.
Bad news.
Delayed or canceled trip.
Nothing happens.
In an inverted position, a card can mean anxiety, dependence on others, social overwhelming, lack of initiative, loss of trust, humiliation, sudden changes, "surprises" of fate.
Things are not going as planned. Perhaps you doubt your enthusiasm and dedication to a recently started project. You may receive bad news related to the negative results of past negotiations.
Most likely, in the very near future, you will be disappointed, as things are not going at all as you hoped.
And although the card still speaks of sincerity of intentions, potential opportunities may not be realized or the plan will not bring the desired results.
Excessive pride (yours or someone else's) can cause problems. If you own or operate real estate, expect trouble in this area.
Your dissatisfaction or feeling of worthlessness can lead to quarrels with your coworkers or frustration with your partner. If you are about to start a joint project, the
Two of Wands encourages you to think carefully about it.
Read in detail about Two of Wands Reversed
---
Two of Wands : Spirituality
There may be association and a lot of spiritual affinity with one or more people at this time. Remember that there must also be an affinity with yourself, so give yourself time for reflection, meditation, or prayer. Your state of calm and confidence encourages correct spiritual communication with all living beings.
---
Two of Wands Relation with Astrology
Two of Wands Zodiac sign:
The Zodiac sign associated with Two of Wands is Aries.
Mars in Libra as a symbol of forced consent without internal conviction – or without practical consequences.
Two of Wands represents first decade of Aries from March 21 to April 1.
Signs Sagittarius, Capricorn, the planets Jupiter and Saturn.
The first decade of Aries symbolizes a movement from depth to free space – furious, ready to overcome all obstacles and irresistibly striving for victory. This decade, just as Aries is familiar with the whole, is ruled by Mars, and the fiery impulse, reflecting the essence of this sign, is a symbol of any beginning. But this impulse is not yet strong and not protected, and therefore vulnerable: it has not yet adapted to the existing world.
This is a new role for which no script has yet been written. This is uncertainty in a new position due to a break with old experience, blinding by one's own impulse due to inability to see oneself from the outside. Therefore, to make a new right decision, it is important to rely on past achievements.
Turning to the figurative path that the Idea follows in its development, then at the level of the TWO STAFFS it (the Idea), as it were, is gaining strength, expanding. She is about to separate from the Creator and will be realized.
On a more material level (society) TWO Wands symbolizes a person with ideas, desires, ambitions, who is forced to seek a compromise with other people endowed with their ideas, desires and ambitions.
---
Tarot Cards:
Wands – Upright Card Meaning
Wands – Reversed Card Meaning