King of Wands
Tarot Card Meaning
---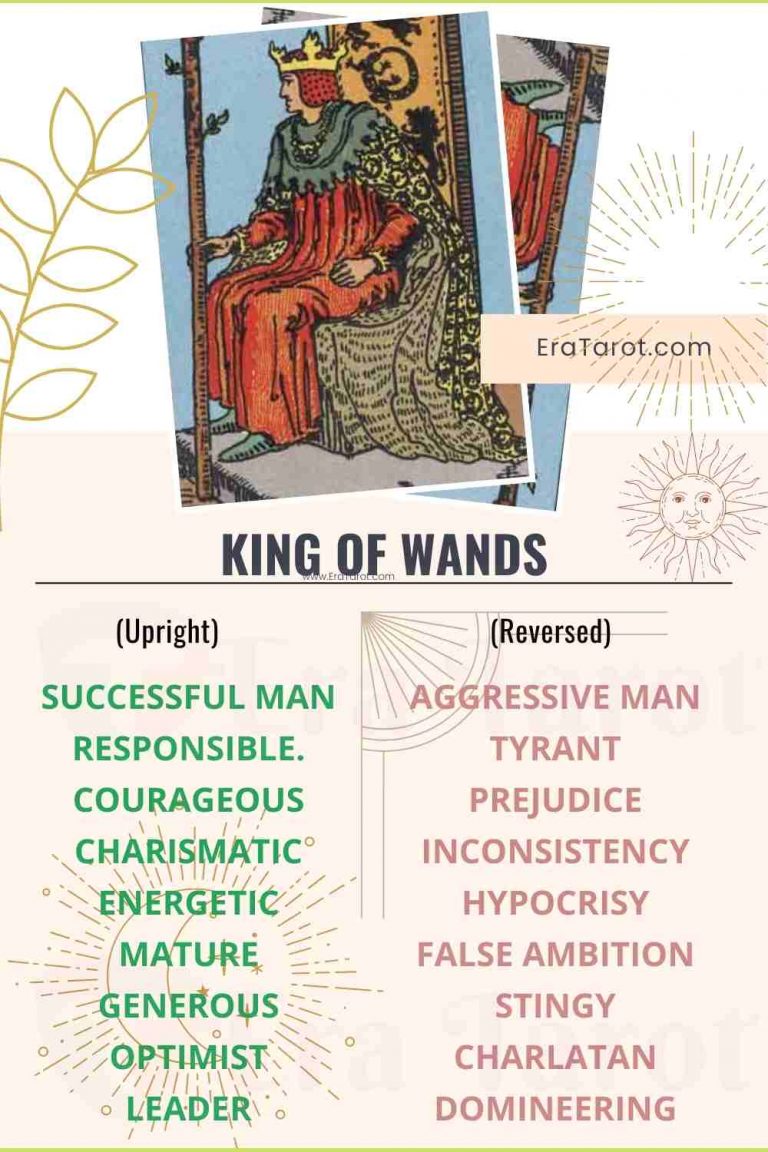 The King of Wands will always tell us about a formidable man in terms of his attitude, his ability to do things and his leadership skills to achieve all the goals he has set for himself.
---
King of Wands Yes or No
King of Wands
(Upright)
Yes or No
King of Wands
(Reversed)
Yes or No
"Yes".
You will have to take the initiative in your own hands.
"No".
---
King of Wands (upright) Keywords
An energetic, courageous, charismatic, handsome, independent, mature, socially successful man.
Educated.
Responsible.
Generous.
Optimist.
Professional.
Leader.
Holds tight to his family, foundations
Personal Effort Leading to Success
Promising projects in professional activity
Achieving Results
Good news about finance or business
Using your potential
Conscious commitment to a goal
Striving to bring your plans to life
Willingness to meet any challenge
Business acumen
Nobility and generosity
honest and conscientious.
denotes a wise leader, father, reliable partner;
activity, speed of reaction;
pride, ambition;
long-awaited news;
strong business card;
financial prosperity;
fussiness, inability to use your time (in case of a weakening of the sense of reality);
warmth, generosity, sincere passion;
fame, recognition;
inheritance, job promotion;
King of Wands (upright) Keywords
Domineering, cruel, aggressive man.
Fickle.
Stingy.
Adventurer.
Tyrant.
Charlatan.
Fraudster
recklessness;
false ambition;
unfavorable news;
severity and intolerance, imperiousness;
prejudice;
awkwardness in the implementation of transactions;
irascibility;
despotism;
misogyny.
charlatans should be avoided;
---
King of wands Advice
King of Wands
(Upright)
Advice
King of Wands
(Reversed)
Advice
You will have to take matters into your own hands, lead;
to act decisively, purposefully, boldly.
Seek advice from loved ones.

---
King of wands Warning
King of Wands
(Upright)
Warning
King of Wands
(Reversed)
Warning
Don't get excited.
You may be on the wrong path. Impudence, intolerance, selfishness are the worst qualities for you
---
King of wands as a Person
King of Wands
(Upright)
As a Person
King of Wands
(Reversed)
As a Person
Decisive leader.
The person in charge of the case.
A devoted father or husband.
A generous, loyal man of mature age who values ​​monogamous relationships and family life.
A wonderful conversationalist.
Reliable, albeit slightly impulsive business man, married and caring for his family.
A reliable and honest professional.
A person who can help you financially.
Entrepreneur.
An entrepreneurial man who starts many projects and takes responsibility for them.
An optimistic, cheerful, passionate, generous person who does not like to go into details and tends to rush actions.
Strong and brave lover.
A person who knows how to competently negotiate.
Someone who inspires others to be creative.
Mediators.
Arbitrators.
Inspirational Speakers and Evangelists.
Journalists.
Teachers.
Preachers.
Players.
Merchants.
People who are engaged in the promotion of goods on the market and marketing.
A dark-haired man with light eyes or a redhead with dark eyes.
Very mobile, very temperamental person

Inherent qualities: decisiveness, openness, energy, nobility, generosity, ability to make the right decisions, passionate, sexy, strives for self-realization and self-expression;
sports

Occupation: businessman, politician, a person who occupies a high position in society and has authority. Leader, leader, organizer.
Maybe a military man, a titled athlete, a traveler.
Sometimes a judge or a teacher.
A person who lies or doesn't speak directly.
Charlatan.
Dogmatist.
Suppressive person.
Overconfident, stubborn and controlling person.
A biased person who interferes with your plans or tries to involve you in completely opposite projects.
Someone who doesn't pay enough attention to the feelings of others.
The one whose main goal is his own promotion.
Selfish people.
Not overly scrupulous TV preachers.
Some sellers of used cars.
A person who loves to argue and does not choose the means to achieve the goal;
he is stubborn as a bull, and hates other people's instructions.
"Narcissistic despot and oppressor" with painful ambitions, often resulting in bragging.

---
King of wands as feelings
King of Wands
(Upright)
as feelings
King of Wands
(Reversed)
as feelings
Feeling Powerful and grateful
Honest, decent, truthful, creative.
pain, dominance
---
King of wands: Card of the Day
You can move mountains today!

You are overwhelmed with energy, and you can easily be able to inspire others with it.
If you don't have concrete plans yet, set yourself the highest goal possible, and you will most likely achieve it.

Difficulties that seem insurmountable to others, you will remove with one wave of your hand.
However, no matter how great your enthusiasm and self-confidence, try not to walk on corpses.
It is possible, however, that today you will just meet an interesting, temperamental man.
---
King of wands as someone sees you
-the proposed feelings are probably very intense and warm to you;
competitiveness. The King of Wands plays to win; – He's the king. He owes a debt. So he's not going to fly off his throne the minute some sexy girl decides to tease him, even though he's still a winner.
---
King of Wands : Love
King of Wands
(Upright)
Love
King of Wands
(Reversed)
Love
Hot, passionate love relationships.
The man sets the tone.
Often they mean the situation: the hunter is the prey (he catches it recklessly)
A very difficult partner.
Strong pressure from the man.
The King of Wands is an excellent omen. He means that someone you love has feelings of protection and care about you, and that both of you are willing to work hard if necessary to make the relationship work.
It is taking action to solve problems. Both you and your partner take an adult attitude, which focuses on the future and resolves always thinking in the long term. It is time to get moving and act, to do things together, to solve two, but it is also a positive card that augurs a stable, mature and calm time.
If they are in conflict, a third person, an older man, can be supportive and helpful at this time. If you are alone and looking for love, a person a little older than you will be interested in you or you will be interested in them.
---
King of Wands : Career
King of Wands
(Upright)
Career
King of Wands
(Reversed)
Career
Expanding business, capturing new spaces.
Healthy competition.
Execution of individual orders.
Problems associated with leadership that does not use the potential of the enterprise.

The King of Wands can indicate a man who wants to serve as a mentor to you. He is a man who can be trusted and counted on, although in his ways with people he can be a bit rough. Learn what you can from him without paying attention to those forms and modes.
The King is a very positive signifier in that you can get to be in a better, more positive job position, with a better job and position and of course, salary, very soon.
Male energy is very important now, it is the guide and guide of the moment and you can support yourself and count on it to achieve your goals.
It is also a great time to start an activity on your own.
If you are looking for a job , it is a positive card that announces that you will get it very soon, and also a man can help you. It is convenient that you look for those more masculine, stronger activities, face on that side to do your searches those jobs that are commanded by a man like the one described in this card.
There, in those areas, you will have a better chance of getting your job, and as has been said, it is also a good time for you to try something on your own, some independent task, which can give you more and better results than a salary in a job .
---
King of Wands : Money
The King of Wands is a pretty positive omen. You can discover a talent you didn't know you had that could lead to more money. If you've ever thought about starting your own business, this may indicate that this is a very good time to start taking action.
Not that you should dive headfirst into something if you're not in that position yet, start where you are. Read, do the research, talk to others… Don't hesitate to dream big, though. Boldness has great power to achieve things.
---
King of Wands : Health
King of Wands
(Upright)
Health
King of Wands
(Reversed)
Health
Strong health or quick recovery.
May indicate pressure surges.
A lot of effort was immediately invested in something, and now we need additional stimulation and support.
Apathy;
temporary disability
The King of Wands is rich in vitality. However, he also carries a warning not to overdo things or push your body beyond what it is capable of supporting; Rest and recovery is also a fundamental part of health.
Take some time to examine what you really feel, deep down. Anger and negative emotions can certainly affect your body. Allow yourself to feel what you feel, but find a way for those feelings to go away in a positive way.
---
King of Wands : past, present, future
King of Wands in past position
New ideas that you have introduced in the past will open up opportunities in the present. Ideas have given you a boost that inspires and inspires others.
King of Wands in present position
You will be successful if you get help promoting your ideas. There will be more and more inspiration to help others around you.
King of Wands in future position
The future will bring you success in your professional life. A good investment and reasonable spending will outweigh the risks you take, and the strong conviction you have shown will provide many opportunities.
---
King of Wands Upright Meaning:
Responsibility.
Wit.
Charm.
Force.
Inspiration.
Motivation.
Maturity.
Paternity.
Education.
Ambition.
Determination.
Courage.
Liveliness. Enthusiasm.
Desire to solve difficult problems.
Craving for new experiences.
Passion.
Loyalty.
Activity.
Dominant beginning.
Charisma.
Optimism. Generosity.
Promotion.
Creation.
Professionalism.
Healthy competition.
Impulsiveness.
Unexpected income.
Reflections.
Arbitration.
Conversation.
You can get good advice from a strong, mature, and generous man. In a relationship, you are able to respect your partner's point of view.
There will be a chance to meet interesting people. You can successfully negotiate and present your point of view.
However, if you are busy with routine tasks, you may be annoyed by the little things.
If you've been asking about love relationships, get ready for a sexual adventure. In general, the King of Wands in the correct position is an auspicious card and can mean a successful marriage.
---
King of Wands Reversed Meaning:
Power. Self-confidence. Ignorance. Deceit.
Choice of detours.
Dogmatism. Severity.
Prejudice.
Fanaticism.
Inflexibility.
Confrontation.
Antagonism.
Disagreement.
Hot temper.
Inconsistency.
Aggression.
Intransigence.
Ruthlessness.
Despotism.
Insensitivity.
Tyranny.
Hypocrisy.
Selfishness.
Self-interest.
Suspicion.
Excessive power.
Misogyny.
Resistance to female power.
Envy of the female womb.
Perhaps an ignorant, powerful person is intolerant and does not want to give in to you.
You need to maintain your position and not take actions that you know should not be taken. You also need to consider whether you have been overly authoritarian and insensitive towards others.
You should beware of charlatans and their get-rich-quick projects. If everything is too good to be true, it may not be worth believing. The cards indicate advice to be followed.
The time to move on to the action has not yet come. Must wait.
Read More about King of Wands Reversed ….
---
King of Wands Upright : Spirituality
The King of Wands is a sign that you are already on the right path when it comes to spiritual exploration. However, it also warns of a slight tendency to perhaps let go and try to push too far, too fast.
The development of spirituality is a process, it is not achieved with a snap of the fingers.
Give yourself the time and space to just be. If sitting and meditating is still difficult for you, keep it short, short periods, few minutes, don't force yourself into 1 hour of meditation.
You can do meditations while walking, that can be very effective too. Do what works well for you.
---
King of Wands Relation with Astrology
King of Wands Zodiac sign:
The Zodiac sign associated with King of Wands is Leo.
The Sun in Leo as an image of independence and self-confidence.
---
King of Wands Symbolism in Raider Waite Tarot Deck
Knig of Wands in Raider Waite Tarot Deck depict a KING. King – the physical and emotional nature to which the values ​​of this card are assigned – this is ignorance, ardor, flexibility (suppleness); lively, passionate, generous. He raises a flowering stick and, like three corresponding figures in other suits, wears the so-called supporting cap under his crown. It is associated with the symbol of the lion, which painted the coat of arms on the back of his throne.
The King of Wands presents us in the graphic a man sitting on his throne, dressed in a long orange tunic that represents optimism and self-confidence .
The salamanders , present in the entire court of wands, are in their cape and on their throne and bite their own tail, synonymous with being reborn and starting over before each obstacle that appears before them.
He holds a long flowered rod that is the arising power of life and the commitment that the king has with it, and the lions of his back denote his great power and strength , as well as the tongues of fire that are born from his crown.
The King of Wands is the male side of the element of fire, the strength and ability of which can be imagined by recalling the French King – the Sun – Louis 14.
This is the personification of unlimited faith in oneself, love of life and its joys: wealth, power, greatness. Moreover, these qualities are not selfish in the primitive sense of the word, this is not complacency and not self-interest: such a person is generous and generous with everyone around him.
Thus, this card expresses the will, self-confidence, desire not so much for material as for spiritual growth, for full realization and disclosure of one's own personality. Only in individual cases, when these qualities go to extremes, can they be expressed in self-love, self-exaltation, vanity and boasting.
KING OF THE STAFF – the real king of steadfastness and firm position. People and circumstances bow before him. He has tremendous power, and his flame burns without any outside support.
He personifies one hundred percent fidelity to himself. Its exceptional feature is that it does not have a certain principle, a certain will; it is a principle for the sake of principle, will for the sake of will, intention for the sake of intention. Since he always stands on his side, he is basically immoral and does what he wants.
The consequences can be both positive and negative. Very often, a card means an honest, direct, and conscious person, possibly a leader. His qualities: maturity, wisdom, devotion to ideas, friendliness, education, attractiveness. This is a noble, generous person, usually married and having children,
---
Tarot Cards:
---
Wands – Upright Card Meaning
Wands – Reversed Card Meaning
---