Six of Cups Upright: Significance for Love, Money, Profession, Health, Spirituality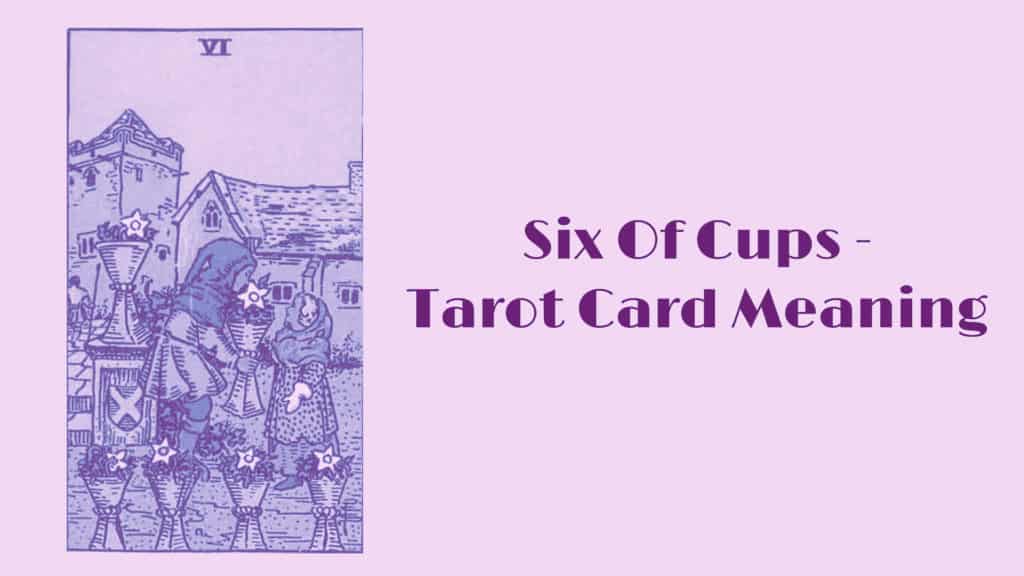 Meaning of Six of Cups in Tarot is that you are having lovely memories of the past. You are thinking about past friends or family members. Meaning of Reversed Six of Cups is clinging too much to the past. Reversed Six of Cups can also mean that you are repenting the opportunities you missed in the past.
Six of Cups Significance in Tarot Cups Reading
People all around the world wish to consider themselves as living in the carefree days of their childhood. But with adulthood, we tend to change in many ways. We become more mature, we learn to understand our responsibilities, controlling our emotional level. But some may go up and ask you whether your innocence has lost with time? It might happen that you become very naive in knowing a person completely and might have judged him all the way long. Being a human being it might happen that you get emotionally attached to someone but change while approaching the things. In such cases, you will find the card Six of Cups coming up to you from the suit of cards in a tarot card reading session. This is a card that will signify the time of your childhood where children show a high level of emotions flowing within the heart. It shows a stage when you are full of creativity and do not find any connection from the worldly obligations and responsibilities. This card will come to you in the form of a blessing which will your life full of happiness. But you need to make sure that it will always warn you would be lacking the adult wisdom when you need to take some serious decisions of life.
The Six of Cups: The Meaning Of The Symbols In The Card
Six of cups has the picture of a small girl and a young lad. The boy is giving the girl a cup, that has flowers and leaved. The girl is happy and smiling back at the boy. The boy too looks happy and peaceful. He is lovingly looking at the child.
The little blonde girl is wearing a yellow and blue gown. She has a red scarf cowering her head. Her gloves indicate that it must be winter season. The boy too is wearing thick winter clothes. His head too is covered with a funny looking red cap. He is wearing long brown boots.
This looks like a marketplace in the village. The boy may be a flower seller. There are 4 cups on the ground, one is kept on a short pillar and one is in the boy's hand (that he is giving the little girl). The pillar on which the cup is kept is beautifully carved and marked with the letter 'X'.
We can see building and houses in the background. There are small plants and bushes along the walls. Behind the boy is a stone walkway. A man is walking on the stone walkway. He is going towards a building. He has a stick in this hand.
"Six of Cups is a walk down the Childhood Memory Lane."
Upright Six of Cups:
Upright Six of Cups is about Childhood memories. Its about reconnecting with your childhood friends or just thinking about them. When you think of these memories, these memories will make you happy. Six of cups will want you to move down the childhood memory lane. You will want to reexperience the park you went, visit the school or spend time in your childhood home. You will feel like spending carefree moments with your old buddies – just like it was before.
Six of Cups may indicate that you have a harmonious relationship with children. You will love being around them. They will show you a different perspective of life.
Upright Six of cups shows up when there is a win-win situation. Both parties involved benefit from each other.
Upright Six of Cups in The Past Position:
If you see it will be one of the most rewarding moments of your life when you would be able to cherish your childhood memories and bring back it to your present life. You will be received a lot of affection from the people of your past and who still find a place in your current life. You must not waste your time searching for your past decisions but rather let them flow with its own pace. You always need to move ahead by making good achievements and taking steps by learning from your past regrets.
Upright Six of Cups In The Present Position:
In case the card is brought up and it is paced in the present position then you would be getting all the results of your past work. If you wish to improve your current life then you will have to make new friends, start working on some new projects, joining a new business house or any other activity. The main point here is that you need to very positive and work on the things that bring freshness to your life including your personal life and relationships.
Upright Six Of Cups In The Future Position:
With this card, you have great opportunities to enhance your future perspective. These perspectives would be constructed on the basis of your past decisions and virtues. You will understand the fact that it is not just essential to succeed back then but to make the same efforts in the future as well. It will help you to improve your capabilities which find their desires. It will help you to evolve from our present condition to your future.
Reversed Six of Cups:
Six of cup indicates that there may be some painful old memories that keep coming back to you. It also means that you may be thinking of some missed opportunities. Let  the past be in the past. You need to be in the present in order to carve a meaningful future.
Six of Cups reversed shows that you are thinking too much about old memories. This will do you no good. You should make an effort to start living in the present. Only then, can you achieve something in love.
Read More About Six of Cups …
Six Of Cups Impact On Every Aspect Of Your Life
Have you ever experienced the happiness of being nostalgic? You would be having a string of memories from your schooltime or playground the comfort zone of your home. These memories are filled with emotions and innocence. It will always keep suggesting you regarding your childhood memories which would comprise of your family members your friends and your loved ones. You would be witnessing the golden period of your life. It will help you to bring out the emotional side of your life rather than any other aspect.
Impact of Six of Cups on Love Life:
In the card, you can see that it is entirely filled with flowers of white color which means peace. There are two small children and one is passing a cup to another one. You can visualize that the boy is giving the cup full of white flowers to the girl. It can be easily understood that this is a sign of happy reunions among friends families and romantic partners. Moreover, it can also imply that it will have a sense of security and joy.
Impact of Six of Cups on Work Life:
Generally, people associate this card with a new beginning of something where you would be open to all the opportunities, you would be able to bring back your innocence, your creativity, and your joy. All these things are related to being very positive or being optimistic for all the chances life is throwing at you.   You would yourself in a position where you could take better decision by understanding the entire situation and putting efforts to make everything alright.
With this card Six of Cups would be taken back in time when you were a child full of zeal and enthusiasm. When we are not worrying about any future responsibilities. As a child is always ready for new possibilities and is available with all the freshness.
Impact of Six of Cups on Finance:
As we know the card – Six Of Cups deals with the fact it is closely connected to the past life of the person which is mainly his childhood and the happiest time of the world. You wont be dealing with some finances in your chilhood but yes can signify a time of your past when you were involved in business or financial activities. In your past, you might have put in great efforts in your studies your work or in your business. Everything would be reflected to you through this card.
Impact of Six of Cups on Health:
It will bring a happy time for your body as well. You would energetic and full of enthusiasm all the time.
So now would move on to know more about the card Six of Cups when it is placed in the past present and future.
The Interpretation Of Yes/No In The Card – Six Of Cups:
The answer that one would et with this card is – Yes. It will help in revamping your condition and making it very fruitful. You would be able to notice the changes of the past activities and then know how it could be done in a proper manner. The point here is to very optimistic with all the decisions you take and make it happen.
Conclusion:
Getting this beautiful card in your court is something that would make you feel very nostalgic but with that, it will bring back the childish enthusiasm and optimism. With this optimism and zeal, you could improvise your present life as well as your future.
Cups – Upright Card Meaning
Ace of cups , Two of Cups, Three of Cups , Four of Cups , Five of Cups , Six of Cups , Seven of cups, Eight of Cups , Nine of Cups , Ten of Cups , Page of Cups, Knight of Cups , Queen of Cups , King of Cups
Cups – Reversed Card Meaning
Ace of Cups Reversed , Two of Cups Reversed , Three of Cups Reversed , Four of Cups Reversed , Five of Cups Reversed , Six of Cups Reversed , Seven of Cups Reversed , Eight of Cups Reversed , Nine of Cups Reversed , Ten of Cups Reversed , Page of Cups Reversed , Knight of Cups Reversed , Queen of Cups Reversed , King of Cups Reversed