King of Cups Upright: Significance for Love, Money, Profession, Health, Spirituality
---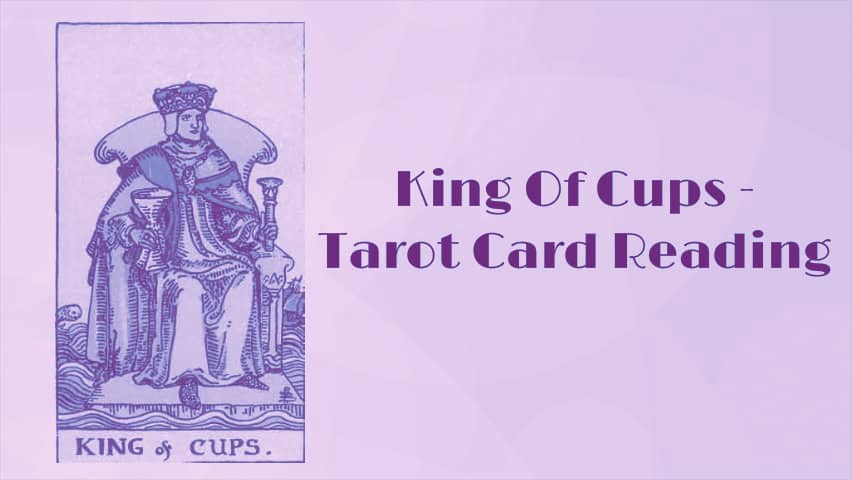 Introduction:
We all know that our lives are roller coaster ride where we might experience all the ups and downs and also overcome them. Sometimes there is a situation where you would feel yourself to be a king and the very next moment you would be experiencing some really major problems that you won't be able to manage it on your own. In such situations, people always find a different way or a spiritual way to resolve the problem. Tarot card reading is one such solution which will help you in resolving all your issues. Suppose while making your choice of card what would happen if you get a King Of Cups?
Basically, this card is a sign of power and authority. But along with that it also gives an upper hand to the creative minds. A person with this card would be overwhelmed with all sort of emotions along with a sort of authoritative control on his surroundings and people. It will also help you to know that till the time comes you would have already had control over your emotions and do not meant to be focussed just on it.  But as we all know and are aware of the greatest qualities of being a king is to always stay calm and composed irrespective of the situation. Similarly, the person must have a grip on his emotional side and have good command and control over his feelings. Just like the king, the person with the card needs to show the philanthropist behavior or the generosity towards his closest people, his friends, and family. You can see easily get the significance of the card by the impact it might create on his kins. Moreover, it will preach that having control over the feelings does not mean you need to suppress it but display it in a proper manner and maintain a balance as well.
Impact On Life:
If you are indicating the general aspect of the card – King Of Cups then you need to be aware of all the kindness along with compassion and wisdom. With the representation, it will show that your mind and heart would be strong to accept all the situations and would not get influenced by any such thing. In search of wisdom, you will have to be very calm and deal with the challenges that come to you. It will help you in gaining insight into a deeper level of emotions or feelings. It will come out in the form of maturity and wisdom. Moreover, it will help you to become a bit sympathetic with all your people and kins. It would make you tolerant of all the happenings around you. With different situations, you would be learning a sympathetic way to deal with people. When this card would appear it would bring out your creative side and work towards it. You would be seeking a good change in yourself by becoming a good listener and being diplomatic. You will be lacking a level of material wealth and help you to focus on the emotional side of life. This small thing will help your family to understand how being emotional will help in family orientation. 
Love And Relationships:
In case if you are the person receiving the card and you are already in a relationship, then this card – King Of Cups will prove to be a good omen and will help you to become a good father, son or husband. It is a card that comes with a lot of love and compassion. You and your partner would be overwhelming with love and so fewer arguments and should be at a minimum. It will aim to bring a passionate romance in your life with the spark. You might be having some tough time working out on those feelings but once you have full command on it then made it wonderful. You would find some really good qualities in your partner and make it appear as charming and loyal and devoted. You would be able to handle the situations very generous and mature.
Finance:
If you are talking in terms of money or career then this card will indicate the incoming of some really good times. Your elder will support you by providing skills and helping in the financial business. It will bring a stage where you would be financially stable and also very secure. It will not bring a time of financial dealings.
Work:
You would have to treat your colleagues as equal and make them feel respected. It will help you grow your business. You will have to provide undivided attention to your work and it does not mean that you will be leaving your personal life neglected. There has to be a proper balance between work and life.
Health:
If you are checking in the context of your health or if you are in the process of healing then it will be providing a positive card. It will help you to imbibe the fact that your body is a temple and that you should take good care of it and treat it with care and love. The card will indicate you to stay emotionally healthy.
Now that we have seen the impact of the card on various ways, its time to check how the card will bring change when it is placed in different positions.
What would happen if the card – King Of Cups is placed in the Past Position?
Your past work will be in a mood of revisiting you. You can learn from your past mistakes and prevent them from happening in the present or future. You would be able to seek some good ideas and a very professional guide.
What would happen if the card – King Of Cups is placed in the Present Position?
Your present life is something very beautiful and will make you capable of supporting all your family members and kins. You must be able to take good suggestions from others and also support if you need.
What would happen if the card – King Of Cups is placed in the Future Position?
With this card, you will be able to bring a state of peacefulness and get some really proper advice. It will help you to maintain a proper balance between your personal as well as professional life.
How will you be able to interpret the answer of the card – King Of Cups?
The answer that you might be searching is yes. But in some cases, it might become a bit unclear as the card comes with a great level of knowledge and experience.
Conclusion:
This card – King Of Cups is filled with compassion and all the positive vibes. It will help you to imbibe some good qualities with time.
Cups – Upright Card Meaning
Ace of cups , Two of Cups, Three of Cups , Four of Cups , Five of Cups , Six of Cups , Seven of cups, Eight of Cups , Nine of Cups , Ten of Cups , Page of Cups, Knight of Cups , Queen of Cups , King of Cups
Cups – Reversed Card Meaning
Ace of Cups Reversed , Two of Cups Reversed , Three of Cups Reversed , Four of Cups Reversed , Five of Cups Reversed , Six of Cups Reversed , Seven of Cups Reversed , Eight of Cups Reversed , Nine of Cups Reversed , Ten of Cups Reversed , Page of Cups Reversed , Knight of Cups Reversed , Queen of Cups Reversed , King of Cups Reversed