Nine of Cups Upright: Significance for Love, Money, Profession, Health, Spirituality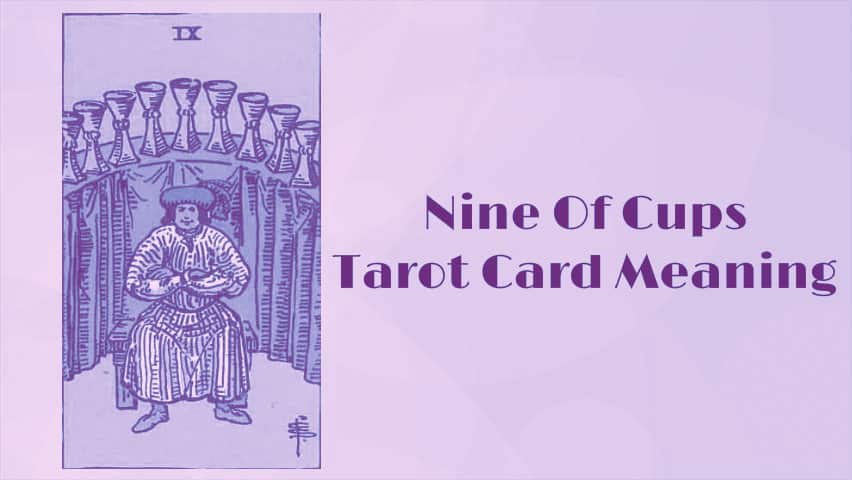 Introduction:
Nine of Cups is about Feelings and Relationships. 'Water' is the element of 9 of Wands.
With the appearance of this card – Nine Of Cups, you will notice that it will bring a sign of fulfillment. There will be an expression of contentment and satisfaction. It will indicate the emotional fulfillment of the person where you can carry your deepest desires. It is the significance of success and fulfillment both in a spiritual way and materialistic way. It will directly mean that you have achieved your innermost desires. Moreover, it is so powerful that the contentment will last for a longer period. This contentment is heavily tied with the creative endeavor of the person and his good wished for the future. As a person, you just have to glance around and feel that your heart is overwhelmed with a lot of love and affection and you would be having a positive vibe to appreciate everything around you. You would be having a sense of satisfaction in all the aspects of your life such as relationship, work-life balancing your health and well being and overall your emotional balance. If it often considered as the wish card which will aim to bring all the planets into proper alignment and fulfill your wish to be happier. But for the same, you will have to wait patiently till the card comes into an excellent omen.
You can also consider it as an invitation to splurge that will help you to indulge and enjoy your life to the fullest with all the pleasures. You will be able to enjoy your food and wine and along with that, you would appreciate the beauty of art that will help you in making love by having a relaxing feeling. It will teach you to live in the moment which will permit you to indulge without any concern for the past consequences of pleasure. In case if you are struggling to find a positive state. You will have to cherish all your moments of happiness as it may disappear later and you might have to adapt to the new changes in the world.
Now we need to observe what would be the changes in your life if the card – Nine Of Cups appears in three different positions mainly Past, Present, Future.
Nine of Cups Symbolism in Raider Waite Tarot Deck
This card depicts a contented man quite adequate to the name, surrounded by a wall of wine goblets.
Nine of Cups Upright Meaning: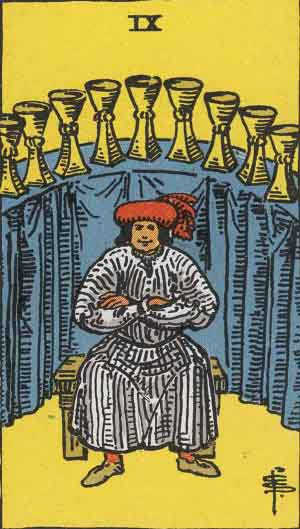 In the upright position, Nine of Cups shows material success and prosperity.
What do you expect if your Nine Of Cups appears in the Past Position?
Suppose you are getting the card – Nine Of Cups in the Past position then it will be helpful in attaining the peaceful balance of your soul. All the efforts will be spent by brining your reward and will help you to stay strong for a longer period of time. Moreover, you would be in a state of mind where you would keep working and will be healthy all the time.
What do you expect if your Nine Of Cups appears in the Present Position?
In case the card – Nine Of Cups that you are hoping for appears in the Present position then you will have an inclination towards your emotional side. The material well-being would be at hand. You need to have a look at your friends and family just for advice and long-lasting support. It will help you to find some recognition and fulfillment.
What do you expect if your Nine Of Cups appears in the Future Position?
After all, this, when the Nine Of Cups card appear in the Future position then you will have to settle down yourself down the roadway. It will help you to stay true to your desires and help you to reach the destination that you are seeking. Moreover, it will aim to bring a balance to your heart and mind which will be a true calling.
Reversed Nine of Cups in Present Position
In present position this card shows that the tendency to deviation is higher. It can also mean either a lack of control (immoderation, indulgence), or
excess (isolation, alienation, self absorption). Fluctuations are significant, the balance is absent, or unstable.
read More About Nine of Cups ….
Nine of Cups in Love Reading
Nine Chalice almost always speaks of a
strong and somewhat exalted state of love. Unlike
the Love of the Two Cups, which involves the whole person and speaks of readiness for a serious relationship, love often carries an element of infantilism and an unrealistic assessment of the partner, the illusion that then leads to disappointment. This love is more likely just a projection of Anima / Animus than real feelings, this love at first sight, which is easy to disappear, if you look closely a second time.
This card is favorable in 'Love' related readings.
Interpretation Of Yes Or No
By now you are well aware of the fact that the card – Nine Of Cups will bring a feeling of satisfaction, joy, happiness, pleasure, and whatnot. At a certain point in time, you would find yourself with overall contentment. The presence of this card will bring a bright future for you. You would be brimming with all the good times and you would be grateful for such a good period. And for sure shot, the answer that you are looking for is 'Yes'.
Impact On The Life:
Work:
You might be aware of the brief concept of the card – Nine Of Cups. Basically, it is a positive card that will indicate regarding all your wishes, dreams which would come to reality by your efforts and hard work. You might sometimes experience the long-time difficulties or sorrow that you have been facing. But with this card, you will witness the time of your happiness and joy. It will bring on something that you would be generally looking forward to. You need to accomplish anything and everything just with the triumph or success along with a set of achievement. It will signify fame and will represent the self-esteem and self-confidence. You can also consider it as the card of celebration and parties.
Love Life:
Your concern for your love life is very obvious and you need not worry about it as it will bring a good omen that would indicate the relationship between you and your partner. There would be no doubt of discontentment as it will indicate good sex life and sensuality. You will be experiencing pleasure in your relationship with your partner. There won't be an issue of commitment if you are thinking of tieing a knot and have your special day. It will also ensure that you attract the right kind of people.
Finance:
It will lead you to the path of success where you would be achieving something great through your project and acclaim it as well. You will get noticed because of this immense success you have gained. It might also be an indicator of the abundance of prosperity in terms of money and investments.
Health:
In terms of your health, you will have to be very alert. Yes, it will definitely bring on all the positive vibes. You will be recovering from the diseases through which you might be suffering and will see some improvement in it.
Conclusion:
Now, you are well aware of the fact and figures that the card will offer you irrespective of the position it is placed in. you will be easily handling your life as it will show you all the positive things of your life and you would always feel motivated in every aspect of your life.
Cups – Upright Card Meaning
Ace of cups , Two of Cups, Three of Cups , Four of Cups , Five of Cups , Six of Cups , Seven of cups, Eight of Cups , Nine of Cups , Ten of Cups , Page of Cups, Knight of Cups , Queen of Cups , King of Cups
Cups – Reversed Card Meaning
Ace of Cups Reversed , Two of Cups Reversed , Three of Cups Reversed , Four of Cups Reversed , Five of Cups Reversed , Six of Cups Reversed , Seven of Cups Reversed , Eight of Cups Reversed , Nine of Cups Reversed , Ten of Cups Reversed , Page of Cups Reversed , Knight of Cups Reversed , Queen of Cups Reversed , King of Cups Reversed