Seven of Swords
Tarot Card Meaning
---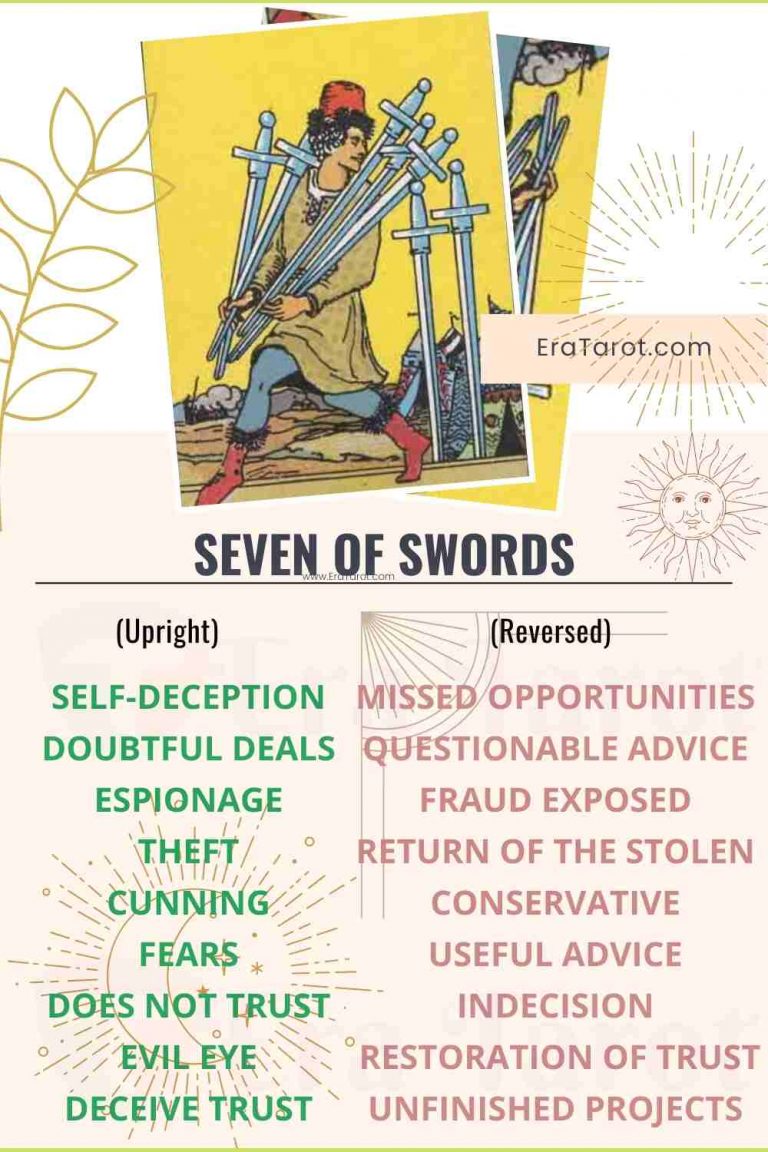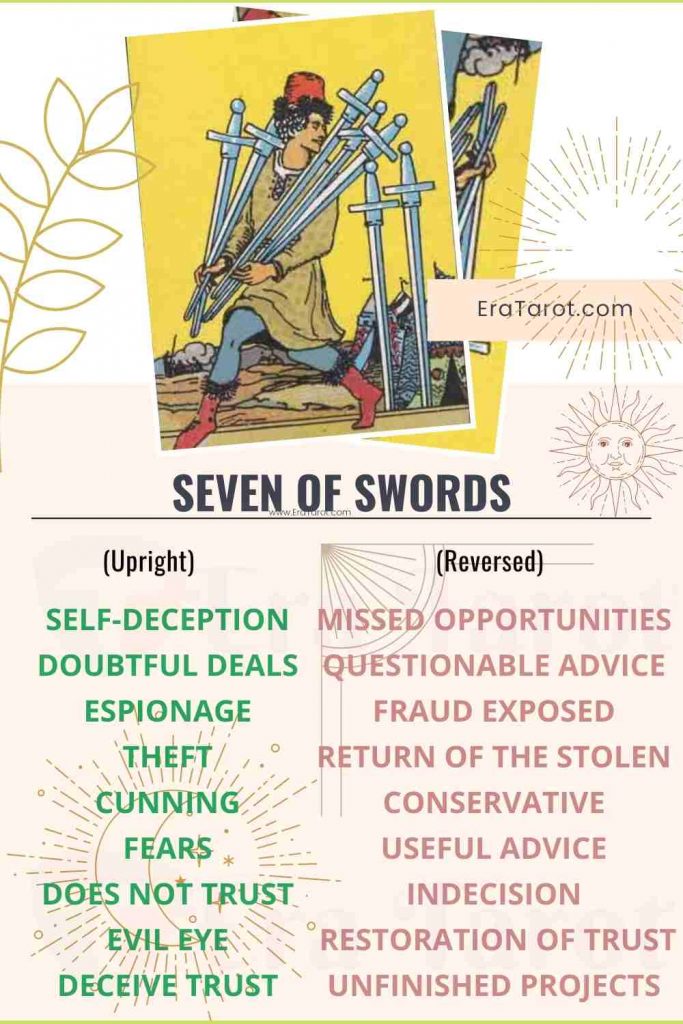 ---
Seven of Swords Yes or No
Seven of Swords
(Upright)
Yes or No
Seven of Swords
(Reversed)
Yes or No
The answer is "No".
What you need will not go away from you if you act covertly.
There may be behind-the-scenes events that you are not aware of.
The answer is "Yes".
The secret or hidden will become known to you.
---
Seven of Swords (upright) Keywords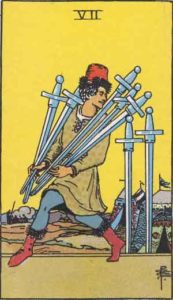 Mirage.
Self-deception.
You can be deceived in your desires, dreams.
Doubtful deals.
Secrets.
Espionage.
Theft.
Cunning.
Cheating.
Caution.
Fears.
The person does not trust, does not believe.
Someone harms the relationship.
Poor health.
Evil eye.
solving new problems by old methods;
a trick that fails;
a warning against dangerous, impulsive behavior;
failure of plans;
desire to get
something at the expense of others;
deceive trust;
a sharp mind turns into cunning and intrigue;
evil language, intellectual arrogance, "my house is on the edge";
self-harm;
faint-hearted withdrawal from problems;
advice not to take your views to absolute;
lies, anger, avoidance of direct conversations with a partner;
moving;
change of place of work;
theft;
guilt, frustration;
betrayal;
hope, expectation, intention, desire;
difficulties, confrontations;
open confrontation should be avoided;
hope and confidence;
good advice.
Seven of Swords (reversed) Keywords
Man will not control anything.
Own contradictions.
Questionable advice or information.
Deception or fraud exposed.
firm conservatism, unwillingness to act differently;
useful advice;
return of the stolen;
indecision, pessimism, cowardice;
laziness;
missed opportunities, unfinished projects;
news;
reprimand, reproach;
restoration of trust.
---
Seven of Swords Advice
Seven of Swords
(Upright)
Advice
Seven of Swords
(Reversed)
Advice
Do your thing quietly.
Bluff, juggle the cards and get out of the water.
Better to admit it yourself.
---
Seven of Swords Warning
Seven of Swords
(Upright)
Warning
Seven of Swords
(Reversed)
Warning
Beware of theft;
secondarily surveillance, secret enemies.
Prepare to be exposed.
---
Seven of Swords as a Person
Seven of Swords
(Upright)
As a Person
Seven of Swords
(Reversed)
As a Person
Inventive people.
The thieves.
Dexterous people.
Scammers.
Those who are constantly moving from place to place.
Crafty, with a sense of humor.
Lies with an honest face (capable of this) – you need to keep your ear sharp.
Fools.
Dumb ones.
Loser thieves.
Unmasked, caught by the hand.
---
Seven of Swords as feelings
Seven of Swords
(Upright)
as feelings
Seven of Swords
(Reversed)
as feelings
Impulsive, deception, anger, avoidance, guilt, frustration, betrayal, hopeful,
Unwilling, indecision, pessimism, cowardice.
---
Seven of Swords : Card of the Day
Be on your guard.
It is quite possible that today they want to cheat you tightly.

Show everyone that you, too, are a grated roll and do not let yourself be fooled.
It is possible that they will try to rob you.

When negotiating or signing contracts, be especially careful and read everything that is written in small print so that you do not get into a mess later.

It is possible, however, that this card advises you yourself today to cheat or bluff so that you will be treated with due respect or not be left out in the cold.
---
Seven of Swords as someone sees you
Someone who is

vulnerable;

Someone who keeps to himself
Someone who is angry or is worried.
Person who is frightened or anxious.
Person who is hiding something.
---
Seven of Swords : Love
Seven of Swords
(Upright)
Love
Seven of Swords
(Reversed)
Love
Walking to the left.
Double life.
Secret meetings, not necessarily intimate: for example, negotiating in secret from other partners.
In the position of "thoughts" or "motives" can mean a warning that the questioner is being followed.
The betrayal becomes apparent.
The inability to further hide their secret relationship.
If you are already in a committed relationship when The Seven of Swords appears, the clear message is that trust is crucial. If you feel suspicious for any reason about your partner, make it a point to talk about this even if it is difficult.
Being passive-aggressive is only going to make things worse. There may also be things unspoken, half-truths, or hidden lies.
If you are looking for love, it is possible to meet someone interesting now, but try to avoid appearing as if you are not interested in a relationship as potential suitors will pass on to someone who is more committed.
---
Seven of Swords : Career
Seven of Swords
(Upright)
Career
Seven of Swords
(Reversed)
Career
Theft (from you or yourself – depends on the meaning of the question).
Money laundering, shell companies.
There is money on this card (unless, of course, it means stealing from you): there are ways to earn, get, steal.
Detection and disclosure of theft, violations in documentation, disclosed intrigues in the team.
The Seven of Swords indicates that you may be being closely followed in your work by your bosses, employers or even a partner. You have surely done nothing but they are guided by mistrust without much support. Keep all your work in order and always go straight ahead.
If you are the employer or the boss, keep an eye on your employees. There may be a risk of deception or theft.
If you are looking for a job, you should look where you have old acquaintances or old contacts, who can help you.
---
Seven of Swords : Money
The Seven of Swords marks that this is definitely not the time to bet or lend money as you are likely to lose to a significant degree. You may have to make some tough decisions regarding money.
The need can make you tempted to do something dishonest. Don't sacrifice your integrity and reputation as money can't buy those things later.
---
Seven of Swords : Health
Seven of Swords
(Upright)
Health
Seven of Swords
(Reversed)
Health
Latent course of the disease, not identified diseases.
Difficulty making a diagnosis.
If the question is about a change in state, then it means recovery in spite of the circumstances.
Revealed diseases, correct diagnosis.
The Seven of Swords points out that they can give you wrong or wrong diagnoses or results, so don't take their first opinion as a holy word. Look for more opinions.
This card also says that you may be deceiving yourself about your health. This is not a minor issue, so listen to your body and accept what you feel or what happens to you, denying things or cheating yourself will not bring you any benefit.
---
Seven of Swords : past, present, future
Seven of Swords in past position
It may be time to put some of your projects on the back burner to focus on more pressing issues. The plans you have made are not going as well as you hoped.
Seven of Swords in present position
The best way to overcome recent conflict is through diplomacy and intelligence. Avoid open confrontation.
Seven of Swords in future position
Your future success depends on your ability to overcome opposition. The strategy you choose will determine whether you suffer losses or come out ahead. Assessing the opposition will make your actions better informed.
---
Seven of Swords (Upright) Meaning
Deception.
Indiscretion.
Cunning.
Fraud.
Savvy.
Duality.
Shifting
Insincerity.
Ability to take advantage of others.
Travel thoughts.
Career change or job change.
Moving to a new location.
The need for good governance.
Sabotage.
Evasive or Prohibited Methods.
Diplomacy.
Caution.
Agility.
Evasion.
Indirect actions.
Attention.
Roundabout ways.
Mind dominates power.
Need to get professional advice.
Unique worldview.
Dishonest behavior.
Illegality.
Theft.
Robbery.
Robbery.
Sell.
Bad luck.
Wine.
Disorder.
Betrayal.
The pursuit.
Unworthy actions.
Self-defense.
Short trip.
Desire to escape.
The escape.
Moving forward.
His own enemy.
Self-protective behavior.
Feeling awkward, escape from reality.
Feeling betrayed or defeated.
Perhaps you suspect that you are being deceived, or you feel uncomfortable with your recent act. You want to run away, but you shouldn't be defensive.
Do not become your own enemy, you need to show diplomacy, dexterity, flexibility, and then you can easily cope with the opposition and achieve your goals. Be careful, perhaps they are trying to shift someone's problems onto you, or they are damaging your reputation.
Some envious people can take advantage of the fact that you are now busy with other things, but it is not excluded that you yourself can strike when your opponent turns his back.
Your unique outlook and penchant for doing unexpected things can help you. The plan you make may not work the way you would like it to. You may need professional legal advice.
This card may indicate that you are embroiled in intrigue, deception, an elaborate web of gossip, or illegal activities. Sometimes the seven of Swords indicates a real robbery or theft (especially if there is another "deception" card in the layout, the Moon, for example), but, most likely, the damage will be done to you verbally.
Pay close attention to what you are currently saying or writing. Perhaps a great "battle of the minds" awaits you. Someone is interfering with your intellectual freedom and independence.
This card also signifies moving forward and saying goodbye to some part of your life that will remain in the past. You can harm yourself. Theft is possible in the literal sense of the word.
There is a high probability of betrayal and stabbing in the back on the sly.
Seven of Swords carries with it negative energies, something that is subcutaneous, indirect, unpleasant. There may be a dirty trick involved in the given situation.
---
Seven of Swords (Reversed) Meaning
Positive Meaning:
Good advice.
Constructive criticism.
Something that once belonged to
you will return
to you.
Acting in your own interest.
Return of the stolen.
Timely loan payment.
Negative Meaning:
Indecision.
Laziness.
Pessimism.
Cowardice.
Unfinished projects.
Missed opportunities.
Failure to learn from past mistakes.
Lack of dexterity.
Gloomy mood.
If you are robbed, the thief will be caught, and the stolen items will most likely be returned to you. If you have been wronged, expect an apology.
Now you should especially value criticism, as there is a high probability that it will turn out to be constructive. What was taken away from you by dishonest means will also return to you.
Someone will offer help or good advice. Now you need to collect your thoughts if you want to be successful.
Compliance with conventions and abandoning the imagination will get you nowhere.
In the reversed position, the Seven of swords helps in diagnosis of disease.
Read More about Seven of Swords Reversed …
---
Seven of Swords : Spirituality
The Seven of Swords strongly asks you to take care of yourself and be very cautious with gurus or religious or spiritual leaders who require your money in exchange for an alleged enlightenment.
The truth is, you don't necessarily need a leader to learn and grow spiritually. Explore on your own. Be careful with new spiritual friends.
---
Seven of Swords Impact On Every Aspect Of Your Life?
Love and Relationships
When Seven of Swords appears in a love reading, it indicates deceit , betrayal or some secret.
Work
If we talk about art, the Seven of Swords symbolizes the development of skills. Its metaphysical forces are realized as an act of creativity at the level of rather subtle plans.
Seven of Swords Relation with Astrology
Seven of Swords Zodiac sign:
The Zodiac signs associated with Seven of Swords is Aquarius.
Mercury as a symbol of cunning, deception, meanness and insincerity. Libra, Aquarius, Venus in Pisces.
Seven of Swords shows Vanity, Melancholy
Seven of Swords stands for The third decade of Aquarius from February 9 to 18.
The third decade of Aquarius is ruled by the Moon and Neptune, the planets of Faith and mystics, symbolizing the flight of thought into the beyond realms of utopia. In this decade, the mind gives itself to the service of the soul and accepts its aspirations, hopes and illusions: it breaks away from reality and experiences surprise and confusion in front of those properties of which it had never even suspected.
This decade is characterized by a departure into dreams and a melancholy detachment from a sober assessment of practical life.
SEVEN – this is the most perfect of numbers. At its stage, the desire for excellence is manifested, therefore actions at the level of the Seven of Swords are distinguished by sophistication, subtlety, although sometimes excessive. Neptune gives SEVEN SWORDS illusions.
He (Neptune) pushes the fact that the desired is perceived as real, and in fact, the Path to the intended Goal is more difficult and longer.
At the same time, this card combines the idealism of Aquarius and the halfness of Libra. (The partial achievement of what was conceived also implies the existence of a certain amount of what has not been achieved.) But the SEVEN is not as maximalistic as the THREE or FIVE. Therefore, it is able to be satisfied with a partial result.
---
Seven of Swords Symbolism (Raider Waite)
Seven of Swords in Raider Waite Tarot Deck depict a man quickly blowing away five swords; two other swords of this card stick out in the ground. Disguised camp aside.
The Seven of Swords shows the back of the Magician, with whom it is related by the golden background of both cards. The power of knowledge, a clear, sharp mind are transformed here into tricks and intrigues, meanness and deceit.
In a milder form, it can be an evil language, intellectual arrogance, or the position "my hut from the edge" – unwillingness to notice some things, the habit of evading, filing, etc. At the same time, it is not clear who is deceiving whom here, who we are – a swindler or a victim. B
ut most often it turns out that we are harming ourselves here.
The Tarot card depicts a temporary tent camp. The man hesitantly carries five swords and looks back at two more, which he did not take, apparently forgotten by him in absent-mindedness.
Or maybe he just can't carry with him all the weapons that he found in the enemy camp. Tents symbolize instability: in the realm of the unknown, consciousness feels like a thief sneaking up to the enemy – it can reject and lose all its past achievements.
In this situation, it is important to determine the guidelines of thought, remembering your previous goals: this will provide support and more confident movement in the future. Turning to the past can become a "memory of the future", and secrets of the depths of the soul – future heights of thought: unless, of course, they remain secrets. The essence of this decade reflects the statement that laziness is the engine of progress,
---
Tarot Cards:
Swords – Upright Card Meaning
Swords – Reversed Card Meaning