Page of Swords
Tarot Card Meaning
---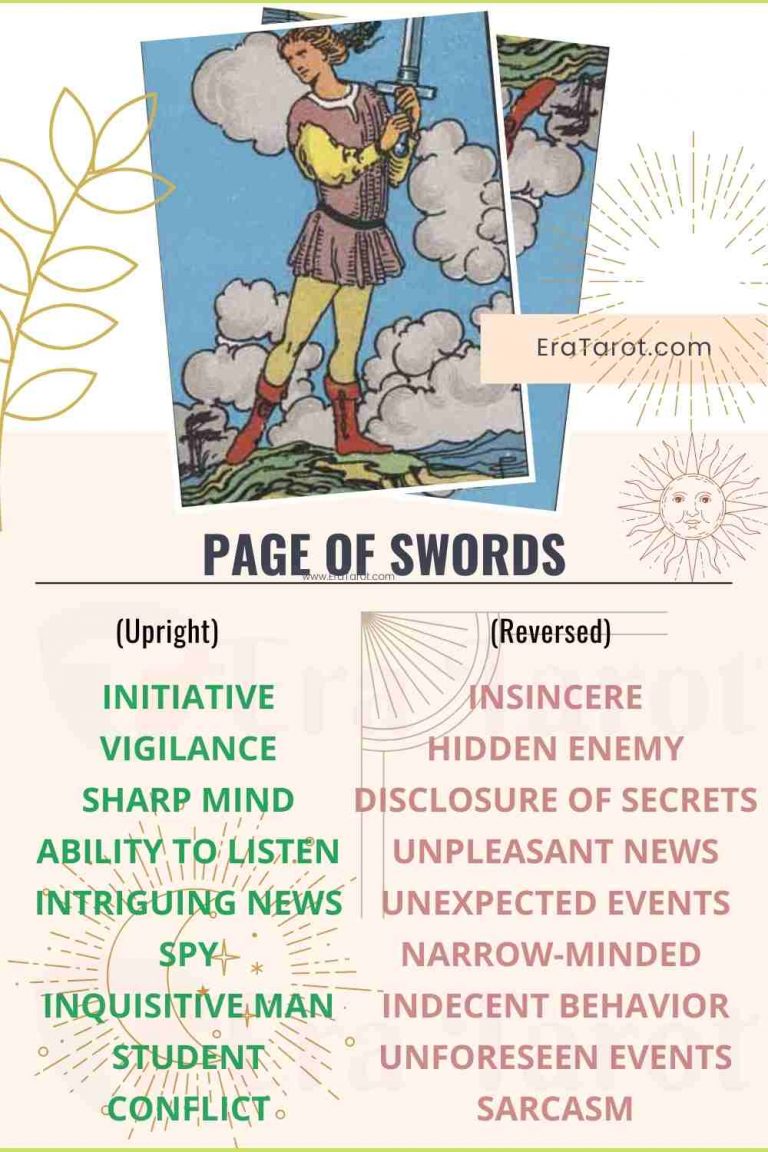 ---
Page of Swords Yes or No
Page of Swords
(Upright)
Yes or No
Page of Swords
(Reversed)
Yes or No
The answer is "Yes".
The answer is "No".
Troubles care coming your way.
---
Page of Swords (upright) Keywords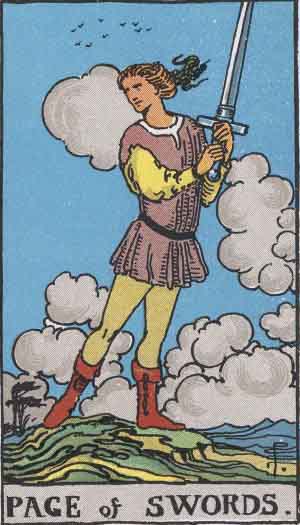 Initiative.
Vigilance.
Savvy.
Insight.
Sharp mind.
The ability to listen.
Intriguing news, learned secretly.
Secret Service.
Investigation, search.
Information from the Internet.
Spy.
An inquisitive, energetic child or young man.
Student.
Analyst.
explanation, a soft showdown, a peaceful solution to the problem;
authority and vigilance;
a hectic period in personal relationships;
the time when you need to go forward;
chance, opportunity;
explanation, explanation of the situation;
conflict, scandal;
unfair reprimand from the authorities;
a sense of danger in connection with a risky task;
the beginning of the end;
conflict with a partner;
Strengthening the union because of the conflict ("cute scold only amuse themselves");
strong will, sharp mind;
travel;
.important information;
honesty;
decision;
discretion;
constructive criticism;
espionage;
delay;
summons to law enforcement agencies;
desire to take on a lot of things at the same time;
rumors and gossip.
Page of Swords (reversed) Keywords
Mercenary.
Inexperienced young man.
Eternal student.
The person is insincere, vindictive, cunning, talkative, quick-tempered, conflicted.
Hidden enemy.
Cheating.
Difficulties.
Bad news.
Disclosure of secrets.
Be betrayed or betray someone.
pettiness, quarrels, insults, up to a break in relations;
Unpleasant news in your opinion in the future;
offensiveness, deceit;
suspicion, espionage;
problems, poor health;
deception, sarcasm, cynicism;
trial;
obscene behavior;
unexpected events;
improvisation;
Vindictive narrow-minded person.
---
Page of Swords Advice
Page of Swords
(Upright)
Advice
Page of Swords
(Reversed)
Advice
Be careful, gather more information.
Accept criticism and learn from it.
Don't talk too much, chances are not to take.
---
Page of Swords Warning
Page of Swords
(Upright)
Warning
Page of Swords
(Reversed)
Warning
The curious will poke their nose into your business.
When criticizing others, be prepared to listen to a lot of unpleasant things yourself.
Be careful, misinformation is possible.
---
Page of Swords as a Person
Page of Swords
(Upright)
As a Person
Page of Swords
(Reversed)
As a Person
Spies.
Young people matured early.
Smart kids.
Smart and energetic people.
Those who negotiate.
Mediators.
People who are capable of solving problems in a rational and dispassionate manner.
People who know how to defend themselves.
Those who think quickly and find many ways to solve the problem.
Calculated people who are looking for benefits in everything and do not pay attention to the feelings of others.
Diplomatic young people.
Professional consultants.
People endowed with physical and mental agility.
Sociable people.
Scientists.
Mathematicians.
Linguists.
Aviators.
Travelers.
A very active child, sociable, contact, very quick-witted, savvy diplomatic.
Spy, overseer.
not very smart people.

Tongue-tied.

People bowing to someone else's authority.

Chatterbox, absent-minded and inattentive person.
---
Page of Swords as feelings
Page of Swords
(Upright)
as feelings
Page of Swords
(Reversed)
as feelings
Vigilant, injustice, honesty, misinformed.
Insult, unpleasant, deception, sarcasm.
---
Page of Swords : Card of the Day
Today the wind blows against you.
You will be criticized, your proposals may be rejected.

Be prepared for this and do not try to immediately launch a counterattack.

Perhaps the criticism that you have to listen to does contain a lot of value.

Listen to her, and then, perhaps, a lot will become clear to you.
---
Page of Swords as someone sees you
someone who takes on a lot of things at the same time;
an honest, young person.
A diplomatic person.
Someone who behaves in a very calculated manner.
Someone who is a problem solver.
---
Page of Swords : Love
Page of Swords
(Upright)
Love
Page of Swords
(Reversed)
Love
Petty quarrels, irritability, mutual criticism, they follow each other and catch on mistakes.
Tough, intolerant, suspiciousness, senseless picks, anger.
The Page of Swords points to mild conflict. Know when to push and when to back off, many fights and arguments are not productive and not really worth having (as long as your partner is treating you with respect.) Allow your partner to have their space. This is crucial for happiness.
If you are looking for love, do not push beyond what it should, everything takes a while and rushing things will have a negative result. Time to be patient.
---
Page of Swords : Career
Page of Swords
(Upright)
Career
Page of Swords
(Reversed)
Career
Small business, junior staff, industrial espionage, hackers.

Occupation: many interests, sports, scientific and technical areas, computer.
Translators, media workers.
Dishonest business, obfuscation of business information.
The Page of Swords notes that you may be dealing with some conflicts at work if you are currently employed. All opinions are strong and they all seem to be right, both yours and others.
Try to keep a cool head and evaluate the best paths to follow, even if it is not the one proposed by you, it is time to think about the common welfare.
If you are looking for a job they will probably require all the documentation and references from previous jobs to make sure they make a good choice, it is nothing personal.
---
Page of Swords : Money
The Page of Swords asks you to be careful not to assume that you know everything or have the correct solution to a certain problem, that is, do not underestimate a situation and do not hesitate to ask others for help if you see that there is a possibility that you don't really know what you're doing in relation to money matters.
Do not spend too much time on expenses and assume that you will control or solve everything later.
---
Page of Swords : Health
Page of Swords
(Upright)
Health
Page of Swords
(Reversed)
Health
Latent diseases, difficult diagnosis.
Childhood diseases (mumps, chickenpox), kleptomania, pathological lies.
The card usually describes young people who have minor health problems. The Page of Swords warns of problems with the legs and ankles, poor circulation, vegetative-vascular dystonia.
Yes, in general, nothing terrible, but pleasant too little. The map also indicates minor injuries, bruises and cuts, as there is a tendency to accidents.
You should constantly conduct various medical tests and analyzes, and even better, be monitored by one specialist. After all, if nothing hurts and does not bother, it does not mean that everything is fine.
The Page of Swords shows that you have been living with great vehemence, all you need now is rest, meditate, sleep well, calm and silence.
---
Page of Swords : past, present, future
Page of Swords in past position
Abilities that are dormant within you are brought to the surface. The events of your past are leading you to activity, and the time to make your own path is near.
Page of Swords in present position
There are unexpected news on the way. To capitalize on the changes ahead, you must rely on your intelligence and ability to adapt.
Page of Swords in future position
There is a deep desire for change that makes you irritable and anxious. Finding true independence of mind will lead you to a clearer perception of your motivation and others.
---
Page of Swords Upright Meaning
Strong will.
Sharp mind.
Insight.
Exciting change.
Forced or harsh communication.
Curiosity.
Stimulus to mental activity.
Journey.
Important information.
Logics.
Honesty.
Determination.
Discretion.
Caution.
Constructive criticism.
Espionage.
Diplomacy.
Good business sense.
Agility.
Agility.
Responsiveness.
Ability to handle delicate matters.
Protection.
Delay in implementation of the plan.
Phone call.
Message.
An important document.
Contract or agreement.
A call to law enforcement agencies.
Professional advice.
The rudiments of abstract thinking.
News about a conflict, illness, or dispute.
Bad news.
A message promising a change.
Speak as it is.
Call a spade a spade.
Whoever doubts has lost.
Usually, the Page of Swords represents a young person (regardless of gender) who discovers the world around him and tries to understand the laws by which he lives. Page of swords is naïve, inexperienced; he often studies somewhere.
The positive meaning of this card is that you will be able to use your talents in a situation where caution is required, the ability to quickly analyze the moment and make a decision. Your dispassionate rationality can save the day.
You may need to contact a professional counselor for help in order to make a decision. Weigh the pros and cons carefully before signing the contract. Think about what you are doing now, and calculate what the results of your activity will be.
The danger of the current moment is that you are trying to take on several tasks at the same time, but many of them remain unfinished.
Negative meaning: now you are surrounded by rumors and gossip, and someone enthusiastically spreads them.
You may be the target of harsh verbal abuse. You may be upset by the behavior of a young person. In the near future, get ready to receive bad news. Your plans may be delayed. You may not fully understand the importance of the contract you are about to sign.
You are too preoccupied with a deteriorating relationship and arguments with some young man. Someone whom you considered a friend may turn out to be your enemy.
---
Page of Swords Reversed Meaning
Gossip.
Insult with words.
Suspicion.
Insidiousness.
Espionage.
Intervention.
Blackmail.
Problems.
Poor health.
Slight malaise.
Cheating.
Misunderstanding.
Slipshod work.
Sarcasm.
Cynicism.
Sharp tongue.
Resentment.
Trial.
Spitting in the back.
Cruelty.
Militancy.
Indecent behavior.
Voyeurism.
Tongue without bones.
Unexpected behavior.
Unpredictability.
Bad news.
Unforeseen events that disrupt plans.
The Inverted Page of Tarot Swords means a cunning, insincere person, prone to revenge, with which he compensates for his own inferiority and shortcomings. Deception, which is only hinted at by the correct card, is evident here, and the Client needs to take measures to protect it.
If you are not an enemy to the Page of Swords, he will be able to make you an enemy, whether you know it or not (or will do something that guarantees enmity).
Bad intentions, bad news, but more so. All this can arise at the most unexpected moment and from the most unexpected place.
Someone is using dirty methods to collect and disseminate information about you. Perhaps you are being spied on or acting against you.
Unexpected problems may arise. You may receive a promise that will later be broken. Read any agreement carefully before signing it. Misunderstanding may arise.
Read More About Page of Swords Reversed …
---
Page of Swords : Spirituality
The Page of Swords shows that you may have been ignoring your spiritual side. Even if you are very rational or skeptical, you must realize that there is an esoteric and spiritual side to it that is not necessarily visible to the human eye or logical analysis.
Explore the spiritual belief systems that interest you, even if you don't embrace them. Open your mind. If you think you have already opened yourself, look deeper and open yourself even more.
---
Page of Swords Relation with Astrology
Page of Swords Zodiac sign:
The Zodiac signs associated with Page of Swords are Gemini.
---
Page of Swords Symbolism (Raider Waite)
Page of Swords in Raider Waite Tarot Deck depict a Page – a flexible, energetic figure holds an upward-directed sword in both hands, pausing for now a quick movement (ready to repel an attack).
The blade of Swords, like other jacks, represents a certain chance or opportunity that opens up to us, an external driving impulse. The Jack of the suit of Swords, therefore, often means clarification, clarification of the situation, some fresh stream, thanks to which we suddenly discover the true meaning of what is happening, and even the most complicated business becomes simple and understandable.
Most often, however, this occurs through conflict, scandal or a sharp conversation, which Jack of Swords may indicate. Therefore, it should be taken as a warning, to prepare for the inevitable fight or not to delay it, so that the conflict would finally serve to clarify the essence of the matter.
This person has noble aspirations and desires to have a clear view. But at the same time, it would be a mistake to expect great achievements from him now. He strives for perfection, but has not yet reached it.
This is the perfect friend, always ready to help. Someone whom you patronize, or someone who patronizes you. The person with whom you willingly exchange thoughts. A great assistant who wants to learn something.
---
Tarot Cards:
Swords – Upright Card Meaning
Swords – Reversed Card Meaning