Queen of Swords Upright: Significance for Love, Money, Profession, Health, Spirituality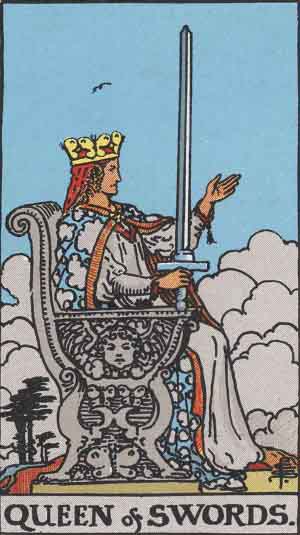 Queen of Swords Upright Keywords:
widowhood, female sadness and embarrassment, absence (of anything), infertility, mourning, deprivation, separation.
Queen of Swords Symbolism in Raider Waite Tarot Deck
Queen of Swords in Raider Waite Tarot Deck depict a a lady (queen), her right hand holds the weapon vertically upward, and the hilt of the sword rests on the arm of her royal throne; left hand – extended; her face expresses severity, restraint and indicates a close acquaintance with sadness.
Queen of Swords is a female manifestation of the element of air. She personifies the mind, openness, independence, imagination and quick wit. This is an expression of our ability to solve problems with the help of logic, to ascend to ever higher levels of knowledge, without losing ourselves in front of an influx of ideas and doubts. Unlike the previous idea of ​​the Queen of Swords as an "evil woman," at best a widow, we now see in her a woman (or feminine in a man), freeing herself from dependence due to the strength of her mind. Only in some cases the negative side of this card is revealed to us: it is most often the "snow queen", whose external attractiveness hides a cold calculation and an almost irresistible alienation.
This is a beautiful card – a wonderful balance between the nature of the Cup and the effectiveness of the Sword. The map describes the ability to fully penetrate the idea and then examine it with clear eyes from all sides. Clarity of feelings and actions, inner peace, harmony between internal and external, and freedom as a consequence of all these qualities. QUEEN OF SWORDS is a very independent woman who knows what she wants and acts accordingly. This is someone with whom you can discuss your feelings. If you need to end something, she will help you. It is also a business woman, successfully making her career, professionally calm, sane person who carries out what she aspires to. It is not so striking as the KING OF SWORDS, but it works no less efficiently. If the card (in very rare cases) describes a man,
Queen of Swords Upright Meaning:
Astrological equivalents: Aries, Scorpio, Capricorn, Mars, Saturn, Pluto, Houses of the Eighth and Ninth.
Usually a map indicates an extremely purposeful person. Very often the Queen of Swords is driven by love or hatred, that is, emotions control it. Another aspect of this card: it always represents a maximalist, a person for whom there are no nuances in the world. Often in life, the QUEEN OF SWORDS acts as a person with a "baton," who does not allow you to turn off the intended path. Occasionally, it may represent a cavalry girl in the scenario.
the card indicates that you have already taken the first step in your endeavor. Now it's important not to back down. Remember, here you can only go forward. There is no turning back.
Queen of Swords Reversed Meaning: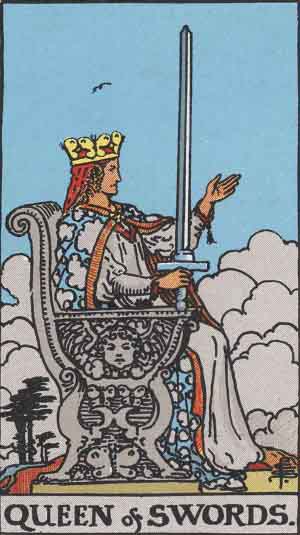 Astrological equivalents: Mars, Saturn, Mars in Capricorn, Houses of the Eighth, Tenth and Twelfth.
Most often he shows the same purposeful personality as the direct one, but it only acts against you. Sometimes, this is a person whose love for you, for one reason or another, has turned into hatred.
Or is this a person incapable of constructive action, in addition, the most important attribute of the inverted QUEEN OF SWORDS is the deprivation of something: this is a person who acts not from excess, but driven by a lack, lack of what he needs.
The card informs that your action was started without a clear idea of ​​the goal, a waste of energy, or informs you of a situation where a person does not know where to put the money; senseless daring, unjustified risk.
Read More About Queen of Swords Reversed …
Queen of Swords Relation with Astrology
Sun in Aquarius as a symbol of independence, individuality, and empirical wisdom.
Swords – Upright Card Meaning
Ace of Swords , Two of Swords , Three of Swords , Four of Swords , Five of Swords , Six of Swords , Seven of Swords , Eight of Swords , Nine of Swords , Ten of Swords , Page of Swords , Knight of Swords , Queen of Swords , King of Swords
Swords – Reversed Card Meaning
Ace of Swords Reversed , Two of Swords Reversed , Three of Swords Reversed , Four of Swords Reversed , Five of Swords Reversed , Six of Swords Reversed , Seven of Swords Reversed , Eight of Swords Reversed , Nine of Swords Reversed , Ten of Swords Reversed , Page of Swords Reversed , Knight of Swords Reversed , Queen of Swords Reversed , King of Swords Reversed