Three of Pentacles
Tarot Card Meaning
---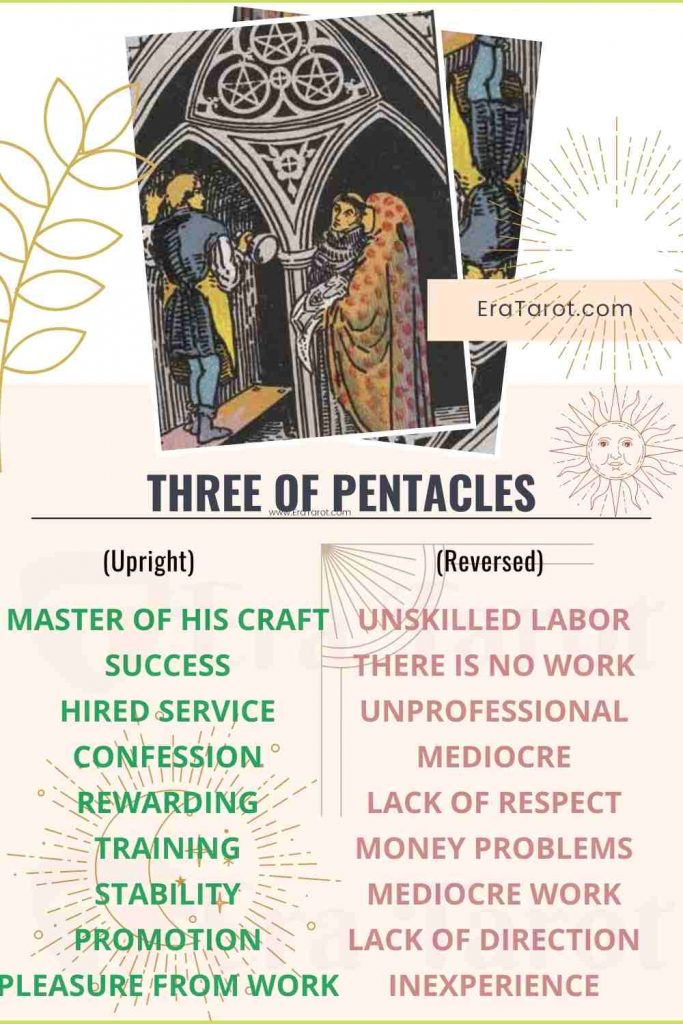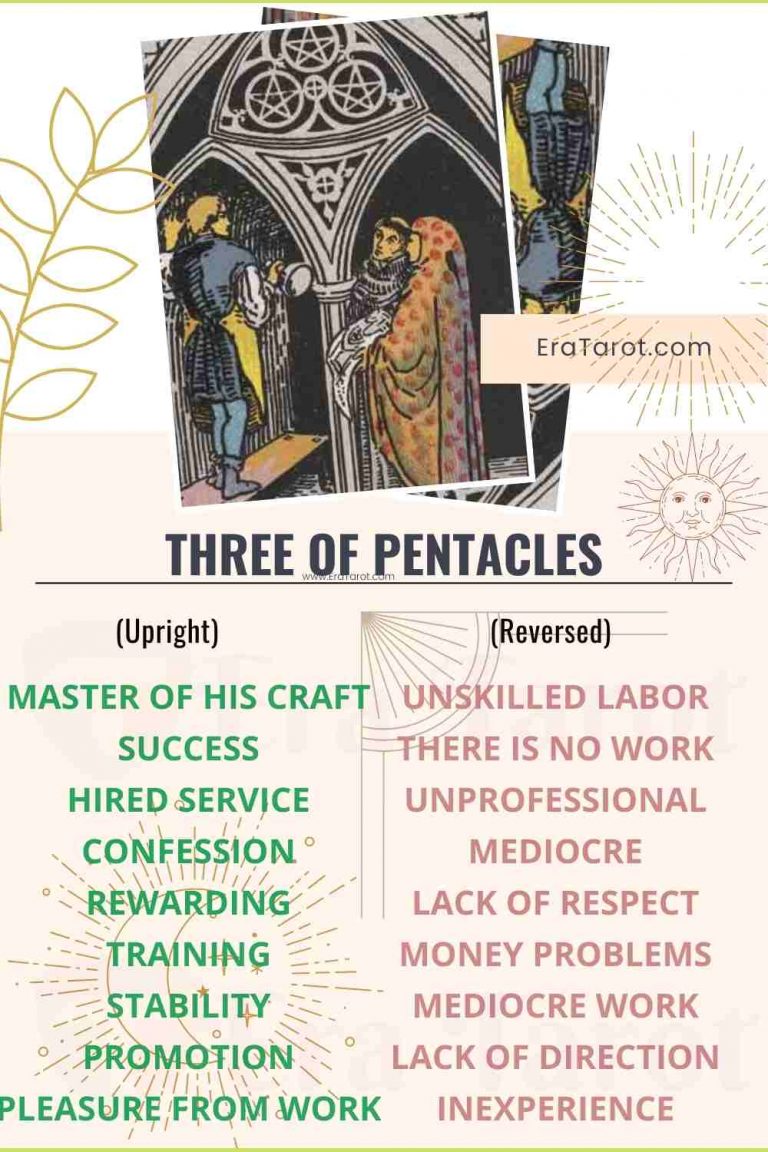 ---
Three of Pentacles Yes or No
Three of Pentacles
(Upright)
Yes or No
Three of Pentacles
(Reversed)
Yes or No
The answer is "Yes".
Great pleasure from the work done.
The answer is "No",
You won't be able to show off your skills.
Bad job, renovation, ordering.

---
Three of Pentacles (upright) Keywords
Master of his craft.
Success in achieving the goal.
Hired service.
A brilliantly passed exam.
Confession.
Pay for a job well done.
Necessary and rewarding experience.
Professional growth.
Training.
Business success.
Stability.
Comfort in a relationship.
The beginning of a permanent union.
significant creativity;
financial reward, material success;
moving to a higher level in skill;
decisive step;
diving into depth, not swimming on the surface;
promotion;
confidence;
pleasure from work;
help from others;
aristocracy, glory.
Three of Pentacles (reversed) Keywords
There is no work or it does not suit you.
Unskilled labor.
Unprofessionalism.
Mediocre.
Banal ideas.
Envy of others' success.
Cunning.
Lack of respect.
Money problems.
mediocre work, inexperience, ignorance;
bad job;
lack of direction;
you are underestimated;
lack of respect;
fear of taking risks;
pettiness;
disturbance.
Not ready to take the exam.
---
Three of Pentacles Advice
Three of Pentacles
(Upright)
Advice
Three of Pentacles
(Reversed)
Advice
Do everything flawlessly, to the highest standard.
End your previous activities and move to a new, higher level.
Do as you can, don't try too hard.
---
Three of Pentacles Warning
Three of Pentacles
(Upright)
Warning
Three of Pentacles
(Reversed)
Warning
Don't go into trifles, don't cling to details, don't get carried away by the outside of the matter.
Do not think of yourself as the greatest of masters.
your goal is unreachable.
---
Three of Pentacles as a Person
Three of Pentacles
(Upright)
As a Person
Three of Pentacles
(Reversed)
As a Person
Golden hands, dexterous, loving details, attentive to the little things.
Neat, even neat.
Slightly indifferent, treats many things carelessly.
---
Three of Pentacles as feelings
Three of Pentacles
(Upright)
as feelings
Three of Pentacles
(Reversed)
as feelings
Attentive, creative, decisive, confident, pleasure, glorious.
Indifferent, careless, disturbed.
---
Three of Pentacles : Card of the Day
Today you will have a chance to do away with the old routine or free yourself from it in order to move to a higher level.

If this is an exam, do not be afraid: you got a good card.
If you are already working, then it can portend a promotion.

Perhaps the time has come for you to choose a profession or a partner, deal with everyday problems, put things in order in your financial affairs or get a new qualification – it doesn't matter: first of all, you need to get rid of the debris of the past blocking your further path, destroy the old status quo and embark on a new road.
---
Three of Pentacles as someone sees you
Person with whom they can build something successful.
-Someone who is prepared and competent.
Dexterous and creative person.
---
Three of Pentacles : Love
Three of Pentacles
(Upright)
Love
Three of Pentacles
(Reversed)
Love
Relationships that are built beautifully and carefully.
Full acceptance of a partner, down to the level of instincts.
High order consistency, harmony.
Relationships built poorly but strong;
suit both partners.
No development.
The three of diamonds is a very good omen for your life as a couple.
The goals and common vision of both go in a single direction and work as a team so that the couple and the family reach a good destination. Your partner values ​​you and appreciates your virtues, knowledge, experience and ways of being.
If you are alone, there is a good chance that love will appear in the fields of work. It is there that you can find the person who occupies your heart.
---
Three of Pentacles : Career
Three of Pentacles
(Upright)
Career
Three of Pentacles
(Reversed)
Career
Work is more fun than money.
Doing a deed of honor.
Expensive piece work.
High-class jewelers, designers, couturiers, stylists, watchmakers.
Quickie (both as "quality", and as a random job).
Consumer goods (production and trade).
The prospect of making money without straining.
The three of golds is an excellent and positive card for your activity. Your work will be valued and appreciated, your knowledge consulted and your experience highly taken into account.
Even if you do not earn money at the moment, you must do your homework in the best way, since it will pay off without a doubt and you will achieve the goal you set for yourself.
Lean on others, plan, share and debate. The results are beginning to arrive and the success will be overwhelming.
If you are looking for a job, the three of golds ensures that you will get it very soon and it will be very satisfactory for you.
---
Three of Pentacles : Money
The three of diamonds indicates that the moment is excellent. Your reward is coming. You can already feel the results although you still have to do your part and keep working and putting effort.
We are not talking here about windfalls, windfalls, or easy money. Here everything is a reward for your effort, profit for what you have done, for your dedication and effort.
Investments of all kinds, if well planned and advised, will lead to profit and achievement. Everything is getting better for you and if you keep this positive and responsible attitude, it will only get better.
---
Three of Pentacles : Health
Three of Pentacles
(Upright)
Health
Three of Pentacles
(Reversed)
Health
It symbolizes everything related to health and body strengthening (yoga, fitness, bodybuilding, etc.).
Cosmetology without surgery.
Kinks in wellness treatments.

Drug abuse, overwork from excessive exercise, overuse of plastic surgery.
But all this is not too harmful to health.
You are likely to be on high energy levels and feel an overall increase in your well-being and health. This is not accidental, but the product of your dedication and concern for the subject.
You take care of yourself, you exercise, you sleep and eat well, you rest and enjoy, as well as you control your body, you take care of it and you attend to its claims.
---
Three of Pentacles : past, present, future
Three of Pentacles in past position
The time you have spent mastering your abilities has been a smart investment. Your confidence has grown and if you continue to nurture this self-assurance, you will succeed.
Three of Pentacles in present position
The object of your present focus is due for expansion and elaboration. Your peers may be a useful tool to help you complete your goals.
Three of Pentacles in future position
Your inner satisfaction demands a pursuit of excellence and a mastery of your craft.
---
Three of Pentacles (Upright) Meaning
High position at work.
The opportunity to make good money.
Superpowers.
Professional growth.
Promotion.
Confidence.
Sincere efforts.
High standards.
Experience.
Craftsmanship.
Adequate level of performance.
Skills that bring success.
Job satisfaction.
Diligence.
Attention to detail.
Improving working conditions.
Promotion.
Recognition, Approval.
Raising social status.
Honor.
Good grades in the educational institution.
Obtaining a certificate.
Progress.
New knowledge.
Brotherly attitude.
Confidence.
Pay or reward for a job well done.
Desire to achieve high social status and gain recognition.
Obtaining a diploma (academic degree).
Help from others.
The possibility of a change of residence.
Good start
Three of Pentacles is a physical level development card. Perhaps we are talking about money, work, education, physical health, home, a project that involves getting real results.
You will receive a well-deserved reward for the work done and the skillful use of your skills, knowledge and talents. You have made a good start, perhaps soon you will be recognized as a real specialist in your field. You will have the opportunity to make good money using your knowledge.
You want to achieve high position, recognition, approval, get satisfaction from a job well done. Promotion is possible. You can apply your talents to home improvement, perhaps redecoration or interior decoration. If you are a student, you will have good grades or a diploma.
If your question was about love experiences, Pay attention to the fact that in your relationship there is little attention to emotions, you focus on material things, position, social recognition, or give in to family pressure.
Sometimes, with the accompanying Arcana, the triple of Pentacles indicates an official marriage or signing any legal document.
---
Three of Pentacles (Reversed) Meaning
Bad job.
Unsatisfactory work.
Lack of direction.
Laziness.
Lack of ambition.
Disappointment.
Trivial attempts.
Boredom.
Work "for show".
Inexperience.
Lack of knowledge.
Inadequate skills.
Poor abilities.
Ignorance.
Missed opportunities.
Unsuitable equipment.
Thankless job.
Not enough materials.
Criticism for poor performance.
Bad grades at school.
Unpleasant situation at work: you are clearly underestimated.
Lack of respect.
Excessive preoccupation with gaining recognition, approval, or high position.
Three of Pentacles in an inverted position indicates that you need to work harder, improve your knowledge, and apply it to important projects.
Be careful and try not to miss a good opportunity because you are afraid to take risks. Perhaps your workload will be increased for the reason that they simply do not know what exactly you are doing, or because the results of your work are not up to par.
Although you try, you feel like you are underestimated, or that you do not get satisfaction from the work, considering it boring. You may be too preoccupied with getting approval and recognition instead of thinking about work at work and doing it diligently.
Perhaps your desire to achieve a high position in some interferes with your relationships with other people.
Read More About Three of Pentacles Reversed …
---
Three of Pentacles Relation with Astrology
Three of Pentacles Zodiac sign:
The Zodiac signs associated with Three of Pentacles is Capricorn.
---
Three of Pentacles : Spirituality
The three of diamonds marks you that you must observe or consult ancient traditions, traditional organizations of centuries, you can now obtain deep knowledge for your spirit, in addition to feeling support and support.
This can be a church or temple whatever your religion, which with all its history and the support of its believers, helps you stay on a certain spiritual path.
Here the exploration of new ideas is not indicated, but rather stick to the traditional, what has been effective then and continues to be effective for millions of people.
---
Tarot Cards:
Pentacles – Upright Card Meaning
Pentacles – Reversed Card Meaning