Four of Pentacles Upright: Significance for Love, Money, Profession, Health, Spirituality
Four of Pentacles Upright Keywords:
Guarantee of material profit; remaining true to what it has, gifts, inheritance, inheritance.
Four of Pentacles Symbolism in Raider Waite Tarot Deck
Four of Pentacles in Raider Waite Tarot Deck depicts a crowned person with a pentacle above her head; she holds another pantacle in her arms; two more pantacles under the person's feet.
The four Pentacles or Coins means, an excessive concern for the future, manifested in greed, avarice and deeply rooted fear of any changes. Such an "attitude" is inherently hostile to life, because any attempts to "stop the moment", to keep everything as it is, are not only in vain, but also contradict the natural course of things. Thus, this map usually indicates that we have only one step left to stagnation (stagnation), and is often a harbinger of the Tower (Major Arcana Card 16), which means the hardening of the hardened crust. If the Four Deof Pentacles or Coins finds themselves in a position that requires such behavior from us, this means that at the moment we need to concentrate, limit ourselves to something, retreat – or, having got down to business, not to let him out of our hands.
Four of Pentacles Upright Meaning:
In the upright position, the the Four of Pentacles symbolizes a certain ecological niche occupied by a person in society. FOUR of PENTACLES is reliable, there is no place for chance. The success achieved here is logical and is the result of hard work.
FOUR of PENTACLES can symbolize a small, gray and boring home life.
These are safety, reliability, order in the house, financial stability (scanty, but regular pension), health (the norm is on the verge of pathology).
Strength, character, worldly needs, someone who knows what he wants, true to his point of view, has a strong character. Reliable partner. A person who achieves success (but not much).
The theme of the FOUR of PENTACLES clearly sounds the theme of Cancer and the planets significant in this sign – Jupiter and the Moon. Gifts, patronage, social benefits, humanitarian aid can pass through Jupiter. The moon emphasizes the importance of home, nepotism, reliability.
At the same time, the FOUR PENTACLES can sometimes mean greed. "I made it hard work and I'm not going to share it with anyone." Incompetence explained by unseemly pretexts ("I have a family and children").
Four of Pentacles Reversed Meaning: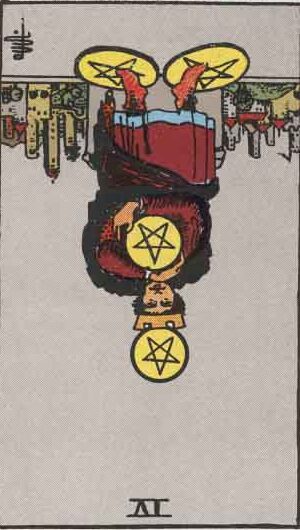 In an inverted position, the FOUR PENTACLES indicates the negative manifestations associated with the sign of Cancer.
This is a monetary loss, a mess in the world, especially at home; disorder in business, inability to get together, organize, laxity, obstacle, termination of regular income, suspended state, wastefulness.
Through this card go such concepts as "my hut with the edge", "own shirt closer to the body."
The inverted FOUR PENTACLE is connected with the concept of the border and symbolizes the fence, enclosure, any kind of demarcation of the plots. This can apply to both land and work (each takes its part).
Read More About Four of Pentacles Reversed ….
Four of Pentacles Yes or No?
Four of Pentacles card in Raider Waite Tarot deck is about stability and profit. If the Four of Pentacles Card appears 'upright' is a reading, the answer is in your favor – its a 'YES'. If Four of Pentacles card appears reversed in a reading, the answer is not in your favor , that is – 'NO'
Four of Pentacles Relation with Astrology
Saturn in the second house as a symbol of concern for the future due to adverse circumstances.
The basic message of Three of Pentacle is Power .
The third decade of Capricorn from January 10 to 19.
Astrological equivalents: Mercury, Mars, Uranus in Cancer, houses of the Second and Fourth.
The third decade of Capricorn symbolizes the achievement of real material results, reliance on reliable foundations and a firm belief in the correctness of its path. This decade is characterized by practicality, the constructive use of opportunities and an objective understanding of its benefits. This decade is ruled by the Sun, and it raises the problem of how to dispose of the material abundance that life provides. Understanding the power of material values, it forces people to accumulate wealth in fear of poverty, or to abandon its self-sufficient power for the sake of their freedom and lose everything completely. Representatives of this decade are interested in issues of the struggle for survival in extreme conditions, which allows to reveal those potential opportunities of the person, on the realization of which society imposes restrictions. People of this decade have a natural taste: imperfect does not satisfy them. This decade symbolizes the acquisition by a person of all the material values ​​necessary for him to live and continue to work.
Pentacles – Upright Card Meaning
Ace of Pentacles, Two of Pentacles, Three of Pentacles, Four of Pentacles,, Five of Pentacles, Six of Pentacles, Seven of Pentacles, Eight of Pentacles, Nine of Pentacles, Ten of Pentacles, Page of Pentacles, Knight of Pentacles, Queen of Pentacles, King of Pentacles,
Pentacles – Reversed Card Meaning
Ace of Pentacles Reversed , Two of Pentacles Reversed , Three of Pentacles Reversed , Four of Pentacles Reversed , Five of Pentacles Reversed , Six of Pentacles Reversed , Seven of Pentacles Reversed , Eight of Pentacles Reversed , Nine of Pentacles Reversed , Ten of Pentacles Reversed , Page of Pentacles Reversed , Knight of Pentacles Reversed , Queen of Pentacles Reversed , King of Pentacles Reversed
Explore the Meaning of all 78 Tarot Cards Here