King of Pentacles (love reading)
Meaning
---
King of Pentacles (upright) in Love
if you are in a relationship, the King of Pentacles indicates a stable, strong relationship. You have nothing to worry about, the material and spiritual side of your relationship is fine. The King of Pentacles represents your partner as a mature person who will be patient, reliable, caring and stable in everything. Betrayal and infidelity are alien to him.
The card represents a mature relationship, where there is a desire to protect, care and possess. Your partner will provide you with a social position, financial stability, you will begin to develop on an equal footing, there will be no fear and worries about tomorrow. The passion and instinct of the owner will be balanced and matured.
The King of Pentacles is very often characterized by conservatism in relationships. He requires love, devotion and constancy, but if his feelings are not reciprocated, he is ready to buy the attitude he deserves. Such trophies earned in this way do not particularly bother him.
The King of Pentacles indicates good potency, good health, athletic build. He is an adherent of a large family with many children. In relationships, he is dominant, but in his behavior there is always correctness and gentleness in relation to a partner, and what woman does not want such a master? He is an excellent mentor and advisor, his vest is not designed for tears and complaints, he has a sober and calculating mind, while he is a loyal and reliable comrade.
The King of Pentacles has heightened sensuality and sexual energy. He is not ashamed of his carnal desires, he needs constant physical contact with a partner. He is not ashamed of his love of sex. Romance is not his category, although if necessary, he will play out this part of the relationship. But for him, music, flowers, sweets and champagne are an incomprehensible waste of time, especially if the outcome of the relationship is already obvious.
---
King of Pentacles (reversed) in Love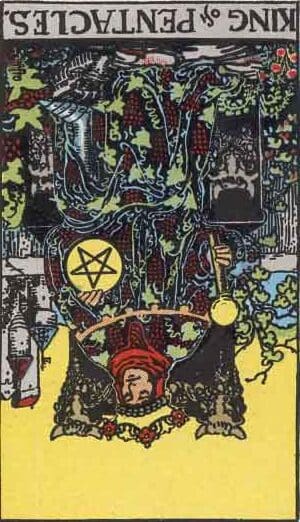 In the opposite position, the card does not bode well in a relationship. There are problems between you and your partner, misunderstandings caused by the lack of financial stability, security, the accumulation of a huge load of unsolved household chores, unpaid bills.
One of the partners tries to suppress the spirit of the other, constantly expresses dissatisfaction and criticism, jealousy, manipulates and controls.
Such a model of behavior causes irritation, mutual reproaches, disappointment in each other. When viewed as a partner, the King of Pentacles portrays him as unprincipled and dishonest. Its characteristic features: irresponsibility, insecurity, lack of patience, laziness, passion for gambling, stinginess. He does not value his family and children, does not pay enough attention to them, allows himself love affairs on the side. Loyalty is not in his nature.
He can be a fraud and play unfair games with business partners, disregard the law. Sometimes he does not skimp on money in order to keep people close to him under control. For him, it is in the order of things to put everyone under house arrest, hire security, and enjoy himself in other places with other people. Often times, this ruthless behavior can turn into physical abuse.
The King of Pentacles upside down has ugly forms in relationships. This manifests itself in sudden outbursts of anger, assault, sexual depravity up to mass orgies, stupid demands regarding wardrobe, appearance, and nagging about everyday trifles. A person likes to annoy, torment, morally break a partner. Relationships begin to outlive themselves.
---
King of Pentacles: Upright, Reversed