The Three of Swords is an extremely graphic card, where three swords mercilessly pierce a heart. The rain falls incessantly and there are dense clouds, forming a painful and gray picture that represents a dark and difficult moment in life.
Upright Three of Swords in Love Tarot Reading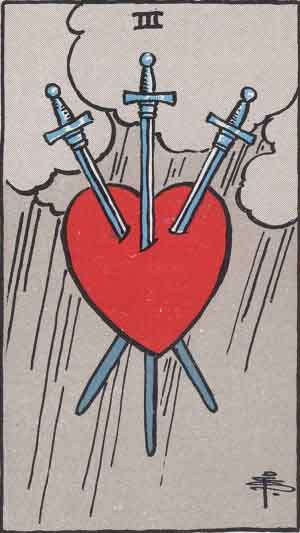 This is where The Three of Swords falls squarely. On the one hand, it can indicate difficulties for a partner, misunderstanding, hidden deceptions, arguments, disappointments.
This may be just a moment, and the relationship can be saved if you act truthfully and if there are true feelings. In its darker face, The Three of Swords indicates ruptures, divorces, betrayals, abandonment. There is a deep heartbreak, and usually everything happens in a rush, almost without warning.
If you are alone and looking for love, you may have several misunderstandings, people who seem like one thing and then disappoint you when you go deeper. It is a difficult time without a doubt. You have to live that pain to get it out, express it. If you save it and don't process it properly, you will never get out of it.
Reversed Three of Swords in Love Tarot Reading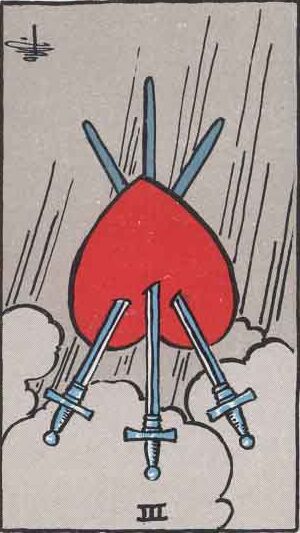 The Three of Swords shows that you have been through a time of incredible pain, but you begin to overcome it, understanding it, accepting it, making it conscious. You make things clear and even within a very dark context, you manage to find the positive things that such a thrust has left you.
You know that one door closes but another opens. Undoubtedly you are not yet in the conditions for love or a new relationship, but you are on the right track.
If you are in search of love, the most disappointing people are left behind, and in this spiritual sifting you learn to choose the best for you, with a kind of sixth sense that has opened the pain.
Three of Swords: Upright, Reversed