Seven of Pentacles (love reading)
Meaning
---
The Seven of Pentacles can indicate bad luck and sadness in a relationship or someone you have been waiting for. You may be disappointed with the partnership and want to abandon it. Or do you think there is a lot of work to be done in this regard.
This card is not the best card to draw when looking for romance. It indicates failure.
---
Seven of Pentacles (upright) in Love
A lot of effort has been invested in the relationship, but the return is not yet visible. The development of the relationship has reached a dead end. Understanding and realizing that such a situation will not last long and it is necessary to make a decision and get out of the situation. The first option is to develop relationships, move to a new level and move on. The second option is to break off the relationship, take a break.
One-sided desire in a relationship – one partner wants something, and the other denies it, or does not support the initiative.
It's time to ask the question: "What will happen next and what development is worth waiting for?" Don't be afraid to talk to your partner. Keeping silent and hiding the true situation is not the best option.
Tip: do not rush your partner to make any decision. Allow me to calmly consider the situation. Tell your thoughts, claims, convey to your partner what does not suit you, and give him time to think.
---
Seven of Pentacles (reversed) in Love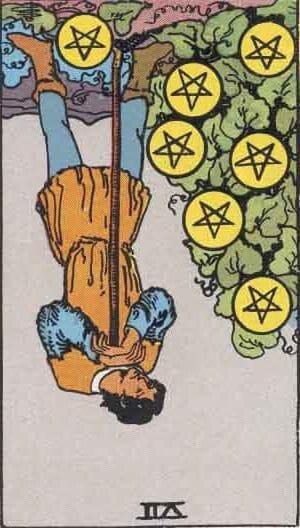 Perhaps an extra third person interferes with the relationship, the betrayal of one of the partners, the hopelessness of the situation, the routine in the relationship, the naivety of one of the partners, the fatigue of the relationship.
The state of affairs is in limbo, one thing is clear is better, there will be no more. Relationship crisis. Survive the crisis by following the flow of life.
Seven of Pentacles: Upright, Reversed