Queen of Wands (love reading)
Meaning
---
The Queen of Wands is undoubtedly an energetic and powerful woman, full of vitality, enthusiasm and unmatched capacity for doing.
Queen of Wands (upright) in Love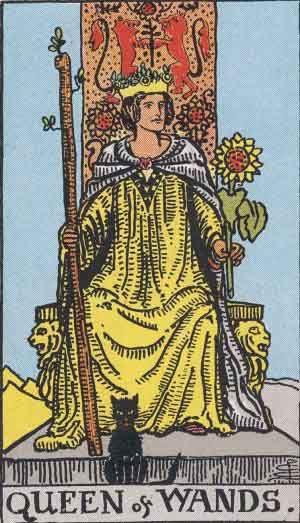 The Queen of Wands is a good omen. If you are in a relationship , it will be strengthened as each one will do their best and move forward with attitude, optimism and a lot of confidence, towards common goals. It can indicate a pregnancy, which will be very welcome and will help strengthen the couple even more.
It can indicate the presence of a woman, but not as a competitor or signaling an infidelity, but a beneficial presence that will be of help to the couple, whether it is a friend or someone from the family, such as your mother or mother-in-law, an aunt, an older sister or sister-in-law. He is someone to lean on and trust.
Only in the context of negative letters, pointing to a third person, another woman in the middle of the couple, this letter can represent infidelity. By itself it is not proof of this, only in context with a reading that is indicating that situation.
If you are alone , the appearance of a woman is imminent in your life, both to bring love into your life, as a company and a friendship of inestimable help and value can be for you.
It is very likely that love appears in the workplace or where you carry out your tasks or activities, it can be related to artistic media, cinema, television, theater, or cultural or creative activities. You are more likely to find love there than through casual encounters, outings, or dates.
---
Queen of Wands (reversed) in Love
As we saw, the queen of wands can signal infidelities and bad times in love life. The relationship is now full of anger, the arguments go on from trivial reasons to big topics and it is possible that one of the two is acting with a lot of manipulation, excessive jealousy and being very controlling of the other.
It is not a letter that announces the end of a relationship, but one of the two has lost the trust of the other and it will be difficult to regain it. If there is true love, everything can be solved with time, but at the moment it is not the time to make big decisions, neither you leave nor ask your partner to leave.
They must mainly stop the aggression and find a way to dialogue, and this can only be done calmly, so that if they are not calm, you have to wait for a more favorable time. You can't fix things at the moment, but what you can do is not make things worse.
If you are alone and looking for love, a woman will be influential on the scene. If you are a man, a woman appears in your life but you must be careful, it is not what it seems to be and there are possibilities of deception or that it leads to a ruin, either financially or emotionally.
Love will take time to come into your life with this letter, it is likely that you will have several disappointments before finding true, committed and real love.
---
Queen of Wands: Upright, Reversed