Page of Cups (love reading)
Meaning
---
The Page of Cups represents a beginning or renewal
The Page of Cups , like all the jacks or pages of the deck, symbolize a burst of inspiration and decision for a new beginning or the undertaking of any new process, whether existential or creative, not without certain risks.
---
Page of Cups (upright) in Love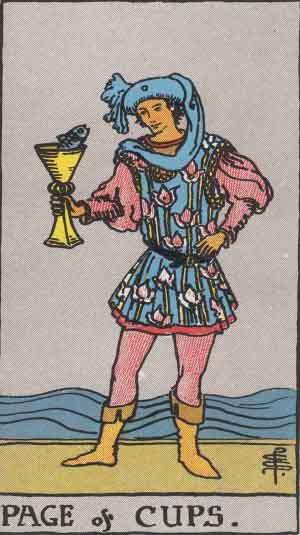 The jack of cups can announce the beginning of a relationship with a young person, younger than you and since love has no age, even if this person seems inexperienced, you should give it a try.
If you are already a couple, the letter may announce the arrival of a child or the celebration of a wedding or a serious engagement, something very encouraging for those courtships that seem to never take "the big step".
---
Page of Cups (reversed) in Love
The Page or Jack of Cups brings some warning about selfish or capricious attitudes that may be complicating your relationship.
There are discussions with a certain level of anger and violence, at least verbal. They must put the axis in creativity to feed the couple.
If you are lonely, the letter may signify an unrequited love with a younger person.
Perhaps your dreams are not supported by reality and you fantasize about a love that cannot be, or at least presents difficulties to develop within a framework of normality.
---
Page of Cups: Upright, Reversed