King of Cups (love reading)
Meaning
---
The King of Cups shows a great balance between what he feels and what he shows to feel.
The King of Cups , as his suit indicates, is strongly linked to a rich interior full of emotions, his unconscious is powerful and subtle, and his creative talent is overflowing. He has learned that this inner world of emotions should not be repressed, but rather know how to live with them with the perfect balance that maturity gives.
---
King of Cups (upright) in Love
The King of Cups is a very positive card. If you are in a relationship, feelings and emotions will stand out. Any decision that has to be made will be thinking about the common good, about the best solution for all.
If you are looking for a partner , an older man may appear, gentle, sentimental but controlled, with great experience and very understanding. Someone who will love you while listening to you.
It can portray a loving father who cares for his family as well as, because of his masculine energy, those moms who also act as dads.
---
King of Cups (reversed) in Love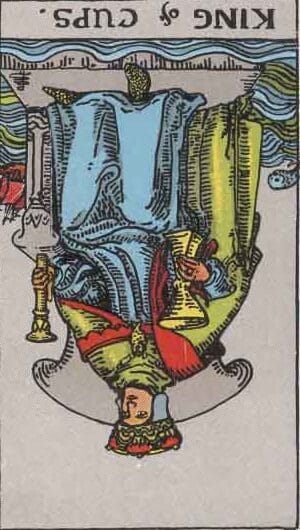 This moment is marked by emotional codependency.
Although there is a lot of emotion on the surface, relationships are marked by emotional instability, you can go from crying to laughing in a matter of moments, often without foundation.
Your partner is also confused by this situation. You must take care of yourself and not wait for the approval and permanent approval of your partner.
If you are alone, The King of Cups indicates that the arrival of love may take a little longer, as long as you cannot control your sentimental instability.
---
King of Cups: Upright, Reversed