Four of Cups (love reading)
Meaning
---
The Four of Cups takes us to the intricate and vast inner world
The four of cups presents us with a unique scene: a young man is sitting under a tree, with his arms and legs crossed in a contemplative attitude.
---
Four of Cups (upright) in Love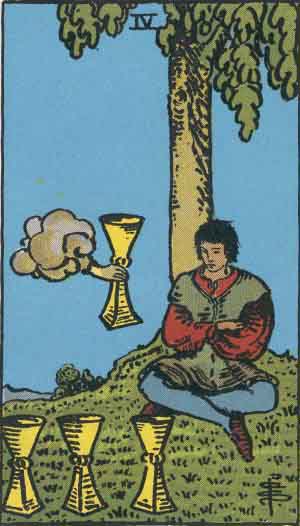 The four of cups indicates that you are in an introspective period. This does not necessarily mean being in crisis within a relationship or being refused to meet new people if you are alone.
This self-absorption can be very positive to remove old things from the closet, remove traumas from the past and be liberated to put everything in favor of love. On the contrary, it is a negative warning, if your introspection has to do with denying yourself opportunities out of fear, so as not to be emotionally damaged.
In the worst case it means that you have adopted a very selfish attitude, you have locked yourself stubbornly, and that is complicating things. It is very important what other letters accompany the reading in order to determine what the message of The Four of Cups is.
---
Four of Cups (reversed) in Love
The inverted four of cups is positive. You slowly come out of isolation, either because you have found the answers you were looking for or because you have been able to fix your eyes on others beyond yourself, and just as you do not want to be harmed, you do not want to harm anyone.
It is a time of opening, of reconnecting, of being available for new opportunities. Perhaps you have abandoned closed positions and now you are willing to dialogue and cooperation, understanding that communication is always the way to solve things.
---
Four of Cups: Upright, Reversed