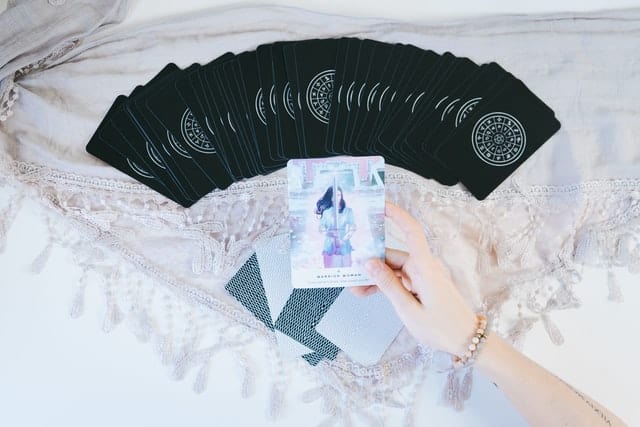 The secret to making the most of a spread is knowing what to ask the Tarot in a reading . Because it helps you get concrete and clear answers, thus certainly clearing all your doubts.
Ask the Tarot about any subject that worries you. There are no limits, no secrets, and no forbidden topics. You can inquire about love, business, fortune, work, family, health, relationships, the past, present or future
Surely, you have many concerns, with ideas, intuitions and many things to think about. Or, on the contrary, you go blank and don't know what to do. Both cases are very likely to happen, right? That is why you should prepare before going to a tarot reading. How to do it? Keep reading that I will tell you how to ask the best tarot questions.
Ask specific questions
First of all, you must be clear about the situation to be examined and from there, check if it is an internal issue, or with your environment. Determine the topic well , if it is about you, your partner, family, work, business. As well as if you want to predict your future or know something about the past.
Formulate your concerns as if the tarot had to answer are a yes or no. Although this is a reading modality that exists and is quite effective. But thinking about the issues from this point of view will facilitate your questionnaire.
For example, avoid asking : When will I meet my husband? Apply my recommendation and rephrase the question like this : Will I find a husband this year? As you can also say: Do I already know who my husband will be? Will I get married soon?
This practice helps you to think well about the matter to be examined and to be more clear about each of the important aspects of what is happening. For example: who is involved, where it happens, why, when it happens.
Going to a tarot reading and getting lost around the bush is a waste of time and opportunities. It could leave you more doubts than certainty to make bad decisions later.
Take notes, make a list, separate the topics to consult and make the most of the divining power of the tarot. The clearer and more specific your questions are, the easier and more specific the answers will be.
What are the important questions for the tarot?
The most important questions for tarot are those whose answers offer you peace, satisfaction and happiness. That is, they become solutions and decisions that, for the better, will mark changes in your life.
So you should start by questioning yourself, your thoughts, your emotions, your actions and then, how all this influences your environment. Whether it is a problem related to your work, your studies or a business. Ask yourself first: what is wrong with that? What do you feel? How does it affect you?
Remember that the Tarot is a spiritual guide that unlocks your emotions and thoughts, reveals your strengths and weaknesses allowing you to enhance your own being much more.
Try to give it a positive meaning, it is better to say: What helps me to be happy ?, instead of: Why am I not happy ?, How should you live?
Then, you can dedicate to extend your consultation to others, starting with loved ones and close friends. If some stranger or newcomer disturbs your peace, then the tarot will quickly tell you why.
If it's still not clear what type of question to ask , don't worry. Next, we will mention some of them so that you can guide your query and obtain more benefits from clairvoyance.
Questions about you
There are so many thoughts and feelings that take place in life that we have to overcome daily a sea of ​​decisions to make, doubts, contradictions; in other opportunities, alternatives, in which the tarot are the great ally to solve.
Remember, the center of life, of the world, of problems and solutions is YOU . So you should ask by placing your position first on what you consult. That is, you are the owner of your destiny, you cannot leave it in the hands of another, assume your responsibility, your point of view and your actions around it.
Therefore, we recommend that you examine as follows:
Drop negativity
Heal your wounds
Express your worries and fears
Look for your mistakes and forgive yourself
See what things give your life meaning
Analyze what you should improve about yourself
Questions about love
This is the subject that interests the most and, at the same time, the most difficult to face, because we do not want to suffer when we ask about feelings. However, do not let yourself be overwhelmed, because not everything is bad, not everything is negative.
In love, when relationships do not work or are toxic, it is best to let them go, or abandon them. Because more important is that you love yourself. That will always tell you the letters. They will never tell you to sacrifice yourself for someone who is not worth it.
You can ask:
Do I already know the love of my life?
Do I have a future with my current partner?
Does such a person love me?
Will I go back to my ex?
Does my ex think of me?
Does this relationship suit me?
Should I end this relationship?
What do you feel about me?
Does…?
Questions about money and business
Money, business and fortune are widely consulted subjects in the Tarot. The need to confirm and clarify the financial or economic outlook is constantly latent. Nobody wants to be wrong, nobody wants to lose. We all seek prosperity, abundance, and well-being, so we try to win opportunities and avoid threats.
The questions in this topic are generally focused on taking challenges, risks, clarifying doubts and making decisions. They help you predict fortune and business or career opportunities. Focus your thinking towards wealth and progress, as well as improving your status and economic development.
Believe it or not, the tarot reinforces your growth strategies, with wisdom and showing you those values ​​and skills that are best developed in you. On this topic you can ask:
Will I get this job?
Should I change jobs?
Is this the job of my life?
Will I lose my job?
Should I trust my boss?
Should I accept this business?
Will I make more money from this business / job?
Should i invest?
I will finish my studies?
Will I be traveling on business?
Frequently asked questions
You can also guide yourself with this series of generic questions, which will help you if you do not know how to deal with the query. For example:
Request a general or specific reading on a topic.
How to understand your past?
How to achieve your dreams / projects?
Understand a mistake?
Find the lost, it can be feelings, things, relationships.
What hurts you?
Consult decisions to make
How to take control of your life?
What should you change?
How to communicate better?
Recommendations for asking tarot questions
The power of tarot divination is millenary and helps you find the answers to your doubts. Ask the most difficult and important questions about: love, money, your career, your relationships and much more. And you will see how everything is discovered in a query.
Before you must make sure that you deal with a tarot reader, psychic or true fortune teller. You can look for references on their web pages or consult the opinions or those who have already gone through their circulation. Even today, without having to move, or wasting time or money, you can consult from the comfort of your home just by making a phone call.
Whatever your preference when consulting, we recommend you follow these steps, so that you feel more secure and better perceive the power of the arcana. Before reading do the following:
Prepare in body and mind. Verify that nothing interrupts you. Choose a quiet place. Switch off the mobile phone. If you are at home and do the phone consultation, light a candle and incense.
Take several deep breaths, tune into your thinking in the moment.
Think about the main topic to examine. Take your questions down.
Once in the consultation do not feel fear for the new sensations, it is part of the connection with the astral plane, with love, strength and joy.
Finally, I hope that all these indications help you to take advantage of your tarot consultation. You no longer have excuses . The answers are waiting for you. Find the truth about what is happening in your life and you cannot decipher.
Ask about love and your partner . What makes your relationships difficult? What do you need to make them flow? Define your feelings and reveal how others feel about you. It opens the way to prosperity and abundance , productivity, business and luck, eliminating doubts and fears.
Attract harmony and peace in your closest environment, with your family and friends. Reveal who is who to discover the disloyal and those who prevent your happiness. Deepen your vision of life from the tarot and its messages to achieve the happiness and peace that you deserve and seek so much on a day-to-day basis.