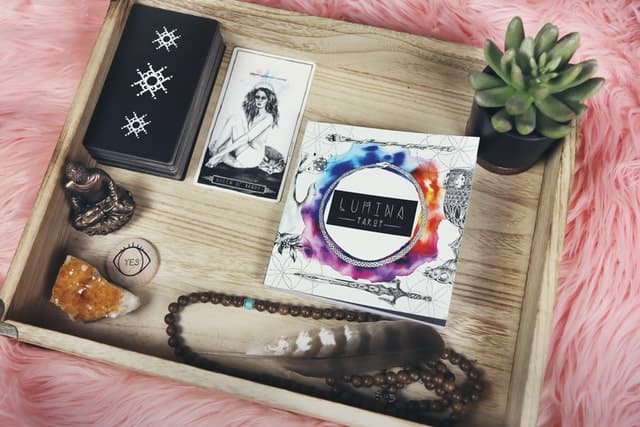 What is the evolutionary tarot? If you have asked yourself that question, then here you will
find the answer, because we will tell you about this tool. Well, it is a method that serves as therapy and is based on the reading of cards.
Through this procedure, the main objective is for people to know their full potential, both on a human and spiritual level.
By reading cards of this therapeutic technique, it is possible to discover what hinders the development of the capacities that each person has. It is therefore; that this tool has long been of great help to humans, because of this; is that many people are opting for this type of service.
What is Evolutionary Tarot Reading :
When deciding to opt for any of the evolutionary tarot sessions offered by
the aforementioned specialists, there are certain things that you should keep in mind. Based on this, we
have created this section to tell you in detail what these aspects are. This is quite
important that you know it, since it will be the key for everything to be successful in the consultation.
It is not a consultation to know the future: In these sessions, the tarot readers will not reveal the future to you. Since the purpose of these consultations is to explore what is happening in the present tense, they will not give you details of times to come.
In these sessions they do not answer all kinds of questions: Because they are not regular card readings, you will not be able to ask the typical questions.
The study is based in depth: Since, clairvoyants study thoughts and energetic balance. Here the exploration goes beyond the ordinary.
They take their time: Here the minutes are important, since; They are the key to having a good evolutionary tarot card reading.
They are not common queries: Clairvoyants want you to know clearly what it is that you really see in yourself.
They are a way of opting for a mode of help: It is an instrument that serves to apply a solution to the concerns that are within you.
Benefits of evolutionary tarot card reading
With the use of this valuable tool, you can get many benefits. That is why we have decided to create a section where we will mention them to you. Here we want you to know all the good that you can get when carrying out a spiritual consultation in this way. We guarantee that once you have the knowledge of it, you will want to carry out many sessions of this type.
You will understand your destiny better: You will be able to find more calm, you will be able to
accept once and for all that the weather is changeable and that things are not always as we want.
You will adapt better to your situation and you will understand that it is you who draws the destiny you want to live.
You will know your qualities better: Through these card spreads, you can know much more what are the things that weaken you and those that strengthen you. You can also know what defects characterize you and improve them, but in addition to that, you will learn what gifts and powers you have.
You will navigate deeply in your thoughts: With this method, you will be able to thoroughly investigate your entire mind and, in such a way, know what are the things that block you. Also,
those that play the role of obstacles and do not let you advance.
You will get rid of what hurts you: You will be able to say goodbye without any feeling of guilt to everything that disturbs you and damages your peace. You will shed the old, that which has already reached its expiration time in your life.
You will get improvements in your decisions: Through these sessions, you will be able to understand the great responsibility that comes with the decisions you make in your life. You will become aware and cope carefully with them.