78 Doors Tarot: Two of Pentacles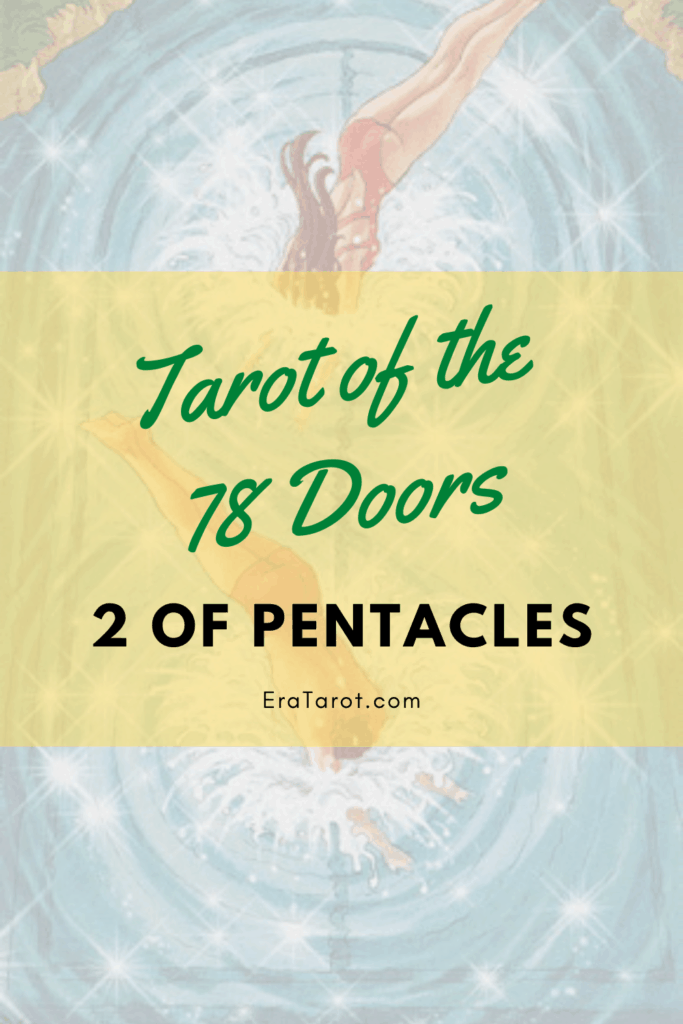 Two of Pentacles represents a new and unknown business that has been quite successful, especially if you do not neglect the help of a strong ally. 
Keywords
partnership, finding another joint exercise, work in pairs, harmonious relations, mutual interchangeability. 
Event
acquisition of a like-minded person, colleague, partner, joint start, tandem, conclusion of a transaction, marriage, signing of a contract, agreement. 
Business
cooperation, negotiating working conditions, signing contracts, mutually beneficial partnership, work with a partner, relations between colleagues. 
Health  –
there is a risk of trams, asthma, convulsions, a precarious state of health. 
Relations –
business, partners share common interests, start dates, meetings, teamwork, study, hobbies. 
Personality  –
knows how to work in a team, fair, supporter of equality. 
Advice  –
in this situation, it is better not to act alone. Help a friend does not hurt. 
Inverted Keywords
selfishness, inability to work in a team, unwillingness to see other people's problems, focus on oneself, refusal to help, unwillingness to ask. An event  is a meaningless attitude, a partnership that is not beneficial, betrayal. 
Business – too many "parasites", an unequal exchange, lack of assemble, inconsistency of colleagues' actions, lack of mutual understanding between employees, no one wants to cooperate and help, frequent staff changes, inability to work in a team, meaningless personnel shifts, insufficiently qualified employees. 
Health  – quarantine, general disease, viral infection, sexually transmitted diseases, fungus, inflammatory processes. 
Relations  are inharmonious, there are no common interests, misunderstanding, too different view of the world. 
Symbolism of 2 of Pentacles in 78 Doors Tarot
"A young man and a girl dive headlong into the water (immersed in solving an important task – to open the door at the bottom of the pool). The task is not simple, but judging by the sparkling water (like sparkling wine), this only adds to them joyful excitement, enthusiasm, anticipation the success of the whole enterprise Red swimming suits and the strength with which they simultaneously enter the water allude to excess energy, high productivity and emotional inclusion in the situation
Find the firmament beneath the surface of the water – find the essence beneath the surface of emotions.
Two of Pentacles in Yes No Tarot
When two of Pentacles is upright, The answer  is yes, but together. 
When two of Pentacles if Inverted , the answer is No.