78 Doors Tarot: Ten of Pentacles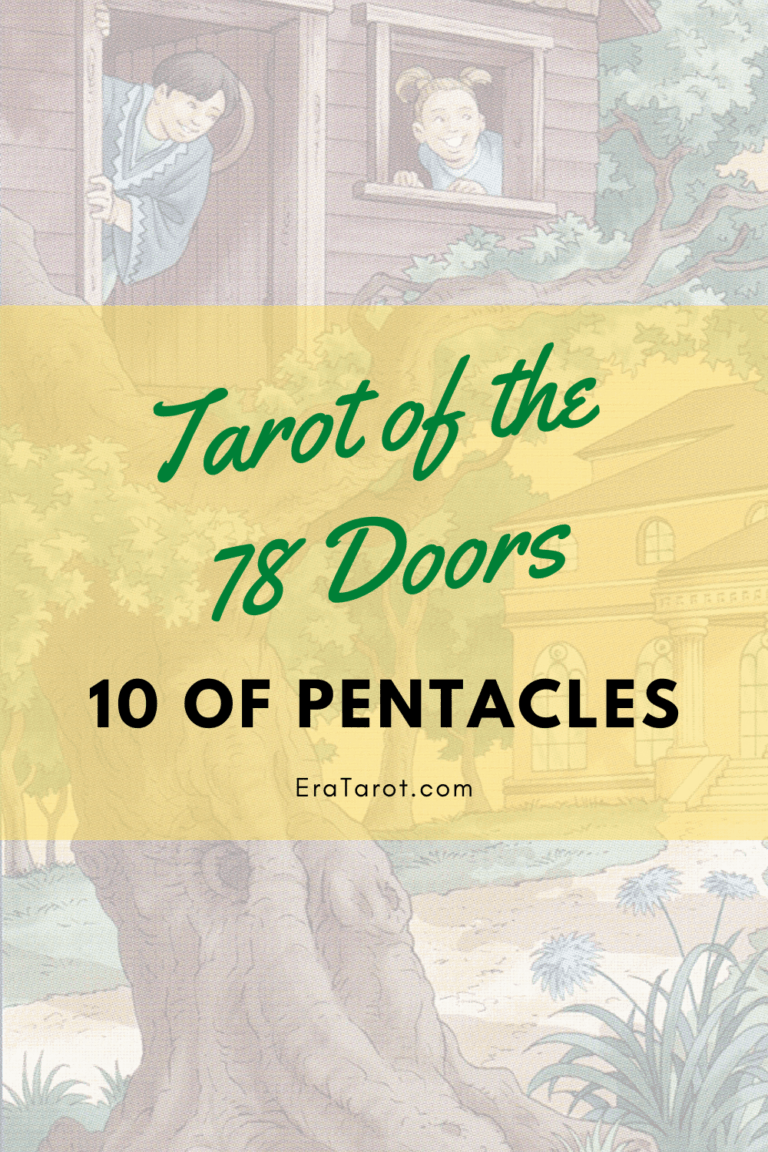 Ten of Pentacles in 78 doors Tarot is about Material security, giving family happiness and stability in relationships
Symbolism of 10 of Pentacles in 78 Doors Tarot
Children play in a treehouse. In the background you can see the mansion in which they live. This is a wealthy family that can invest its wealth not only in strengthening and development, but also in entertainment.
Upright 10 of Pentacles in 78 Doors Tarot
10 of Pentacles depicts a person's solid financial position allows them to think about issues related to investing and spending. The card not only wins back material stability, but also the desire for further development. A person can ponder issues related to investing in something, because his financial situation allows this – it may be a question of acquiring or building real estate, moving, investing in improving or expanding housing conditions or spending on entertainment.
Predicting when 10 of Pentacles in 78 Doors Tarot appears in a reading
The map showed moving to another apartment, which is located on the 8th floor. Also wins the couple's separate stay. Meet a couple of one of them.
In the relations of people on this map there is no general budget, material security is generally a closed topic, because None of them claim the property of the other (each has its own).
Significance of Ten of Pentacles on Different Aspects of your Life
Business
most often acts out areas of activity related to real estate, construction and emigration. The business is steady, stable. High profits allow you to think about expanding your business, for example, opening branches, purchasing additional. equipment. sometimes a card can play a "reconnaissance trip", business trips, trips to study the market in a new area.
Relations
in the family "full bowl." A stable financial situation eliminates all the problems associated with finances and allows the couple to enjoy life. Often plays out issues related to family entertainment, purchases, acquisitions for a family or partner, as well as issues related to real estate, with the improvement or expansion of housing conditions, questions about travel or relocation (often temporary).
Advice when 10 of Pentacles in 78 Doors appears in a reading
Your financial situation allows you to make such an investment; try "field reconnaissance." Sometimes you can win back the need to "rest and relax."
Warning: do not chop off your shoulder or burn bridges behind you; do not make drastic changes – first try "how is it?" … It is necessary to leave the waste routes.