78 Doors Tarot: Five of Pentacles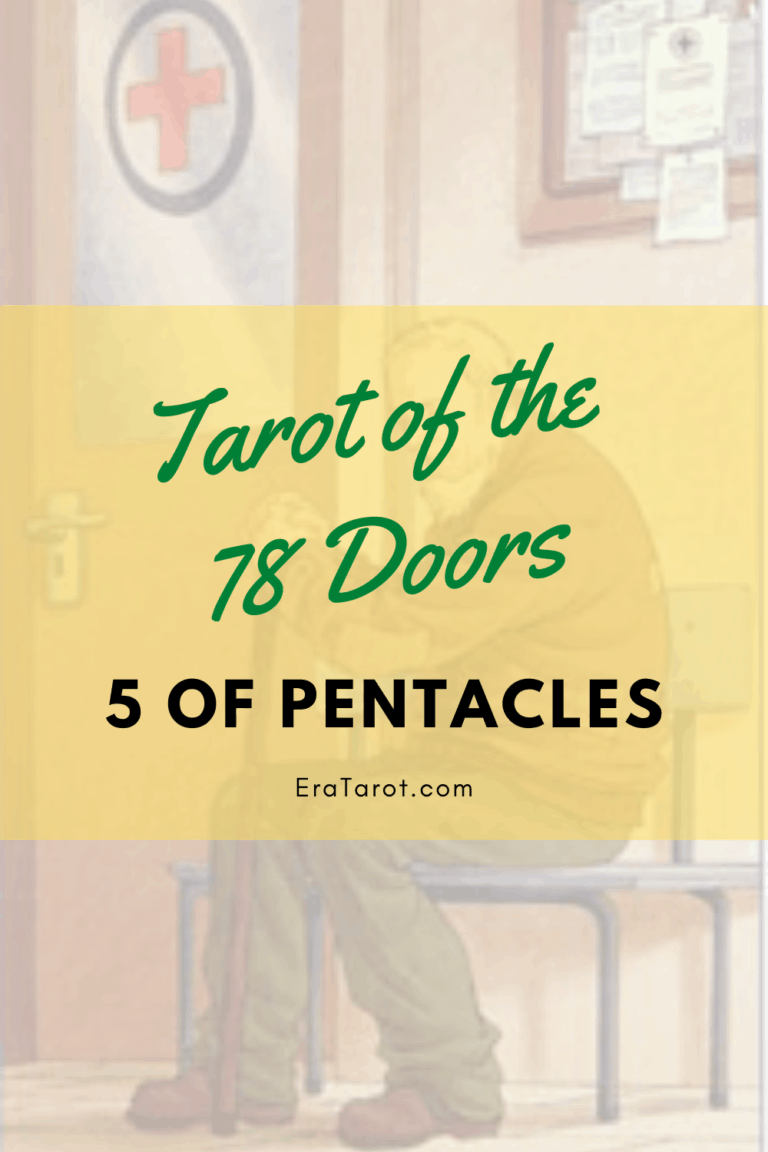 Five of Pentacles in 78 Doors Tarot Deck represents painful waiting for the resolution of the problem. It also shows Material worries and anxiety. 
Five of Pentacles (78 Doors) Upright Keywords:
Forced, painful expectation. An overdue problem and concern. 
Material concerns. Internal problems associated with self-esteem due to this limitedness in the outside world. An anxiety crisis having an external source. 
Predestination, but only in the head. Unknown result. Chronic depression, a state of internal panic. The need for attention. A social package that must either be exhausted or received. Sick leave. Fear and despair. Reluctance to ask for help. 
Being late. Ignorance. from life, considers himself destitute, a tendency to despondency. Partner cheating indicator (walker). Visit to a doctor or doctor 
Symbolism of Five of Pentacles in 78 Doors Tarot
An elderly person awaiting a doctor appointment. He sits leaning on a cane in the corridor of a medical facility. The man is poorly dressed, his face reflects gloom and inner feelings. 
Upright Five of Pentacles in 78 Doors Tarot
To enter the door is to follow the cross of fate (to be a victim). In contrast, the staff of the will – to get out of their internal state.
Five of Pentacles represents unhappy person, does not know what he wants
Five of Pentacles represents a person who is forced to put up with circumstances and wait until finally they help him solve his problem. His possibilities are limited, his social. the situation is not high, he is forced to turn to others for help, but those others do not always have time for this person, his problem touches people "insofar as", nothing depends on him, except to try to convey his very problem to those who has the authority to resolve it. But sometimes, even to bring information about the problem, you need to wait, not to mention that for the most part the problem will be solved for a long time. This is a map of forced delays and disabilities. 
A person is faced with circumstances that prevent him from acting, he is forced to wait until the situation is resolved in his favor and he can act. Also, the card indicates that the problem cannot be resolved independently. The help of interested and competent people is needed here. 
The card may also win back what you have to help someone in some matters. 
Significance of Five of Pentacles on Different Aspects of your Life
Business
lack of funding, search for sponsors; upholstering of thresholds of labor exchanges and consulting agencies; business is unprofitable and / or stagnant. Waiting for business permits, frozen business (for example, frozen construction due to lack of funding). Social insecurity of employees and attempts to solve their problems through authorities. Delays in payments, including wage arrears. Low income or lack thereof. Requests for loans, subsidies, sponsorships, investments, requests for loans. Encountering bureaucracy or corruption, bureaucratic delays. Inability to act due to acute lack of funds and authority. 
The card can play the area of ​​employment for working with the population.
Relations
problems in relationships, isolation from the partner and the expectation of the possibility of contact with him. Can display an abandoned partner in need of support from others. 
As a rule, the card wins off the impossibility of acting at the moment in connection with the circumstances. She also recouped the partner's worries due to financial problems that prevented him from supporting his family normally. 
The card may indicate a forced or intentional family appeal to various institutions to receive social guarantees, insurance, and so on. 
Advice when 5 of Pentacles in 78 Doors appears in a reading
wait for the resolution of your problem \ seek help in resolving the issue from the competent authorities \ hope for a favorable outcome \ require social guarantees \ provide assistance 
Warning: you will encounter forced delays \ you will have to seek help from the competent authorities in whose power to resolve your problem – you yourself will deal with it \ lack of funding and influence.