The Five of Swords is a card of conflicts and tensions, which presents some duality in the figure.
Upright Five of Swords in Love Tarot Reading
The Five of Swords sadly points out inevitable conflicts. In the worst case, there may be betrayals and infidelities, but in general it indicates that there is no agreement on elementary things for peaceful coexistence.
First of all, you have to assume reality as it is, not lie to yourself mainly. Each must express their truths and reasons while recognizing the flaws and errors that impede the forward flow of a couple.
If you are alone and looking for a relationship, it may not be the best time. You can be the victims of betrayals or that there is no understanding at all with possible loves.
Reversed Five of Swords in Love Tarot Reading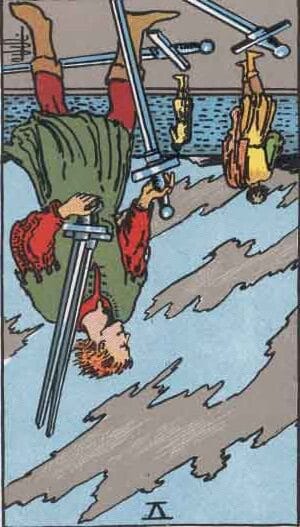 The Five of Swords can warn you that while a conciliatory attitude, to make amends and maintain harmony, is good and positive, you should ask yourself if you are not sacrificing some happiness to show yourself that you are all the time okay. Do you want to be what others expect or do you want to be happy?
If you are looking for love, your choices or decisions may surprise others and they will not agree. Well, they must accept things, Your life is your life.
Five of Swords: Upright,  Reversed